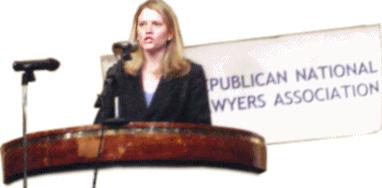 Sara Marie Taylor (born September 15, 1974) is Deputy Assistant to the President and Director of Political Affairs at the White House, making her one of George W. Bush's top political aides. She currently reports to Karl Rove. Taylor is the daughter of Ray Taylor, a former Iowa state representative. She is a graduate of Drake University. During her time at Drake, Taylor held the position of National Co-Chairman of the College Republicans.
White House political director and top Karl Rove aide Sara Taylor, "who has been with George W. Bush from the outset of his first presidential campaign, is the latest staff member to leave the president's employ.

Taylor cleared out her office early last week. She plans to take her skills to the private sector, where the pay will no doubt be better than the $137,000 she earned in 2006 as a deputy assistant to the president. "I haven't decided on anything," Taylor said. "I'm looking at a handful of different options."

Taylor is reportedly intimately involved in the U.S. Attorney scandal. According to Kyle Sampson, Taylor was directly promoting efforts to appoint attorneys without Senate confirmation. The House and Senate Judiciary Committees have approved subpoenas for her testimony.
"… approved subpoenas for her testimony." hmmm…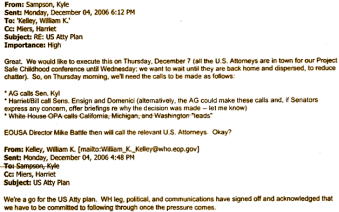 "… WH leg, political, and communications have signed off." hmmm…
In private testimony that is being released this afternoon by the commitee, Alberto Gonzales's former Chief of Staff Kyle Sampson told investigators that Gonzales himself initially resisted the idea of bypassing the Senators from Arkansas to install Karl Rove protege Tim Griffin as U.S. Attorney for the Eastern District of Arkansas. Pressure to do it, he suggested, was coming from officials at the White House–specifically, White House political director Sara Taylor, her deputy Scott Jennings and Chris Oprison, the associate White House counsel. Sampson described himself and Goodling as "open to the idea," which is not the same as instigating it.
"… specifically, White House political director Sara Taylor." hmmm…
Taylor was also identified by Monica Goodling, Gonzales's former White House Liaison. After Rep. Sheila Jackson-Lee (D-TX) asked Goodling what Karl Rove knew about the firing of the US Attorneys, she suggested Taylor had signed off on the plan.

"There was an e-mail that Mr. Sampson forwarded to me, I think, on December 4, if I'm remembering correctly, that said that it had been circulated to different offices within the White House and that they had all signed off," Goodling answered. "I think it said that White House political had signed off. Political is actually headed by Sara Taylor but does report to Mr. Rove, so I don't know for sure."
"… Political is actually headed by Sara Taylor but does report to Mr. Rove." hmmm…
So, Sara Taylor, Karl Rove's recently retired aid, is a "microtarget" expert – identifying Republicans in Democratic areas to microtarget for mailings. I reckon if one were trying to identify places to push "voter fraud" cases to scare off Democratic voters, you'd need a "microtarget" expert. And if you were looking for someone who prepared a list of U.S. Attorneys to replace with Republican Operatives who would push the "voter fraud" cases, you'd probably need a person just exactly like Sara Taylor.
What about referring to her as "Rove's Brain" as an operating title, until something better comes along…