Okay, all of Scott Horton's points stand out. This one [6.] particularly answered my confusion about something…
1. The worst is yet to come…

2. Opposition from within…

3. George Tenet and Michael Hayden misled the public…

4. All trails lead to the Vice President's office…

5. Functioning of black sites…

6. The CIA's waltz with Justice. The Bush Administration claimed that Justice gave legal advice to the CIA and that the CIA followed and applied it. But the IG report reveals a strikingly different relationship. As the OLC memos were written, there was a sort of waltz between CIA and Justice lawyers in which different hypotheticals were offered up in solicitation of opinions—something on the order of "If we told you we did x, what would you say about it?" This suggests the OLC memos were effectively negotiated. It also appears that CIA requested a number of after-the-fact variations to protect practices that clearly exceeded guidance. Why does this matter? It undermines the ability of CIA employees and contractors to "rely in good faith" on the OLC memos, because it shows that OLC wasn't really giving legal advice. Instead it was issuing "get out of jail free" cards. A good example comes with waterboarding: "With respect to two detainees at those sites, the use and frequency of one EIT, the waterboard, went beyond the projected use of the technique as originally described to DoJ. The Agency, on 29 July 2003, secured oral DoJ concurrence that certain deviations are not significant for the purposes of DoJ's legal opinions."

7. The "prior investigation" canard…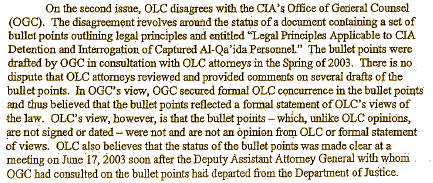 If the document wasn't an opinion of the
OLC
, what was it [since it was prepared in consultation with the acting head of the
OLC
, John Yoo]?
emptywheel
wonders if John Yoo was acting "out of school" [
Was John Yoo Free-Lancing When He Approved the "Legal Principles"?
]. At first, her interpretation made sense [
legal fiction…
], but now I think Scott Horton's take on things makes a better fit.
John Yoo was doing exactly what he was assigned to do – supply legal rationalizations to the CIA for their action plan for using torture
. If you review the
Yoo Memos
, that's how they read. They don't read like legal opinions, they read like witness coaching. "If they ask you
this or that
, you could say
such and so
…"
So, who did the assigning? Who was Yoo working for?

Not hard to guess, is it? This information is beginning to make an "actionable" case of conspiracy to evade to law, involving [at the least] Dick Cheney [VP], David Addington [VP's Counsel], John Yoo [DoJ, OLC], and Scott Muller [CIA's Counsel]…
Note:
Once again, the hero in the piece is Attorney General John Ashcroft [as was the case with his appointing Jim Comey and refusing to sign the Surveillance approval in the hospital]. This time, he blocked the appointment of John Yoo to head the OLC, and insisted on Jack Goldsmith. That meant that John Yoo headed back to California, and Goldsmith began to deconstruct the Torture Memos and the "Legal Principles" document. Whether it was his own intrinsic morality or his listening to Comey and Goldsmith, he ended up doing the right thing. In the case of John Ashcroft, in the end, honesty trumped ideology and loyalty. I doubt that I would like him if we got into a discussion of politics [and vica versa], but I certainly respect what he did as an Attorney General when the chips were down.