I guess I've heard the Republican Talking Point that the Democrats were "tax and spend" so long myself that I questioned the results in my last post. So I did it again from scratch. The graph in the upper left is the raw data for income and expenses. The one in the upper right is the Gross Domestic Product. The lower left shows the income and expenses corrected for the GDP as a way of correcting for inflation. The deficit/surplus graph [lower right] came out just like last time. The Nixon/Ford, Reagan/Bush, and Bush/Cheney Administrations all three escalated spending and operated with large deficits. Both Carter and Clinton cut spending, and Clinton actually produced a surplus.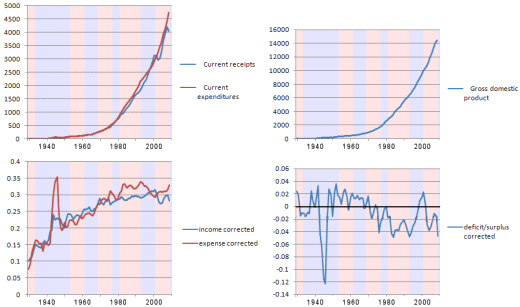 Why didn't I know this? Why doesn't everyone know this? How do the Republicans get away with saying it year after year? [Here's where the numbers came from if you want to check my work.]:
The National Accounts

: The

National Accounting

is easily accessed on the Bureau of Economic Analysis web site.

The Gross Domestic Product

: The

GDP

is available in another section of the Bureau of Economic Analysis web site.
Unfortunately, this data doesn't flesh out the "tax" part except grossly [like the gross Bush tax cut]. But my interest is definitely aroused. I expect there's a taxation comparison coming soon to a blog near here.