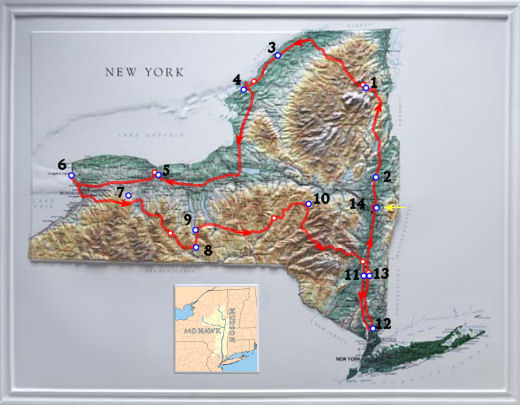 While the point was a yearly week-long reunion with friends from the early 70's Air Force days, as long as we were in the area, why not see what Upstate New York was about? It was a trip worth mentioning. We flew to Albany [yellow arrow] and drove to Lake Placid [1] where the six couples had rented a house on the lake. There are plenty of sites around that area – the lake itself with more old wooden Chris Craft motorboats than I imagined existed and the remains of two Winter Olympics [1932 and 1980], now an Olympic Training Center. That week, we did take a trip back south [2] to the Saratoga Battlefield and "the
races" at Saratoga Springs. The Battle of Saratoga was a really big deal in the Revolutionary War. General Burgoyne marched his British Army down the Hudson from Canada planning to connect their forces in Canada with their Army in the New York Harbor. His defeat [Generals Horatio Gates and Benedict Arnold] not only kept the Revolution alive but impressed the French who then sided with us. I'm not usually big on battlefield parks, but this one was a ten.
After our friends left, we drove north to the Saint Lawrence Seaway through the Adirondacks Mountains/Park [which is huge, covering 20% of New York State]. Other than a few villages and Amish Carriages selling baked goods, it's wilderness. Our first destination was the Fredric Remington Museum in Ogdensburg [3]. It was much more than advertised. Besides the wealth of sketches and a full collection of his bronze statuettes, there were a number of his oil paintings, personal memorobilia, and demonstrations of bronze casting. We spent the night in Alexandria Bay, a resort town on the seaway [wherein was being held the New York Firemen's Convention – some sc
ene]. We had supper down the road in Clayton NY [4] at the hotel restaurant where Thousand Island Dressing was invented – a real treat. Clayton also has the Antique Boat Museum which we visited the next day before driving to Rochester [5] to the Eastman Museum [through driving rain]. After a night in Rochester [at the Hyatt Hotel where the Second Annual International ROC City Tattoo Expo was in full sway – living art everywhere], we drove on to Niagara Falls, which was just as you imagined it [only bigger].
Thus far, our drive had been from destination to destination, but then it changed. From Buffalo through the Catskills [6-11], it was about the spaces in-between the places. There were certainly sites along the way – the Wind Farm in Wyoming County [7], Millard Filmore's favorite restaurant in East Aurora, the remarkable Corning Glass Museum [8], the best ice cream parlor in America in Watkins Glenn [9], and, of course, the Baseball Hall of Fame in Cooperstown [10]. But the main attraction was the byways through that beautiful countryside. It was mostly farmland with old Federal style houses, big barns, silos everywhere, fields of corn [for silage], cows, and towns and villages that could have been 50 years ago [a hundred years ago in places], except for the cars and an occasional convenience store. Simple and refreshing. If they didn't have winter, I'd move there in a heartbeat. Who knew? Such a surprise after years of travel to New York City. Oh yeah, the people were delightful too – friendly and happy.
The Hudson River Valley was another grand surprise. The Military Academy at West Point [11] is a must-visit. American Gothic architecture with manicured fields, filled with history. My favorite story was that Douglas MacArthur's mother checked into a hotel on post when she took her son to college, and stayed in that same hotel room for the whole four years he was there – watching through binoculars to see if he was up too late. No wonder he wanted to return to the Philippines! I'm not a military sort, but I was impressed with West Point. It has grand views of the Hudson River which is much bigger than I imagined. It seemed wider than the Mississippi in places [though much calmer]. We followed the Hudson south and crossed at Tarrytown.
While there are many estates to visit, the best site in Tarrytown [12] is Sunnyside, the home of author Washington Irving on the bank of the river. We bought and read The Legend of Sleepy Hollow,
then visited the Tarrytown/Sleepy Hollow cemetery which has his grave, the Old Dutch Church, and the bridge from the story where the headless horseman threw his pumpkin head at Ichabod Crane. That graveyard also had the Rockefellers, Chrysler, Carnegie, Gompers, Leona Helmsley, Elizabeth Arden, and a gajillion other notorati. Up the road, there was a small church [Union Church of Pocantico Hills] with nine spectacular Marc Chagall stained glass windows [and one by Matisse designed two days before he died]. Lots of history [and money] there in Tarrytown.
That night, the Johnny Depp movie "Sleepy Hollow" was on the old console tv in our motel room. It wasn't the greatest flick ever made, but I watched it all the way through, since fate had chosen for it to be shown the very day we went to Sleepy Hollow.
Moving north up the Hudson, one arrives in Hyde Park [13] home of FDR and his Presidential Library. It follows his life from beginning to end. To me, the most interesting part was a reconstruction of his "Map Room" in the White House basement from which he directed WWII. A code machine, typewriter, telephone, world maps on the wall, a desk, and a few chairs. A tiny command center for the biggest war of all. Like MacArthur, FDR's mom was always around – living with FDR and Eleanor until he died [or maybe vice versa]. The other treats in Hyde Park were Eleanor's post FDR home [Val-kill], lunch at the Culinary Institute of America, and a small Park on the Hudson [maybe the best of all].
After a stop at the Shaker Site [14] in Albany, we finally hopped on a plane for home [having logged 1700 miles on the rental car]. I'll probably post a few pictures once they get downloaded and edited. Since I retired, we've taken a lot of exotic trips – places where you travel with a group – China, Peru, Galapagos, Eastern Europe, Africa, Egypt, Jordan, Alaska. But these last two trips [Maine and Upstate New York] were more like our travels as younger people, just driving around seeing what's there to see. I'll have to say that the drive through rural New York was one of the best ever. Nothing we saw [except Niagara Falls] looked like it had in my mind before we went. I'll never think of New Yorkers in the same way. I was used to the brusqueness of The City and unprepared for the loveliness of the country and people in Upstate New York. It was even more rural than our home in North Georgia, and the inhabitants were similar. Fewer churches, less poverty on the back roads, but otherwise a comfortable commonality that was somehow uplifting. While I'll probably never go back, I'm glad to know it's there…