I've spent no small amount of time raling about the invasion of the Pharmaceutical Industry into Academic Medicine, specifically at Emory University where I trained and worked for some time. The Chairman, Dr. Charles Nemeroff, was relieved of his Chair in 2008 because of repeated Conflict of Interest violations. Since then, he has moved on to become the Chairman at the Miller School of Medicine in Miami. You might wonder why Miami would recruit a tarnished person, or why Emory put up with his antics so long. That question has an answer. Dr. Nemeroff came to Emory in 1991. At that time, the Department at Emory had no National Institute of Mental Health Grants. In the NIH/NIMH database, the funding amounts for grants only goes back 10 years, so I've shown the total number of grants above for the whole period and added the total funding below for the last decade: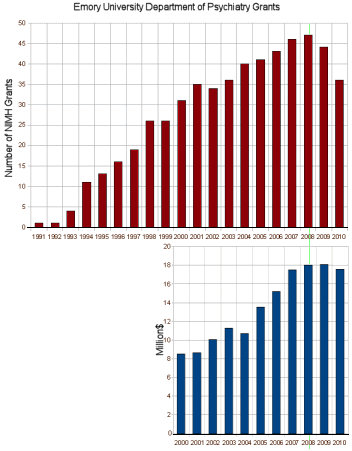 Dr. Nemeroff came in 1991, and stepped down under a cloud of allegations in the Fall of 2008. By that year, the Department was bringing in 18 Million Dollars yearly from NIMH Grants [up from zero when he came]. And that only includes NIMH Government Grants. While I have no access to the amounts, there was also plenty of Pharmaceutical Industry money coming Emory's way as well during those years through Dr. Nemeroff's efforts. And notice what's happened since he left [that decline will likely continue]. Here's a random capture of the kinds of things that
NIMH money
was for:
PRESYNAPTIC STRUCTURAL PLASTICITY IN THE AMYGDALA WITH FEAR CONDITIONING
PREDICTORS OF ANTIDEPRESSANT TREATMENT RESPONSE: THE EMORY CIDAR
IMAGING PREDICTORS OF TREATMENT RESPONSE FOR DEPRESSION
EMORY-MSSM-GSK-NIMH COLLABORATIVE MOOD AND ANXIETY DISORDERS INITIATIVE
THE ROLE OF SEPTAL V1AR DENSITY IN REGULATING SOCIAL BEHAVIOR
NEUROIMMUNE MECHANISMS OF GLUCOCORTICOID RESISTANCE
DOPAMINERGIC MECHANISMS OF CYTOKINE-INDUCED BEHAVIORAL CHANGE
IL-2 NEUROPSYCHIATRIC SYMPTOMS: MECHANISMS, PREVENTION
BIPOLAR DISORDER IN PREGNANCY: PREDICTORS OF MORBIDITY
While this explosion of research money brings faculty and support, it doesn't have much to do with direct patient care or training. The drug money is more plastic – honorariums for speakers, trips, etc. – but equally "biologic." So this kind of "rags to riches" story brings great prestige to a department, and a university, but adds little in terms of patient care or teaching – except in the range of biological interventions and frontiers. The money is all "tagged."
This little side trip was stimulated by a comment a colleague made at a meeting this last weekend, "The Department grew and flowered, but I'm not sure the patient care changed all that much." I would've gone further and said that all this focus on drugs and hard science was at the expense of psychotherapy and careful diagnostic evaluations. In fact, I'm sure of that. What's good for the University and the Department's reputation is not necessarily good for the students and patients.
But it does explain why Emory put up with Nemeroff's shenanigans for so long and why Miami hired him in spite of his previous sins. He knows how to bring in the money…