Saxby Chambliss
A week after a threatening anti-gay comment was posted on an online message board and traced back to Sen. Saxby Chambliss' district office in Cobb County, the staff member responsible has been fired. "The office of the Senate Sergeant at Arms has concluded its investigation, and I responded to that report immediately with the removal of a member of my staff," Sen. Chambliss said in a statement Thursday. It was the first public comment from the senator's office since the Senate Sergeant at Arms began investigating the matter.

"It was not criminal in nature," Gainer told 11Alive's Jeff Hullinger. "We looked at it [as] if it was some kind of hate crime. It's part of the free speech process. It was an administrative matter, and the senator wanted quick action." "I commend the Sergeant at Arms, Terrance Gainer, and his staff for their very thorough and professional work." Chambliss said.

The derogatory remark had been posted on the blog Joe.My.God. "I have called Mr. Jervis, the blog's author, and apologized to him personally, and I am sorry for the hurt this incident has caused," Chambliss added. "Regardless of one's position on issues and policies, such comments are simply unacceptable, are not befitting those who work in the U.S. Senate, and I will not tolerate them from my staff."

Joe Jervis blogged

his response to the senator. "I do appreciate the call and I do accept your apology on the condition that your office issues a public statement repeating what you've just said to me," Jervis recalled telling Chambliss. The senator issued his statement shortly afterwards, but the identity of the staff member who made the comment has not been released. "I'm glad to see Sen. Chambliss has taken appropriate action and fired the staffer who made the comment," Matt Hennie told Hullinger. Hennie is founder and Managing Editor of Project Q, a popular website for the gay community. "It's unfortunate it took him 9 days to figure this all out," Hennie added.
Eddie Long
Much of the legal case against Bishop Eddie Long is rooted in activity that allegedly occurred in a modest South DeKalb neighborhood – two doors down from where Leon Wright lives. "Sometimes they were here for hours," Wright said of Bishop Long and his neighbor of two years, Anthony Flagg.

Flagg is one of four young men who have sued the pastor of New Birth Missionary Baptist Church. The suit alleges that Bishop Long enticed Flagg into sexual activity in an unassuming tract home on a South DeKalb cul-de-sac. The frequency of Bishop Long's visits were "like a mail lady come to drop mail off," Wright laughed. "It was every day, man."

Wright says Bishop Long and Flagg were typically alone in the house when they were together. The suit says Andrew Momon owned the home. Momon is an official at New Birth. The house is now in foreclosure. The suit says the pastor put the then – 18 year old Flagg in the home with his mother's permission, to ostensibly stabilize his life, with Bishop Long as his mentor and spiritual leader. But the suit alleges the Bishop victimized Flagg sexually.

Leon Wright says he saw no evidence of abuse when Flagg and Bishop Long spent time together. But Wright says he knew Flagg, saw them together frequently and believes the allegations against Bishop Long. "I feel bad for what he's going through," said Wright. "But I believe it. I think it's true."
Age of Consent [in case you wondered]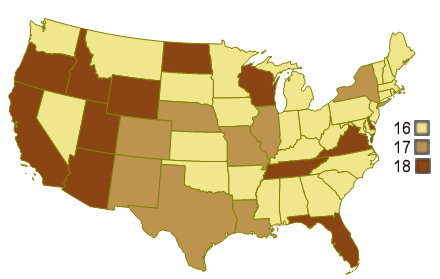 I presume that the Attorney has checked at what age each plaintiff was taken on trips to which city.
That would matter.