ONE dirty little secret of the 2010 election is that it won't be a political tragedy for Democrats if a Tea Party icon like Sharron Angle or Joe Miller ends up in the United States Senate. Angle, now synonymous with racist ads sliming Hispanics, and Miller, already on record threatening a government shutdown, are fired up and ready to go as symbols of G.O.P. extremism for 2012 and beyond. What's not so secret is that some Republicans will be just as happy if some of these characters lose, and for the same reason. But whatever Tuesday's results, this much is certain: The Tea Party's hopes for actually affecting change in Washington will start being dashed the morning after. The ordinary Americans in this movement lack the numbers and financial clout to muscle their way into the back rooms of Republican power no matter how well their candidates perform…
It's another one of those Frank Rich wonder articles, well worth the full read. In it, he simply outlines the obvious – that the Republican hierarchy is using the Tea Party, much as they used the Religious Right previously. Their M.O. is to use these populist groups to get elected, while actually being run by the Business Elite [and the Neoconservatives]. Rich goes on with a dour prediction:
But those Americans, like all the others on the short end of the 2008 crash, have reason to be mad as hell. And their numbers will surely grow once the Republican establishment's panacea of tax cuts proves as ineffectual at creating jobs, saving homes and cutting deficits as the half-measures of the Obama White House and the Democratic Congress. The tempest, however, will not be contained within the tiny Tea Party but will instead overrun the Republican Party itself, where Palin, with Murdoch and Beck at her back, waits in the wings to "take back America" not just from Obama but from the G.O.P. country club elites now mocking her. By then — after another two years of political gridlock and economic sclerosis — the equally disillusioned right and left may have a showdown that makes this election year look as benign as Woodstock.
Rich's comments about the Principals are particularly notable:
So it would seem that the cartoon with Rich's article doesn't quite have enough levels [and it left out the previous version]: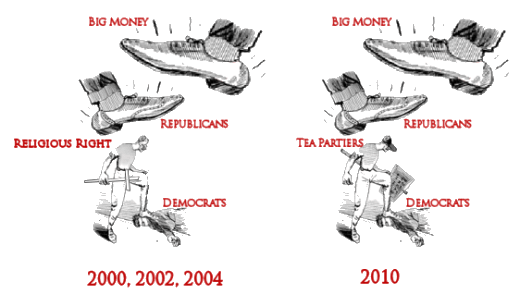 Seems like the Religious Right would've noticed that they got nothing for their efforts. Maybe the Tea Partiers will catch on more quickly. Rich seems to think so…