To ghostwrite an entire textbook is a new level of chutzpah," former FDA chief David Kessler told the Times. "I've never heard of that before. It takes your breath away."
In 1999, Dr. Charles Nemeroff, then Chairman of Psychiatry at Emory, and Dr. Alan Schatzberg, then Chairman of Psychiatry at Stanford, published Recognition and Treatment of Psychiatric Disorders: A Psychopharmacology Handbook for Primary Care, a reference for general physicians. It makes perfect sense that the authors of the definitive textbook, Psychopharmacology, would write such a book. They were the experts of the hour in 1999. The blurb from Amazon reads:
Price: $78.00 & this item ships for FREE with Super Saver Shipping.
In Stock.
Ships from and sold by Amazon.com. Gift-wrap available.
---
Mental health is an important public health issue. National survey data indicate that 48% of the U.S. adult population have reported a psychiatric disorder at some point in their lives and 30% have reported one in the past 12 months. With the changing healthcare environment, 60% of these patients are identified and receive treatment in the primary care setting.
Recognition and Treatment of Psychiatric Disorders: A Psychopharmacology Handbook for Primary Care was developed to provide the busy primary care physician with practical and timely strategies for screening and treating patients who have psychiatric disorders. It covers
The continually growing number of drugs available for treatment of mental disorders.

An overview of the epidemiology, pathophysiology, presentation, diagnostic criteria, and screening tests for common psychiatric disorders including anxiety disorders, mood disorders, insomnia, somatization disorder, substance use disorder, eating disorders, dementia, and schizophrenia

Treatment algorithms and other step-by-step approaches to direct the physician who is treating patients with mental disorders including drug dosages, schedules, and routes of administration

Basic pharmacology, pharmacokinetics, drug interaction and safety concerns, and practical dosing issues for all classes of drugs used to treat mental disorders

Guidelines for primary care physicians on when to refer patients to psychiatrist colleagues
This handbook is the quintessential resource for primary care physicians needing to screen and treat patients with mental disorders. Brief, but informative, this resource includes a glossary, a listing of printed and electronic mental health resources, a bibliography, and an appendix containing selected diagnostic rating scales.
But the truth is that Nemeroff and Schatzberg didn't write the book. It was ghostwritten by a marketing company [Scientific Therapeutics Information] working for a Pharmaceutical Company [GlaxoSmithKlein]. Now why would a Pharmaceutical Company finance and actually ghostwrite a handbook of psychopharmacology for General Practitioners? That question is pretty easy to answer. Most prescriptions for Psychiatric drugs are written by primary care doctors. So if your a manufacturer of those drugs, that's your target market. Who knows? Maybe the drug company might even buy up the books themselves and give them away to primary care physicians – which is exactly what happened. "The book sold about 26,000 copies, including 10,000 bought by SmithKline Beecham for American family doctors and 10,000 purchased by the Dutch pharmaceutical company Organon, Mr. McMillen said. The authors together received a 15 percent royalty of the $120,000 sales, or about $18,000, he said."[ref]
The case against Drs. Nemeroff and Schatzberg appears air-tight to me. I've appended the references to this post rather than summarizing as usual to let you decide for yourself. The investigator here is Paul Thacker, formerly the workhorse for Senator Chuck Grassley, now with the Project on Government Oversight [POGO]. I was worried that the move would slow him down [fighting the good fight…], but he's obviously still in the game!
Nemeroff and his partners in crime have done some fairly rotten things in their day – turned Psychiatry into a drug dispensary, sucked up the dwindling research money for drug trials, and become pitch men for pharmaceutical manufacturers. But this one actually seems especially egregious. They are consciously "fronting" the drug company to make treatment recommendations to front line practitioners directly. And a lot of these drugs are dangerous even when used by experts.
Nemeroff and Schatzberg penned their names and reputations as experts to a book purported to help physicians help patients. It was, in fact, a book to make money for drug companies. And they didn't even say they didn't write it in the small print. They just signed their names to somebody else's work and agenda. In my book, that's fraud – plain and simple. To me, it's no different from signing a prescription for a patient you've never seen.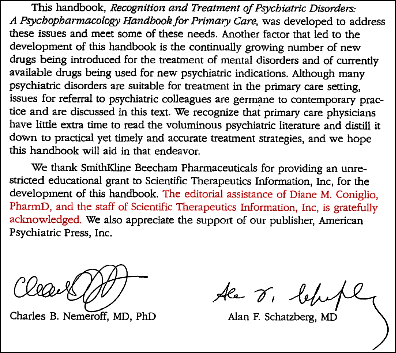 REFERENCES

---

November 29, 2010:
Article in the New York Times, Drug Maker Wrote Book Under 2 Doctors' Names, Documents Say, about a book by Dr. Charles Nemeroff and Dr. Alan Schatzberg that was ghostwritten by GSK, a Pharmaceutical Company.

---

November 29, 2010:
Letter from the Project on Government Oversight to Dr. Francis Collins, Director of the National Institute of Health on Ghostwriting Academics.

---

February 04, 1997:
Letter from GSK to Dr. Nemeroff with the timeline for producing the book, including close reviews by GSK ["sponsor"].

---

February 25, 1997:
Draft of the book from STI/GSK with the true authorship noted.

---

1999:
Preface from the book that does not acknowledge STI/GSK's authorship.
hat tip to the Boss of Watchdogs