So I'm taking a break from the Egyptian Revolution and watching one of my daughter's friends on the Grammy's, but on the side of my mind, I'm working up a resentment that we don't get to see a scattergram of the patient's weight gain plotted as a function of when they dropped out of Trial 0015. And so I look one more time to see if the raw study data is on the Internet. It's not there any more than it was the last time I looked, but I see something called 04_Exhibit27 that I've not seen before. So I open it up. It's an email from Dr. Arvanitis [August 13, 1997] about weight gain. I'll let it speak for itself: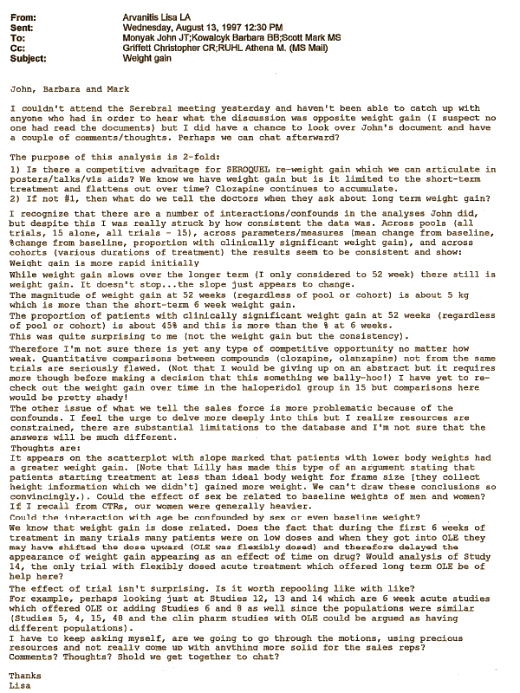 I'm sitting here almost 14 years later trying to figure out how much weight gain they knew about before the submitted their approval application in 1997. Lisa Arvanitis, on the other hand, is sitting back there at the time with weight gain information analyzed in every way possible [including my scattergram!]. They even had more than I knew from OLE [Open Label Extension – Zeneca gives medication away free to people after the trial ends who want it and continue to collect data]. And what they're pondering is how to turn their weight gain problem into an asset? Now that's hubris.
What we learn is that the incidence of "Clinically Significant Weight Gain" at 52 weeks is 45% [and rising]. They're brain-storming around trying to figure out some way to spin the weight gain story so the sales reps will have something upbeat to say about it, so she throws out some ideas about creative data-manipulation. But alas – reality intrudes on her fantasy…

In the published reports, she had already explained weight gain repeatedly.
In Trial 0006:
"Treatment with ICI 204,636 was associated with clinically significant weight gain (an increase of 7% or more from baseline weight) in 25% of patients compared with 4% of placebo-treated patients. Average weights at endpoint represented a change from baseline of +5.5 kg for ICI 204,636-treated patients and +0.5 kg for patients in the placebo group… Patients treated with ICI 204,636 gained, on average, 3.1 kg, and 24% had clinically significant increases in body weight of 7% or more. However, weight gain is not uncommon in schizophrenic patients treated with antipsychotic agents and has been reported in as many as one-third of patients treated with clozapine."
In Trial 0008:
"Treatment with quetiapine was associated with clinically significant weight gain (an increase of >7% from baseline weight) in 25% of the patients in the high-dose group compared with 16% in the low-dose group and 5% in the placebo group… Patients treated with quetiapine had a mean weight gain of 2 kg, compared with 0.1 kg for patients in the placebo group; however, weight gain did not necessitate withdrawal of treatment for any patient and may or may not have been clinically important during the 6-week period. Often weight gain in patients treated for acute psychosis seems more a function of a return to preexacerbation status and other aspects of well-being associated with improvement in psychosis rather than of treatment."
In Trial 0013:
"Mean increases in weight with quetiapine, from low to high dose, were +0.9, +2.9, +2.0, +2.6, and +2.3 kg, respectively, and were greater than those seen with haloperidol (+0.3 kg) or placebo (-0.8 kg). Increases from baseline of 7% or greater were considered clinically significant and were seen in greater proportions of quetiapine-treated patients: from low to high dose in 11%, 17%, 10%, 16%, and 13% versus 4% with haloperidol and 6% with placebo. Changes did not necessitate treatment withdrawal or appear dose-related on the basis of descriptive statistics… Although quetiapine was associated with a greater mean weight gain compared with haloperidol and placebo, no patients were withdrawn as a result. When reported as an adverse event, weight gain appeared to be related to dose, but no clear dose-response relationship was evident relative to clinically significant weight gain. Generally mean increases were greater at day 42 for patients who completed the trial (1.5-4.5 kg) than for patients who withdrew. In any case, weight gain over a 6-week period may or may not be clinically significant given that it may be a function of well-being resulting from improvement in psychosis."
And in the Trial 0015 Report they sent the F.D.A.:
"There also appeared to be a dose-related increase in the proportion of patients with clinically significant weight gain among SEROQUEL groups. Clinically significant weight gain, which was associated with SEROQUEL treatment, is often seen during treatment with antipsychotic agents."
What a naive question I asked a few posts back, "Did they cheat?" No need to summarize the evidence to answer that one anymore. "Yeah, they cheated – a lot"…