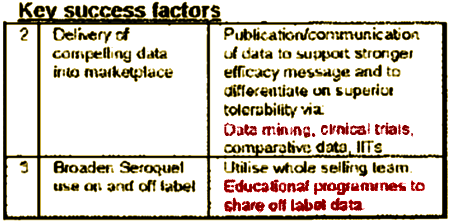 AstraZeneca came to bat swinging with a multi-pronged game plan:
weight-neutral, placebo-like EPS, well-tolerated

superior antipsychotic efficacy

expanded indications

• Clinical Trials with published studies

• F.D.A. Approvals

promoting off-label indications
They should've known that they were going to lose 1. and 2. down the line from their own pre-approval trials [and they would]. I personally suspect they did know, because they really threw themselves into 3. and 4. We've talked about a few of the Clinical Trials that just kept coming in waves; we've looked at the boiler-plate format for their publications; and we've seen their ultimate success with the F.D.A. approvals. But those things came slowly. What we haven't looked at is the off-label promotions. It's harder to examine because, unlike the other arms of their strategy, it's really not legit [Pharmaceutical Companies are prohibited from promoting their drugs "off-label"]. And "off-label" promotion was pretty ubiquitous around AstraZeneca. Here are some notes on a report from a Primary Care Provider focus group:
"will the barriers to entry become too great if we wait until later?"

"but, should they be knowledgable to -grease the skids for dementia -could become messy if we turn on the direct to consumer machine,"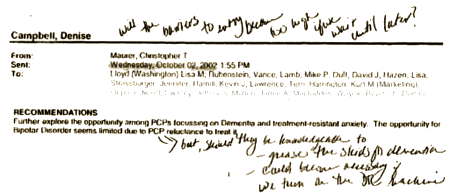 Here, they're putting together a program to promote Seroquel for Bipolar Disorder though Key Opinion Leaders [KOL] years before being approved for that indication:

In the next one, they're talking about paying for "off-label" presentation slides outside the commercial budget to keep the promotion off the books: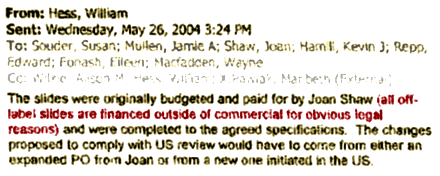 Here, they're openly budgeting of off label promotion at the American Psychiatric Association meeting before being approved for anything except Schizophrenia: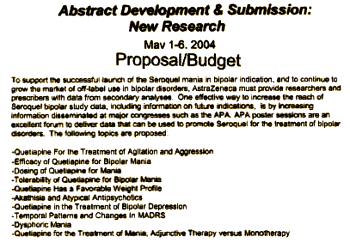 Both this example and the last were prepared by
Parexel
, their contracted research consultants: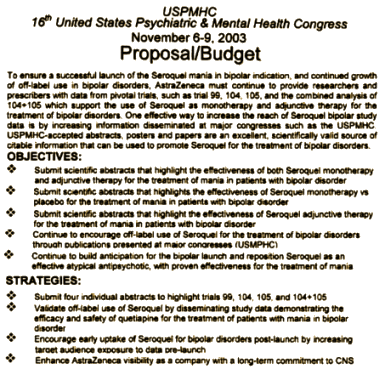 This time, they're arranging for one of their KOLs to present using Seroquel in Bipolar Disorder at a Child an Adolescent meeting long before being approved for that disorder in kids: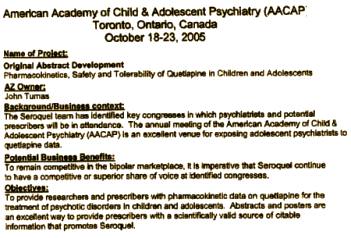 The examples go on and on. The F.D.A. had issued several
Warning Letters
for labeling violations previously, but when they became aware of the extent of
Astrazeneca
's off-label promotional activities, they finally took punitive action [and we found that their sins were even more widespread than had been suspected]:
AstraZeneca has completed a deal to pay $520 million to settle federal investigations into marketing practices for its blockbuster schizophrenia drug, Seroquel, the Attorney General, Eric Holder, said at a news conference Tuesday afternoon. "AstraZeneca paid kickbacks to doctors as part of an illegal scheme to market drugs for unapproved uses," Kathleen Sebelius, secretary of health and human services, said at the event in Washington. She said the company promoted drugs for unapproved uses by children, the elderly, veterans and prisoners.

Glenn Engelmann, AstraZeneca's U.S. general counsel, released a statement saying the company denies the allegations but settled the investigation with the payment. "It is in the best interest of AstraZeneca to resolve these matters and to move forward with our business of discovering and developing important, life-changing medicines — while avoiding the delay, uncertainty, and expense of protracted litigation," Mr. Engelmann said…

AstraZeneca agreed to sign a corporate integrity agreement with the federal government over its marketing of Seroquel for unapproved uses, but will not face criminal charges, company and federal officials said. The company, based in London, has been accused of misleading doctors and patients by playing up favorable research and not adequately disclosing studies that show Seroquel increases the risk of diabetes…

The company was facing two federal investigations and two whistle-blower lawsuits involving Seroquel sales and marketing practices. One of the investigations related to physicians who had participated in clinical trials. The other inquiry involved sales staff. As a result of aggressive marketing, Seroquel has been increasingly used for children and elderly people for indications not approved by the

. The drugs have caused rapid weight gain in children, and side effects including deaths have prompted warnings against giving the drugs to elderly patients for dementia…
AstraZeneca's off-label promotion may have cost them $520 M in fines, but it made them Billions. The full extent of their exploiting this sales technique will probably never be known. The decade of the 2000s was a time when Speaker's Bureaus and C.M.E. presentations were not so closely monitored. So it's unknowable how many times the speakers talked about using Seroquel in treating Bipolar Disorder or Mania before it was approved – or how many times they answered the inevitable questions about Anxious patients with a suggestion of Seroquel as the answer. The idea of using Seroquel for "treatment resistant depression" approved only recently has been in review articles and presentations for years.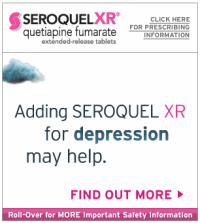 And there's a subtle version going on right now. In December 2009, Seroquel XR was approved for the adjunctive treatment of patients with Major Depressive Disorder who have not responded to antidepressants [Major Depressive Disorder]. No matter where you turn, you see some version of that ad on the right [this one was in the New York Times]. It doesn't say "Adding SEROQUEL XR for Major Depressive Disorder may help." It says, "Adding SEROQUEL XR for depression may help." And that's the way I see it being used in practice. People who say they are depressed get put on SSRIs with no attention to whether they meet any criteria for Major Depressive Disorder or anything else. When they don't respond, they get SEROQUEL or SEROQUEL XR. They may be sad for a million perfectly understandable reasons – out of work, lost a friend, lonely, whatever. In essence, what that ad says is "Psychiatric complaint in busy doctor's office equals SSRI for a bit, then SEROQUEL XR when it doesn't work."
SEROQUEL has finally become a routine, office visit, symptomatic nerve pill. But instead of giving in to the rant within about that just yet, I'll close this post by saying that AstraZeneca's off-label promotion tactics have been one of their most despicable practices – and most successful. They're still at it…