In the case of
Seroquel
or
Abilify
, we inferred ghost-writing from the Acknowledgments for
editorial
or
writing
support. In the cases exposed by
POGO
involving
GlaxoSmithKline
[GSK] and
Scientific Therapeutics Information
[STI], the evidence was more direct [emails and proposals]. But
Lilly
's
Zyprexa
made it a lot easier. They just
said
it outright:
"The paper for the Progress in Neurology and Psychiatry supplement has been completed and sent to the journal for peer review," Kerrie Mitchell, an employee of the public relations agency Cohn & Wolfe, wrote in a Feb. 23, 2001, e-mail to Michael Sale, a Lilly marketing official… "We 'ghost' wrote this article and then worked with author Dr. Haddad to work up the final copy," Mitchell said in the e- mail.
In fact, they had a
manual
for ghost-writing with a sample article – even told you how to recruit [and pay] an author: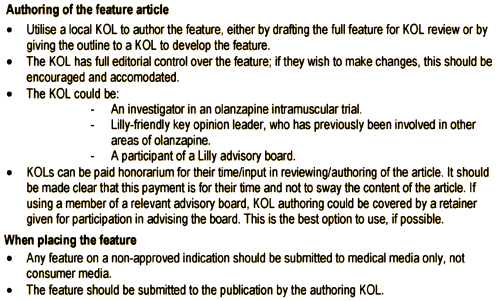 As I read through these examples from Eli Lilly, they seemed subjectively different from Bristol-Myers Squibb, Glaxo SmithKline, and AstraZeneca. It was the same stuff – ghost writing, suppressing negative data, profit over patients. I couldn't put my finger on it exactly. Then I ran across this example:
… In one instance, Lilly employees contacted the Journal of Clinical Epidemiology about delays of an article criticizing a previously published piece linking Zyprexa, as well as the class of atypical antipsychotics, to diabetes. After Suraja Roychowdhury, Lilly's senior scientific communications coordinator, wrote to the journal in November 2002, its editor, Andre Knottnerus, replied in an e-mail that it was "a bit strange to be contacted via the Lilly product team. Dr. Buse and coauthors can contact us directly next time." Knottnerus was referring to the manuscript's lead author, John Buse, a former president of the American Diabetes Association. A copy of the Nov. 22, 2002, e-mail was included in the unsealed documents.

Patrizia Cavazzoni, a Lilly staffer who co-wrote the article, e-mailed Buse on Jan. 9, 2003, seeking permission to send a separate e-mail asking to expedite publication. She also asked Buse if he would prefer "to send it in your name?" It isn't clear from the e-mail chain whether the e-mail was sent by Buse or Cavazzoni. On Jan. 22, 2003, Buse e-mailed Cavazzoni to say he hadn't heard anything and to request Knottnerus's telephone number, according to the documents.

The Zyprexa article by Buse and Cavazzoni was a review of another submission that had previously appeared in the journal, according to the documents. That article summarized previous medical literature on atypical antipsychotics, and found Zyprexa had an increased risk of causing diabetes relative to the class…
Complaining that their most recent advertisement wasn't published yet? Nothing subtle here. Were they just sloppier? It felt like this stuff was too easy to find. Then I remembered this from their
current web site
:
High blood sugar [hyperglycemia]. High blood sugar can happen if you have diabetes already or even if you have never had diabetes. In rare cases, this could lead to ketoacidosis (build up of acid in the blood due to ketones), coma, or death. Your doctor should do lab tests to check your blood sugar before you start taking ZYPREXA and during treatment. In people who do not have diabetes, sometimes high blood sugar goes away when ZYPREXA is stopped. People with diabetes and some people who did not have diabetes before taking ZYPREXA need to take medicine for high blood sugar even after they stop taking ZYPREXA. If you have diabetes, follow your doctor's instructions about how often to check your blood sugar while taking ZYPREXA.
After all these years, this warning still doesn't say that Zyprexa causes or predisposes to Diabetes. What the hell do you call "some people who did not have diabetes before taking ZYPREXA need to take medicine for high blood sugar even after they stop taking ZYPREXA?" I call it Diabetes. Lilly knows that. They came into being as the insulin manufacturers – still are. Maybe this is some kind of lame attempt to keep the denial going in hopes of avoiding more legal suits, but it also feels like an arrogance, a sense of entitlement, a recklessness that's off the scale. The whole story feels that way.
In fact, I've had enough of the Zyprexa story. It's monotonous, boring. Turn over any rock and there's another egregious example of their misbehavior. I read that they're heading for the skids when Zyprexa's patent expires this year. Lilly says they're determined to "stay independent" and not be acquired by some other pharmaceutical [Eli Lilly "very much opposed" to merger: CEO]. Who would want them with all of their accumulated liability? It's like buying an asbestos manufacturer. But what do I know? Lilly is still on the top of the chart for paying doctors to be drug reps [speaker's bureaus] in the ProPublica database: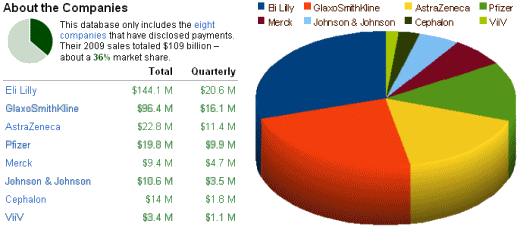 They said they were going to make history. That's assured…