Lilly continued to fight the association of Zyprexa with Diabetes, and specifically Zyprexa's leading the "metabolic syndrome" pack. Then, in December 2006, the New York Times began a series on Lilly and Zyprexa based on leaked documents:
The drug maker Eli Lilly has engaged in a decade-long effort to play down the health risks of Zyprexa, its best-selling medication for schizophrenia, according to hundreds of internal Lilly documents and e-mail messages among top company managers. The documents, given to The Times by a lawyer representing mentally ill patients, show that Lilly executives kept important information from doctors about Zyprexa's links to obesity and its tendency to raise blood sugar — both known risk factors for diabetes. Lilly's own published data, which it told its sales representatives to play down in conversations with doctors, has shown that 30 percent of patients taking Zyprexa gain 22 pounds or more after a year on the drug, and some patients have reported gaining 100 pounds or more…

"Olanzapine-associated weight gain and possible hyperglycemia is a major threat to the long-term success of this critically important molecule," Dr. Alan Breier wrote in a November 1999 e-mail message to two-dozen Lilly employees that announced the formation of an "executive steering committee for olanzapine-associated weight changes and hyperglycemia." Hyperglycemia is high blood sugar. At the time Dr. Breier, who is now Lilly's chief medical officer, was the chief scientist on the Zyprexa program…

The documents were collected as part of lawsuits on behalf of mentally ill patients against the company. Last year, Lilly agreed to pay $750 million to settle suits by 8,000 people who claimed they developed diabetes or other medical problems after taking Zyprexa. Thousands more suits against the company are pending…

The documents — which include e-mail, marketing material, sales projections and scientific reports — are replete with references to Zyprexa's importance to Lilly's future and the need to keep concerns about diabetes and obesity from hurting sales…
These documents are archived at
Furious Seasons
and
Zyprexa Litigation Documents
, but not on
PsychRights
[Law Project for Psychiatric Rights] a website maintained by the attorney that originally leaked the documents, Jim Gottstein. He remains under Court Order for leaking the documents. It's a
long story
for another day. The point is that the documents remained in the public domain. I said earlier, "
they're overwhelming in dimensions other than just their sheer numbers. There's an arrogance and a grandiosity behind the power-point slides and the strategies that seems like something out of an overwritten summer beach novel about corporate greed.
" The government [FDA] apparently agreed and acted accordingly:
American pharmaceutical giant Eli Lilly and Company today agreed to plead guilty and pay $1.415 billion for promoting its drug Zyprexa for uses not approved by the Food and Drug Administration [FDA], the Department of Justice announced today. This resolution includes a criminal fine of $515 million, the largest ever in a health care case, and the largest criminal fine for an individual corporation ever imposed in a United States criminal prosecution of any kind. Eli Lilly will also pay up to $800 million in a civil settlement with the federal government and the states. Eli Lilly agreed to enter a global resolution with the United States to resolve criminal and civil allegations that it promoted its antipsychotic drug Zyprexa for uses not approved by the FDA, the Department said…

The company has signed a plea agreement admitting its guilt to a misdemeanor criminal charge. Eli Lilly also signed a civil settlement to resolve civil claims that by marketing Zyprexa for unapproved uses, it caused false claims for payment to be submitted to federal insurance programs such as Medicaid, TRICARE and the Federal Employee Health Benefits Program, none of which provided coverage for such off-label uses. The plea agreement provides that Eli Lilly will pay a criminal fine of $515 million and forfeit assets of $100 million. The civil settlement agreement provides that Eli Lilly will pay up to an additional $800 million to the federal government and the states to resolve civil allegations originally brought in four separate lawsuits under the qui tam provisions of the federal False Claims Act…

• The criminal information, filed in the Eastern District of Pennsylvania, alleges that from Sept. 1999 through at least Nov. 2003, Eli Lilly promoted Zyprexa for the treatment of agitation, aggression, hostility, dementia, Alzheimer's dementia, depression and generalized sleep disorder.

• The information alleges that Eli Lilly's management created marketing materials promoting Zyprexa for off-label uses, trained its sales force to disregard the law and directed its sales personnel to promote Zyprexa for off-label uses.

• The information alleges that beginning in 1999, Eli Lilly expended significant resources to promote Zyprexa in nursing homes and assisted-living facilities, primarily through its long-term care sales force. Eli Lilly sought to convince doctors to prescribe Zyprexa to treat patients with disorders such as dementia, Alzheimer's dementia, depression, anxiety, and sleep problems, and behavioral symptoms such as agitation, aggression, and hostility.

• The information further alleges that the FDA never approved Zyprexa for the treatment of dementia, Alzheimer's dementia, psychosis associated with Alzheimer's disease, or the cognitive deficits associated with dementia.

• The information also alleges that building on its unlawful promotion and success in the long-term care market, Eli Lilly executives decided to market Zyprexa to primary-care physicians. In Oct. 2000, Eli Lilly began this off-label marketing campaign targeting primary care physicians, even though the company knew that there was virtually no approved use for Zyprexa in the primary-care market. Eli Lilly trained its primary-care physician sales representatives to promote Zyprexa by focusing on symptoms, rather than Zyprexa's FDA approved indications.

• The qui tam lawsuits alleged that between Sept. 1999 and the end of 2005, Eli Lilly promoted Zyprexa for use in patients of all ages and for the treatment of anxiety, irritability, depression, nausea, Alzheimer's and other mood disorders.

• The qui tam lawsuits also alleged that the company funded continuing medical education programs, through millions of dollars in grants, to promote off-label uses of its drugs, in violation of the FDA's requirements…
Now, about those documents from the litigation. When I looked at the PsychRights documents from the
Seroquel
Litigation, there was a wonderful index that made it sort of easy to wade through them and find what I was looking for. With the
Zyprexa
Documents at
Furious Seasons
, there was a list of 358 linked files named something like
ZY200269693.pdf
. On the
Zyprexa Litigation Documents
site, there were 148 named things like
Dec. 2002 e-mail corres between Jeff McCombs at USC and Lilly in re Medical formulary
.
Healthy Skepticism
has put together a
Power Point
of some of the marketing highlights [keyed to the documents at
Furious Seasons
]. But I was still having a hard time finding what I was looking for – the vignetted cases. Then I happened on this article by my now favorite Social Science writer [
The promotion of olanzapine in primary care: an examination of internal industry documents
. by Spielmans GI. Soc Sci Med. 2009 Jul;69(1):14-20.] which is avaliable on-line
here
. It's a good article, but even better is the bibliography, keyed to the documents on
Furious Seasons
. There may be another, better index I just didn't find yet, but Spielmans' was just fine for my current purposes. Here's the abstract:
Abstract

Media reports have discussed how olanzapine was marketed off-label for dementia and subsyndromal bipolar disorder. Much of this marketing occurred in primary care settings. However, these reports have provided few details. In legal proceedings, Lilly disclosed internal documents that detail the strategies utilized to market olanzapine. The current paper addresses the marketing of olanzapine in detail based upon a review of these documents. All 358 documents released by Lilly are publicly available online. Documents were utilized for this review if they were relevant to the marketing of olanzapine in primary care settings in the United States. It was found that olanzapine was marketed off-label in primary care settings for relatively mild symptoms that were framed as bipolar disorder and schizophrenia. A key strategy in this campaign was the use of hypothetical patient profiles in detailing visits, most of which clearly failed to meet diagnostic criteria for any recognized mental disorder. Evidence emerged that olanzapine was also marketed off-label as a treatment for dementia.
Schizophrenia wasn't enough, so from the outset,
Lilly
wanted doctors using
Zyprexa
for more – Bipolar, Bipolar Lite, Depression, Dementia, etc. There are lots of those patients, and they see Primary Care Providers [PCPs]. So in 2000, they launched their
Viva Zyprexia
, a campaign to get PCPs treating with
Zyprexa
:
As I've mentioned, their sales technique was to skirt diagnoses and focus on symptoms, using case vignettes: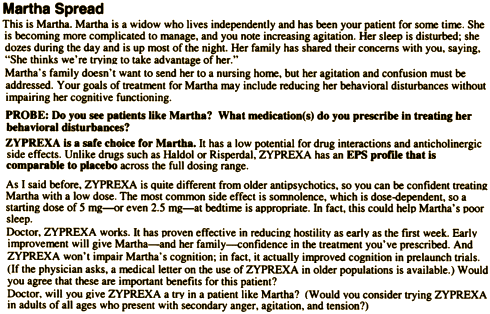 I picked Martha to show their interest in the elderly – in Dementia. Lilly's problem was that they couldn't get Zyprexa approved for Dementia [but the nursing homes have a whole lot of patients]. So what's wrong with Martha? [from Spielmans]:
According to a media report, a Lilly spokesperson indicated that the Martha profile was utilized to reference a patient with untreated schizophrenia; however, Martha's case seems more consistent with mild dementia rather than schizophrenia that has remained undetected for decades. Olanzapine is typically utilized in doses of at least 10–15 mg daily for schizophrenia, yet sales material suggested that patients like Martha receive doses in the 2.5 mg–5 mg range, a range typical of what was utilized in olanzapine trials for dementia. In addition, although Lilly claimed that they intended Martha's profile to represent a patient with schizophrenia, an internal email stated that the diagnosis of Martha was ''dementia'', followed by a comment that ''we are getting a little grief from some of our docs about promoting Zyprexa for dementia''. Several psychiatrists have disagreed with the assessment of Martha's case as one of schizophrenia, noting that schizophrenia ''could not be confused with mild dementia.''
Most other vignettes were about the
vaguely bipolar
[
Michael
] and the
sort of paranoid
[
Kelly
]. This is from a brochure for their Sales Reps about using a brochure about
Mark
for the target PCPs: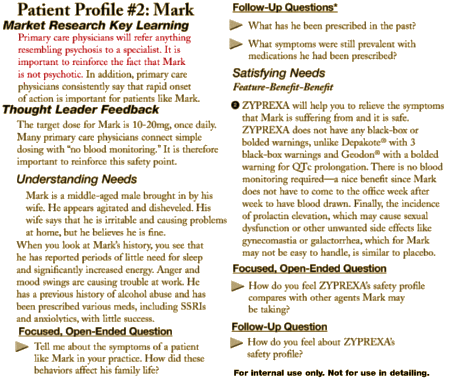 The red highlighting is mine. They're hinting that
Mark
has a Bipolar
-ish
Disorder. I've included these examples of case vignettes to give the flavor of what
Lilly
was trying to bring off. Notice that the cases have
no diagnosis
, just a few symptoms. First off, it's hard for me to imagine treating someone with this little information [except maybe on a "House" rerun].
The gist of things is to get the PCPs treating symptoms, not disorders.
I actually thought this was all kind of silly until I read the case of
Kelly
, then I got upset:

They're suggesting that the right thing to do with a 20 year old girl with an implied incipient Schizophrenic decompensation is to put her on some Zyprexa and see how it goes? Color me old-fashioned, but I think that trivializes the biggest turning point in the trajectory of Kelly's life. Lilly forgets that we're treating neither symptoms nor disorders – we're treating people with lives. The idea of an office visit GP and a drug-rep treating such a case is beyond my comprehension.
These seemingly little case vignettes were a big part of Lilly's Viva Zyprexia campaign – the focal point of their sales meetings and training. While these training sessions seem trite [my response? "If you call me Doctor one more time, I'm going to call you Mr. Detail Man"], they're desensitizing General Practitioners to treat fairly sick people who deserve a thorough evaluation, follow-up ,and monitoring [Schizophrenia, Mania, Bipolar Disorders, Dementia don't go away]. It's hard for me to imagine that Lilly would even suggest doing this, but Lilly didn't just suggest it – they did it. It strikes me like a patient coming in with hemoptysis [coughing up blood] and a GP writing a prescription for 5FU [a chemotherapy agent] instead of referring the patient to a specialist to be evaluated.
The FDA didn't like it either. From their point of view, it was deal-breaking of the first order. Doctors can prescribe anything they want. The watchdogs for Doctors are Medical Boards and Malpractice Suits, which works pretty well. But Drug Companies cannot advertise or recommend a product for anything except what the FDA has approved. This
Viva Zyprexia
business was a thinly disguised attempt to get around that by making no
diagnoses
with their little vignettes – instead listing
symptoms and behaviors
. The FDA was having none of that. In the specific,
Lilly
had already tried to get
Zyprexa
approved for Dementia – tried and failed. Their data wasn't good enough.
And
:
Lilly had initially hoped that Zyprexa would be approved to treat dementia in the elderly. Between 1996 and 2000, Lilly engaged in and submitted to the FDA the results of at least two additional studies designed to support approval of an indication for treatment of dementia in the elderly. But, by 2003, Lilly admitted to the FDA that Zyprexa had no proven efficacy in treating psychosis associated with dementia. In December of that year, Lilly requested a meeting with the FDA's Center for Drug Evaluation and Research and provided information on seven clinical studies of Zyprexa it had conducted in elderly patients with dementia. The point of the request was not to focus on Zyprexa's efficacy or lack thereof for dementia. (Most of the studies "were designed and conducted to support a clinical development plan for the treatment of psychosis associated with dementia", but Lilly acknowledge that the "efficacy results from these studies were not sufficient to support the intended new indication.") Rather, Lilly wished to discuss a label change addressing the finding that in its clinical trials, elderly patients taking Zyprexa for treatment of dementia faced a much higher risk of death than those taking a placebo, stating, "[i]n placebo-controlled clinical trials of elderly patients with dementia-related psychosis, the incidence of death in olanzapine-treated patients was significantly greater than placebo-treated patients (3.5% vs. 1.5%, respectively)." Afraid that a Zyprexa-specific "label change regarding mortality in elderly based on dementia studies . . . [would] likely be disadvantageous to our positioning vs. the competition," Lilly encouraged the FDA to instead consider a class-wide warning for all atypical antipsychotics, rather than simply a warning on Zyprexa…
[Such a class wide Warning was issued by the FDA in 2005]. That case of Martha up there made Lilly look really bad and Lilly's attempts to call it Schizophrenia fell on deaf ears. So the massive fines in 2009 were for promoting off-label uses for Zyprexa [and settling suits with the States for overcharging]. If you look at the allegations in the Department of Justice document [above], they mention CME, but not the ghost-written articles or speaker's bureaus. So Lilly still has things hanging over its head with Zyprexa. But not back in those Viva Zyprexia days. It was all upbeat. They closed their launch meeting to the tune of "Viva Las Vegas" [you couldn't make this stuff up if you tried].: