Perhaps Dr. Trivedi might consider that this piece at the end of his paper has something to do with the problem:
Competing interests

---

Madhukar H. Trivedi, M.D. has been a consultant for Abbott Laboratories, Inc.; Akzo (Organon Pharmaceuticals Inc.); AstraZeneca; Bayer; Bristol-Myers Squibb Company; Cephalon, Inc.; Cyberonics, Inc.; Eli Lilly & Company; Fabre-Kramer Pharmaceuticals, Inc. Forest Pharmaceuticals; GlaxoSmithKline; Janssen Pharmaceutica Products, LP; Johnson & Johnson PRD; Eli Lilly & Company; Meade Johnson; Neuronetics; Parke-Davis Pharmaceuticals, Inc.; Pfizer, Inc.; Pharmacia &; Upjohn; Sepracor; Solvay Pharmaceuticals, Inc.; VantagePoint; and Wyeth-Ayerst Laboratories.

He has served on speakers bureaus for Abdi Brahim; Akzo (Organon Pharmaceuticals Inc.); Bristol-Myers Squibb Company; Cephalon, Inc.; Cyberonics, Inc.; Forest Pharmaceuticals; GlaxoSmithKline; Janssen Pharmaceutica Products, LP; Eli Lilly & Company; Pharmacia &; Upjohn; Solvay Pharmaceuticals, Inc.; and Wyeth-Ayerst Laboratories.

He has also received grant support from Bristol-Myers Squibb Company; Cephalon, Inc.; Corcept Therapeutics, Inc.; Cyberonics, Inc.; Eli Lilly & Company; Forest Pharmaceuticals; GlaxoSmithKline; Janssen Pharmaceutica; Merck; National Institute of Mental Health; National Alliance for Research in Schizophrenia and Depression; Novartis; Pfizer Inc.; Pharmacia &; Upjohn; Predix Pharmaceuticals; Solvay Pharmaceuticals, Inc.; and Wyeth-Ayerst Laboratories.
Those papers by Dr. Trivedi of TMAP [
Texas Medication Algorithm Project
] and his
Competing Interests
sure must've struck a nerve, because since then I can't seem to stop writing about the Pharmaceutical Industry's invasion of Psychiatry and the misuse of the term
evidence-based medicine
. I occupied myself in these last months catching up on the world of Clinical Trials and the Atypical Antipsychotics, and was as horrified by what I read as most anyone would be if they were really aware of what has gone on. It's a pretty gruesome tale. And that lead me to the
STAR*D
trial of the antidepressants. My reason for picking it was that it was an NIMH trial, and I wanted to see if the government funded trials were more reputable than the ones financed by PHARMA. In the course of looking at the Atypical Antipsychotics, I ran across CATIE [
Clinical Antipsychotic Trials in Intervention Effectiveness
] and had been impressed that it was one that I trusted [for a change] and found myself going back to. So I thought I'd see how the NIMH did on Depression [not so hot is the short answer]:
In fact, the more I think about it, the more stirred up I get. It wasn't lost on me that on every paper about
STAR*D
, there was Dr. Madhukar H. Trivedi's name – my old friend from those Algorithm papers, the man from TMAP [
Texas Medication Algorithm Project
]. I didn't think much about it until I read
STAR*D: What Have We Learned?
by A. John Rush, M.D. [
American Journal of Psychiatry
164:201-204, February 2007]. It was a follow-up editorial by the first author of the
STAR*D
report [along with Dr. Trivedi]. By the time I read Rush's editorial, I'd been over
STAR*D
enough times to realize that Dr. Rush was editorializing about what he wished that trial had said, not what it really said. And he seemed to be writing a sermon about Primary Care Physicians taking over the care of the mentally ill [
a slow learner…
], so I did the sensible thing in our modern world, I
googled
him. It turns out that he's in Singapore as the CEO of something – it looks like it's a Clinical Research Center for drug trials, affiliated with Duke [
a slow learner…
]. Well. what had he been before that?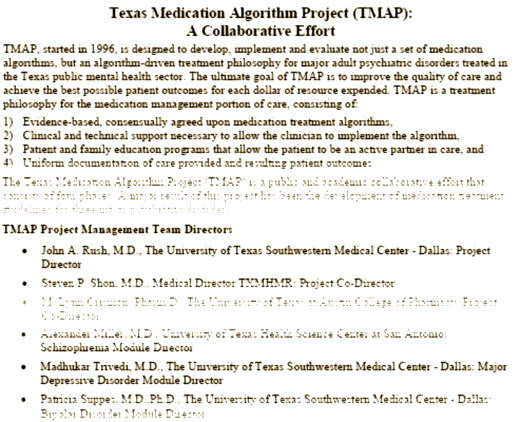 And there they were, Rush and Trivedi, TMAPers one and all. So I'm back where I started in January. What in the hell is TMAP? What new intrigue have I happened onto this time? said 1boringoldman who is suffering from the chronic intrigue syndrome.
Worse than you'd imagine. Here are some definitive references, then I'll summarize a few high points as best I can [it's a pretty convoluted story]…
Allen Jones, an investigator in the Pennsylvania inspector general's office, began to look in to a program being started there for regulating the use of psychotropic medication in Medicaid and Medicare patients. It was modeled on the TMAP program in Texas. Here's his description of TMAP:
TMAP began in 1995 as an alliance of individuals from within the pharmaceutical industry and the Texas state university, mental health and corrections systems. Start-up funds included a 1.7 million dollar grant from the Robert Wood Johnson Foundation; a Johnson&Johnson related foundation. Johnson&Johnson owns the pharmaceutical companies Janssen Pharmaceutica and Janssen/Ortho McNeil. The group's goal was to develop a model mental health treatment program for incorporation into public mental health and prison systems. This model program would ensure that newer, expensive medications would be heavily used. But the drug industry had a problem: Clinical trials simply did not favor their new products. Alternative justification for favoring these drugs would have to be developed.

This consortium sought to "legitimize" the medications recommended in the model program's "drug menus". The group elected to utilize "Expert Consensus Guidelines", rather than clinical studies or drug trials to form these recommendations. Essentially, TMAP opted to "establish" new drugs as the best drugs for various illnesses by surveying the opinions of doctors and psychiatrists of TMAP's own choosing. No hard science, no patients, no study review, and no clinical trials – just the "Expert Opinions" of persons TMAP elected to survey.

The "Expert Consensus" process became TMAP's standard mechanism for creating the appearance of superiority for certain drugs and it was employed repeatedly from 1996 to 2003. The doctors who were surveyed included persons who had already published articles favoring the new drugs. The survey included doctors with strong ties to the drug industry.[3. page 6]
Sound like a whistle-blower? He was. He started investigating, and was told to back off. He didn't, so he got fired in Pennsylvania, but he kept on investigating as a private citizen.
"The protocol was developed with unrestricted educational grants from the following pharmaceutical companies: Abbott, Bristol-Myers Squibb, Eli Lilly, Forest, Glaxo-Wellcome, Janssen, Novartis, Pfizer, U.S. Pharmacopeia and Wyeth-Ayerst." [2.]
The TMAP protocols gave the treating Physicians a choice of drugs, all of them being the expensive proprietary ones:
"The drugs recommended in TMAP include Risperdal, Zyprexa, Seroquel, Geodon, Depakote, Paxil, Zoloft, Celexa, Wellbutrin, Zyban, Remeron, Serzone, Effexor, Buspar, Adderall, and Prozac, all manufactured by the above companies"… "The psychiatrists in charge of determining the TMAP guidelines all had major ties to the drug companies that funded its development, at least three of them — A. JOHN RUSH, ALEX MILLER and MADHUKAR TRIVEDI — owning stock options or having other financial business with them. Of the 46 members of the three panels, 27 had conducted research on behalf of pharmaceutical companies, served on drug company speakers' bureaus or served as consultants to a drug company." [2.]
• Late 1990s-early 2000s: Texas mental health official Dr. Steven Shon travels around the country speaking about TMAP. Sixteen other states eventually adopt the protocol.

• 2003: The President's New Freedom Commission on Mental Health — headed by Michael Hogan connections to drug companies that developed TMAP—recommends TMAP.

• 2004: Groups like NAMI publicly endorse TMAP. Daryl Regier, director of research at the APA lauded TMAP and called for increased funding of it. He is Executive Director of the APA's "non-profit" research group APIRE (American Psychiatric Institute for Research and Education) Scholars in Research Program, which receives grants from Janssen and Eli Lilly, two of the drug companies that funded development of TMAP.

• 2004: After questioning drug company payments to state officials, whistleblower Allen Jones was fired from his job as an investigator at the Pennsylvania Inspector General's office.

• 2004: Because the drug protocol used by many states originated in Texas, Jones filed a lawsuit in Travis County District Court against Johnson & Johnson and some subsidiaries. The lawsuit was sealed from public view because of protections that whistleblowers such as Jones are granted.

• October 2006: Shon was forced by superiors to retire from the Texas health department after officials learn of findings of a Texas Attorney General investigation into whether drug companies unduly influenced Shon.

• December 2006: Texas Attorney General joins Jones' lawsuit. The lawsuit was opened to the public.

• August 2008: The Texas AG's Office suspended a similar program tailored for children called CMAP, because of the allegations of drug companies influencing researchers.
And what does all of this have to do with John Rush, Director of TMAP, Principle Investigator of the NIMH funded STAR*D trial, and first author of the main STAR*D articles?
John Rush, the director of a controversial Texas program called T-MAP, which was created to implement a state system for treating psychiatric disorders, has taken a job in Singapore, where he has joined the Duke-NUS Graduate Medical School Singapore as vice dean for clinical sciences. [Look here].

Why is TMAP controversial? The state filed a lawsuit against Johnson & Johnson's Jannsen unit for allegedly using false advertising and improper influence – such as grants, trips and other perks – to get its Risperdal antipsychotic on the now-mandatory adult protocol, the Texas Medication Algorithm Project. Drugmakers also reportedly paid decision makers to promote their meds. Just last month, Texas officials suspended a similar program tailored for children, called TC-MAP, over fears drugmakers may have given researchers consulting contracts, speaking fees or other payments to help get their products listed on the protocol.

"TMAP and TCMAP proved to be powerful marketing tools for Risperdal… Driven by these gains and revenues, defendants turned to developing a concerted marketing plan to replicate these programs, and the dramatic revenue and market share generated by TMAP and its progeny in other states," the lawsuit states, according to The Daily Texan…
I don't know if it shows, but this is a very hard story to run down, partly because it's been veiled by the protections for whistle-blowers. But there are other things. The articles in Texas newspapers along the way are gone – not archived. The Texas Agency that TMAP was under has been reorganized and renamed, with no carry-over. I don't even know if there's still a TMAP. The suit is still going on, only recently released to move forward:
A Texas state court has ruled that a trial can proceed against Johnson & Johnson's Janssen unit for allegedly using false advertising and improper influence – such as grants, trips and other perks – to ensure its Risperdal antipsychotic was placed on the mandatory protocol for the Texas Medication Algorithm Project, a state system protocol for treating psychiatric disorders.

The original lawsuit was filed in 2004 based on evidence provided by Allen Jones who, at the time, was working as a fraud investigator with the Pennsylvania Inspector General's Office. Both Jones and the state of Texas are plaintiffs and their lawsuit contends Janssen engaged in a widespread scheme to ensure state Medicaid officials would give preferential treatment to Risperdal on TMAP [you can read the lawsuit here]. A lawyer who represents Jones says damages could exceed $1 billion, based on potential treble damages and penalties…
It feels like I was walking in the woods looking at the scenery and I stepped in a hole that turned out to be like the one in Lewis Carroll's
Alice in Wonderland
. I found myself in a place where everything sounds like
Jabberwoky
. All I did was google John Rush to find out where he worked before he took his Singapore sojourn. I've left out huge pieces of this story – like the part about Governor George W. Bush's enthusiasm for TMAP, or about how it bankrupted Texas Medicaid, or about President George W. Bush taking it to Washington as the NEW FREEDOM COMMISSION ON MENTAL HEALTH and TeenScreen, or a jillion other things that I ran across trying to make sense of it but didn't even understand. Unlike little Alice in the illustration on the right, I can't get my
vorpal blade
to go
snicker-snack
on this story. It's too big.
But I know this for sure. It certainly has something to do with STAR*D and our attempts to understand its confusing presentation and conclusions. Like TMAP, somewhere in the last couple of years, STAR*D has gone underground. There have been a few papers about trivial side issues, but the main course remains locked in the NIMH kitchen, if there even is a main course. The timelines of the rise and fall of TMAP and STAR*D need to be drawn together, but that's for another time. I need to take a shower and wash off the grime from this detour down the rabbit hole and into the tulgey wood…