colorized for clarity
The real story started back in the days of the SSRIs. A lot of it happened in those days before there was this thing [the Internet], so it's harder to look back. But there is one study that stood out from them all – Study 329, Paxil in adolescents [vs Imiprimine]. It has been analyzed [
Healthy Skepticism
], the subject of a fine book [
Side Effects: A Prosecutor, a Whistleblower, and a Bestselling Antidepressant on Trial
], aired in detail in a several courtrooms, and has filled every blog that has ever focused on the corruption of modern psychopharmacology. The fulcrum of the controversy is the line in
red
:
Efficacy of Paroxetine in the Treatment of Adolescent Major Depression: A Randomized, Controlled Trial
by MARTIN B. KELLER, M.D., NEAL D. RYAN, M.D., MICHAEL STROBER, PH.D., RACHEL G. KLEIN, PH.D., STAN P. KUTCHER, M.D., BORIS BIRMAHER, M.D., OWEN R. HAGINO, M.D., HAROLD KOPLEWICZ, M.D., GABRIELLE A. CARLSON, M.D., GREGORY N. CLARKE, PH.D., GRAHAM J. EMSLIE, M.D., DAVID FEINBERG, M.D., BARBARA GELLER, M.D., VIVEK KUSUMAKAR, M.D., GEORGE PAPATHEODOROU, M.D., WILLIAM H. SACK, M.D., MICHAEL SWEENEY, PH.D., KAREN DINEEN WAGNER, M.D., PH.D., ELIZABETH B. WELLER, M.D., NANCY C. WINTERS, M.D., ROSEMARY OAKES, M.S., AND JAMES P. MCCAFFERTY, B.S.
Journal of the American Academy of Child and Adolescent Psychiatry, 2001, 40(7):762–772.

Abstract

Objective: To compare paroxetine with placebo and imipramine with placebo for the treatment of adolescent depression.

Method: After a 7 to 14-day screening period, 275 adolescents with major depression began 8 weeks of double-blind paroxetine [20–40 mg], imipramine [gradual upward titration to 200–300 mg], or placebo. The two primary outcome measures were endpoint response [Hamilton Rating Scale for Depression [HAM-D] score <8 or >50% reduction in baseline HAM-D] and change from baseline HAM-D score. Other depression-related variables were [1] HAM-D depressed mood item; [2] depression item of the Schedule for Affective Disorders and Schizophrenia for Adolescents-Lifetime version [K-SADS-L]; [3] Clinical Global Impression [CGI] improvement scores of 1 or 2; [4] nine-item depression subscale of K-SADS-L; and [5] mean CGI improvement scores.

Results: Paroxetine demonstrated significantly greater improvement compared with placebo in HAM-D total score <8, HAM-D depressed mood item, K-SADS-L depressed mood item, and CGI score of 1 or 2. The response to imipramine was not significantly different from placebo for any measure. Neither paroxetine nor imipramine differed significantly from placebo on parent- or self-rating measures. Withdrawal rates for adverse effects were 9.7% and 6.9% for paroxetine and placebo, respectively. Of 31.5% of subjects stopping imipramine therapy because of adverse effects, nearly one third did so because of adverse cardiovascular effects.

Conclusions: Paroxetine is generally well tolerated and effective for major depression in adolescents.
How did they get from that lackluster graph up at the top to the conclusion? It's a long story well-told by others. It has all the elements that define the era: hidden side effect data [suicidality], cherry-picked outcome measures, an industry-funded ghost-writer [Sally Laden], a principle investigator with undisclosed conflicts of interest [Martin Keller], high profile legal action against the drug company [GSK], US Senate Investigation [Martin Keller], a University that didn't act [Brown], a chairman/author who "stepped down" [Martin Keller] – the list seems endless and continues to grow as the years roll by. Study 329, in fact, has its own literature. I mentioned Alison Bass' book
Side Effects…
, but there's much more: court depositions, blogs [
Serotax Secrets
,
Healthy Skepticism
, just to mention a few], an eloquent student-authored editorial [
Accountable Academics
], etc. The only thing it doesn't have is a retraction.
Back in those days, ghost-writers apparently shepherded publication. The article was turned down by the JAMA, then submitted to the Journal of the American Academy of Child and Adolescent Psychiatry, edited at the time by Dr. Mina Dulcan. Dr. Dulcan came to Emory during the year I was leaving. She's an unpleasant and self-righteous person by reputation. I attended one meeting where she held forth and I saw that first hand. I kept my mouth shut and avoided further contact. She moved on to a more prestigious position in Chicago after a short stint in Atlanta. I mention that encounter because it mirrors one she had with Danny Carlat years later [A Hot City, an Empty Exhibit Hall, and a Stern Mina Dulcan]. She was kinder to Dr. Keller, author of the study 329 article, and accepted it for publication after revisions [one of the 24 authors, Graham J. Emslie, was on the Board of the Journal – speaking of conflicts of interest]. In the year following the paper's publication, Healthy Skepticism wrote the Journal questioning the study's conclusions and suggesting undue influence from GSK. The authors responded, as did Dr. Dulcan: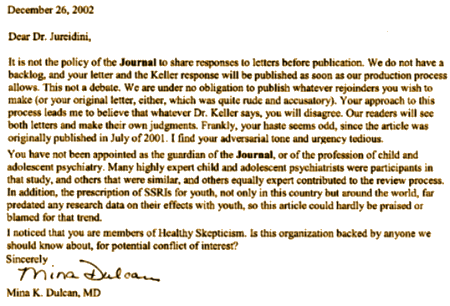 While the letter speaks to Dr. Dulcan's fractious character, it also characterizes the arrogance of the time. In those days, and perhaps continuing, academic psychiatry was dominated by a good old boy [and girl] network of such people. Her comment, "Many highly expert child and adolescent psychiatrists were participants in this study, and others that were similar, and others, equally expert contributed to the review process" might as well have declared the royalty of the insiders who were running the show – ignoring the corruption of the pharmaceutical companies who had essentially become their puppet-masters. And notice that Dulcan doesn't address the complaints, rather she sounds like Alice's Queen of Hearts, "I find your adversarial tone and urgency tedious." Author Martin Keller's assertions of majesty are more veiled: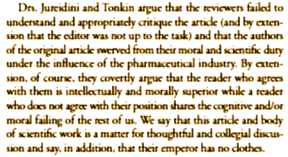 It has been ten years since study 329 was published. Martin Keller has stepped down as Chairman. Mina Dulcan is no longer editor of the Journal of the American Academy of Child and Adolescent Psychiatry. GSK has paid out a lot of money in fines and admitted that the study was negative or worse. Every SSRI bottle has a warning about suicidal thoughts in adolescents on SSRIs. Jon Jureidini, associate professor of psychiatry at the University of Adelaide, and Leemon McHenry, lecturer in philosophy at California State University, continue to push for a retraction [Of sophists and spin-doctors: industry-sponsored ghostwriting and the crisis of academic medicine, Conflicted medical journals and the failure of trust, Key opinion leaders and paediatric antidepressant overprescribing, Industry-sponsored ghostwriting in clinical trial reporting: a case study]. This story is well-summarized in the British Medical Journal by Melanie Newman [The rules of retraction].
Study 329 is still on the books, still saying, "Paroxetine is generally well tolerated and effective for major depression in adolescents." It's a testimonial to the worst of times, and it needs to be retracted for the same reason that the statues and monuments of despots are destroyed when their regimes finally fall…