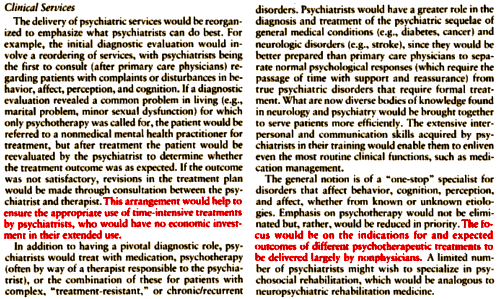 Sometimes, the hardest thing to see is the thing that's closest to you. I've been wondering why the people who were involved in the revolution of 1980 were always talking about what psychiatrists should or should not do – always "redefining." Why were they so insistent on negating the mind/brain dichotomy? What was the force behind saying "evidence-based" or "measurement-based" in every sentence where it could possibly be inserted? As I read through Drs. Lieberman and Rush's commentary, I saw those parts in red and sort of had an awakening. The charge was that the psychodynamic psychiatrists and analysts inappropriately used time-intensive treatments for economic gain. It wasn't just that other disciplines charged less, it was that the psychotherapist/psychiatrists had an economic investment in doing long term psychotherapy and took advantage of insurers and patients. My own team was the last generation of "bad guys" – what the "new psychiatry" was getting over.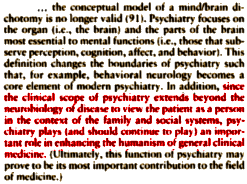 I missed that part of the story, but from the intensity of the reaction, it must've had some truth in it. I practiced psychotherapy in a post-3rd-party world and my fees were in the range of my counterparts in other specialties. Those who used insurance filed it themselves. Most didn't. But that's another story not really germane here. I expect the charge is truer than I'd like, and less true than the straw man it became. But for the moment, I'll need to digest the fact that what happened in 1980 must've felt like a reform movement to its proponents. I know that in that year before I left, I felt like a pariah.
I've heard Insel, Lieberman, and others say things about the humanism of the psychiatric view of people [in red above right], and wondered how in the clinical neuroscience world of modern psychiatry, those skills might be developed. I agree that it's an important contribution, but it doesn't just come with the title. It's learned by working closely with patients and not by writing prescriptions. I presume that's part of training these days, at least I hope so.
But back to the main thread of this post. The psychotherapists/psychiatrists were apparently seen like we now view many of the neurobiologists – as in it for the money – recommending long term therapy to pad their salaries. I guess it's an "eye for an eye world".
Can we have the mind back in the picture now? It's been a long time and we haven't done so well without it…