What did CATIE tell us that we didn't already know? It came out in 2005, a month shy of the advertised five years from the approval of the grant. By that time, it was apparent to anyone who looked very hard that the Atypical Antipsychotics weren't exactly the wonder drugs they were advertised to be, and yet they were selling like hot cakes [and still are]: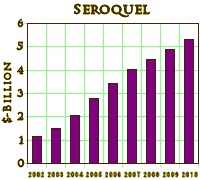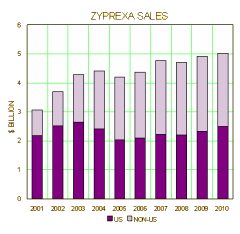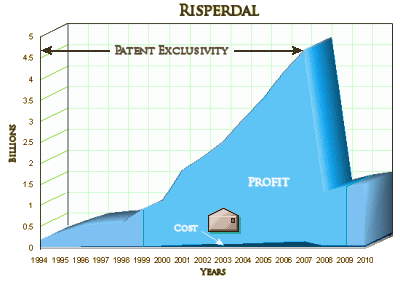 CATIE may have put a dent in the Zyprexa sales [though it's equally possible that the side effects and the suits may have taken their toll]. By the time CATIE came out, it looks as if the inertia was set. What CATIE told us is what we should've known all along. As I've found every time I've looked, the pharmaceutical companies engaged in a creative pantheon of deceptions, including but not limited to hiding anything they didn't find fitting their marketing plans. And the ones I've reported on are just the ones I can see. Reading Judge Couch's South Carolina Penalty Order points to some bigger sins in the Risperdal story than I've been able to find. And the deceptions are industry-wide.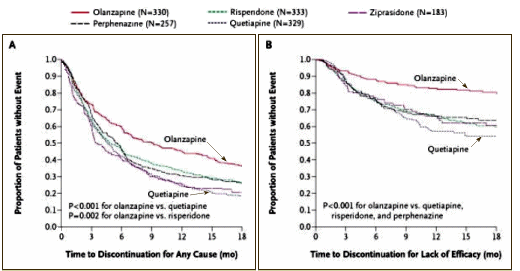 CATIE says that with the exception of Zyprexa, the Atypicals are no more effective than the older drugs. That was apparent in the Seroquel Trial 15, in Zyprexa Trials HGAD and HGAJ, and Risperidal INT-6. CATIE says that the EPS are as common and as severe. CATIE says these three drugs cause weight gain, particularly Zyprexa. That was apparent to these companies before the drugs were approved. If these drugs are better tolerated, the patients didn't seem to notice. And they all have withdrawal syndromes. CATIE says we were sold a bill of goods, and bought it hook, line, and sinker.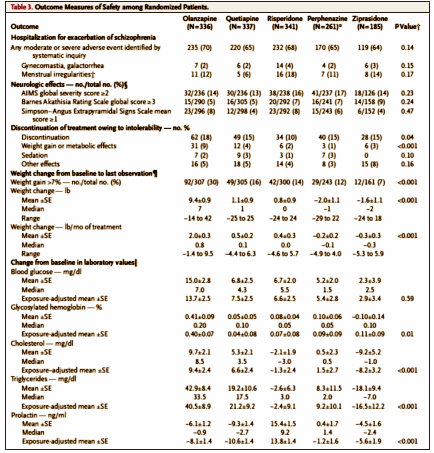 And where are the algorithms now? Osser's Harvard site has no algorithm at all for Schizophrenia., though he did give a presentation at the APA this year. The IPAP site hasn't been updated in years. It has some comments about CATIE which make little sense to me. TMAP has disappeared from view. It can only be found using the Wayback Machine [link] – its leaders now scattered across the globe [Rush is in Singapore, Shon is in Nevada raising odd looking cats, Chiles is in Washington State and owns (owned) a Vineyard].
For twenty-five years, the attention of academic and organized psychiatry has focused on future discoveries in Brain science, but the horizon looks arid. With a track record like the one with the Antidepressants and the Atypicals, it's hopefully unlikely that the pharmaceutical industry will be able to pull off another round of weak sister drugs masquerading as blockbuster discoveries. And Psychiatry as a specialty has placed most all of its eggs in the Brain basket [with a determined vengeance], but it's unlikely that the kind of studies chronicled in the pages of this blog are going to be future examples of evidence-based or measurement-based medicine on parade. I don't think that the period of our shame is over even now. The recent court cases over Risperdal in South Carolina and Louisiana were based on conscious duplicity in advertising. The coming court case in Texas [recently postponed until November] is a much bigger case. J&J is accused of actively manipulating a State system through officials of the State of Texas and its Medical Universities resulting in huge profits for their company. And it opens up the question of similar activity by other companies and in other States. If this suit is like the ones before, discovery access to company records will likely be full of embarrassing surprises. Unfortunately, each case so far has made psychiatry look worse and worse. And the Texas case involves a number of psychiatrists in high places. We already know that it's a conflict of interest nightmare. I suspect we'll learn, as we have in the other suits, that there's more than simply the appearance of conflict of interest – the pharmaceutical interests were right there, front and center.
On impulse, I looked at the program for the recent American Psychiatric Association Meetings in Hawaii and searched for "conflict of interest", "speaker bureau", "pharmaceutical", "drug company", "ghost writing", "propublica", "tmap" – all came up empty. "Algorithms" found the two presentations by Dr. Osser, otherwise nada. PubMed has 6 entries for conflict of interest[Title]) AND psychiatry[Title] – only three from the US [and three about the US]. I find these absences discouraging. For organized psychiatry to avoid self reflection in the face of so many clear indicators of a systemic epidemic of ethical infraction bodes poorly for our future. Even though psychological formulations are currently out of vogue, a couple come to mind [not from psychoanalysis but from the 12 Step Programs], "We're ignoring the elephant in the room." and "You're Only As Sick As Your Secrets". CATIE exposed the obvious and the truth was welcome, but the energy to find out why we didn't have it in the first place hasn't come from within the ranks of our leadership, the pages of our journals, nor from discussions at our meetings.
---
Afterthought:
One of those articles from PubMed shows the state of the art in 2005 [Industry Sponsorship and Financial Conflict of Interest in the Reporting of Clinical Trials in Psychiatry]:
It leaves nothing to doubt. And ironically, these are the acknowledgements for that article: