Biederman must've gotten his money [
last post
], because by 2002, he was in thick with Janssen: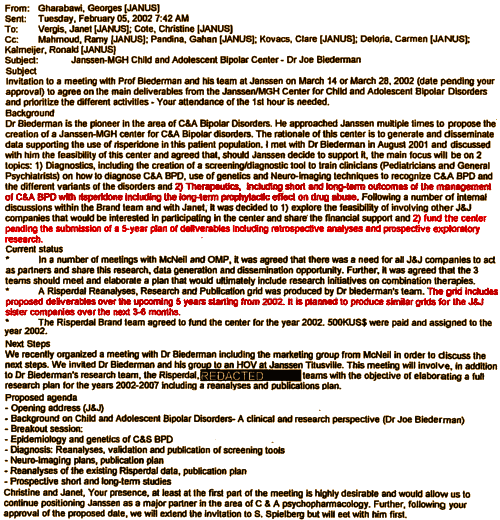 By this time, Dr. Biederman had already published a retrospective study of Risperdal in pediatric bipolar illness:
a retrospective chart review by Frazier JA, Meyer MC, Biederman J, Wozniak J, Wilens TE, Spencer TJ, Kim GS, and Shapiro S Journal of the American Academy of Child and Adolescent Psychiatry. 1999 38(8):960-5.

OBJECTIVE: To investigate the effectiveness and tolerability of the atypical neuroleptic risperidone in the treatment of juvenile mania.

METHOD: This is a retrospective chart review of outpatients with the diagnosis of bipolar disorder (DSM-IV) treated with risperidone at a university center. Response to treatment was evaluated using the Clinical Global Impression Scale (CGI) with separate assessments of mania, psychosis, aggression, and attention-deficit/hyperactivity disorder (ADHD).

RESULTS: Twenty-eight youths (mean +/- SD age, 10.4 +/- 3.8 years) with bipolar disorder (25 mixed and 3 hypomanic) who had been treated with risperidone were identified. These children received a mean dose of 1.7 +/- 1.3 mg over an average period of 6.1 +/- 8.5 months. Using a CGI Improvement score of < or = 2 (very much/much improved) to define robust improvement, 82% showed improvement in both their manic and aggressive symptoms, 69% in psychotic symptoms, but only 8% in ADHD symptoms.

CONCLUSIONS: Although limited by its retrospective nature, this study suggests that risperidone may be effective in the treatment of manic young people and indicates the need for controlled clinical trials of risperidone and other atypical neuroleptics in juvenile mania.
Here's the thing. There's nothing wrong with Dr. Biederman studying childhood mania and bipolar disorder. It needs to be studied. I guess there's nothing wrong with raising money for a J&J Center for Pediatric Psychopathology. But these things…
"…including short and long-term outcomes of the management of C&A BPD with Risperidone including the long-term effect on drug abuse."

"…fund the center pending the submission of a five year plan of deliverables including retrospective analysis and prospective exploratory research."

"The grid includes proposed deliverables over the upcoming five years starting from 2002. It is planned to produce similar grids for the sister companies over the next 3-6 months."
…are like J&J buying a piece of Harvard for their marketing department. And "
deliverables
" sounds a lot like it refers to positive studies for Risperdal to me. In fact, I can't think of any other way to read it. And then there's this from the
Rothman Report
[from the coming TMAP lawsuit]: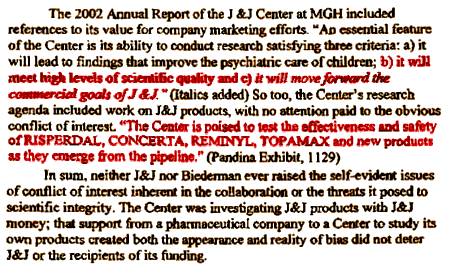 Then along came Senator Grassley in June 2008:
A world-renowned Harvard child psychiatrist whose work has helped fuel an explosion in the use of powerful antipsychotic medicines in children earned at least $1.6 million in consulting fees from drug makers from 2000 to 2007 but for years did not report much of this income to university officials, according to information given Congressional investigators. By failing to report income, the psychiatrist, Dr. Joseph Biederman, and a colleague in the psychiatry department at Harvard Medical School, Dr. Timothy E. Wilens, may have violated federal and university research rules designed to police potential conflicts of interest, according to Senator Charles E. Grassley, Republican of Iowa. Some of their research is financed by government grants…

In one example, Dr. Biederman reported no income from Johnson & Johnson for 2001 in a disclosure report filed with the university. When asked to check again, he said he received $3,500. But Johnson & Johnson told Mr. Grassley that it paid him $58,169 in 2001, Mr. Grassley found. The Harvard group's consulting arrangements with drug makers were already controversial because of the researchers' advocacy of unapproved uses of psychiatric medicines in children…

Dr. Biederman is one of the most influential researchers in child psychiatry and is widely admired for focusing the field's attention on its most troubled young patients. Although many of his studies are small and often financed by drug makers, his work helped to fuel a controversial 40-fold increase from 1994 to 2003 in the diagnosis of pediatric bipolar disorder, which is characterized by severe mood swings, and a rapid rise in the use of antipsychotic medicines in children. The Grassley investigation did not address research quality…
And then in November – ghost writing?
When a Congressional investigation revealed in June that Dr. Joseph Biederman, a world-renowned child psychiatrist, had earned far more money from drug makers than he had reported to his university, he said that his interests were "solely in the advancement of medical treatment through rigorous and objective study." Court documents reveal that Dr. Joseph Biederman, a renowned child psychiatrist, pushed Johnson & Johnson to fund a research center whose goal was "to move forward the commercial goals of J&J."

But e-mail messages and internal documents from Johnson & Johnson made public in a court filing reveal that Dr. Biederman pushed the company to finance a research center at Massachusetts General Hospital, in Boston, with a goal to "move forward the commercial goals of J.& J." The documents also show that the company prepared a draft summary of a study that Dr. Biederman, of Harvard, was said to have written.

Dr. Biederman's work helped to fuel a fortyfold increase from 1994 to 2003 in the diagnosis of pediatric bipolar disorder and a rapid rise in the use of powerful, risky and expensive antipsychotic medicines in children. Although many of his studies are small and often financed by drug makers, Dr. Biederman has had a vast influence on the field largely because of his position at one of the most prestigious medical institutions…
Which lead to Biederman stepping aside:
Wall Street Journal
By JENNIFER LEVITZ
December 30, 2008

Joseph Biederman, a top researcher on the use of psychiatric drugs in children, agreed to stop participating in several industry-funded drug trials and curb other activities pending the outcome of a Boston hospital's inquiry into his potential conflicts of interest and disclosure obligations. The deal, announced Tuesday by Massachusetts General Hospital, where Dr. Biederman conducts research, followed several allegations related to his relationships with drug companies. Dr. Biederman has been a prominent backer of childhood use of Johnson & Johnson's Risperdal, a top-selling antipsychotic drug.

A U.S. Senate review found that Dr. Biederman had received $1.6 million in payments from drug companies between 2000 and 2007 while reporting only a fraction of that amount to Harvard University, where he is a faculty member. Separately, Massachusetts General has said it was concerned that an institute that Dr. Biederman and J&J worked together to create at the hospital was used to promote Risperdal's use in children, rather than for scientific or educational purposes…

In its statement, Massachusetts General said Dr. Biederman would stop industry-funded activities at the hospital until its review was completed. Hospital spokeswoman Peggy Slasman said that would mean Dr. Biederman would discontinue his participation in several industry-funded clinical trials there. The hospital declined to describe the studies, which it said would continue under a different doctor…
But it didn't stop there:
Sen. Chuck Grassley[ R-Iowa] has tenaciously gone after what he sees as conflict of interest in the medical field, focusing closely on psychiatry. In the latest volley in his investigation into Dr. Joseph Biederman of Harvard University, Sen. Grassley said he was provided documents as part of ongoing litigation that appear to demonstrate that Dr. Biederman was acting in tandem with Johnson & Johnson to promote Concerta and other psychopharmacologics for off-label uses. Sen. Grassley sent a 63-page missive to the presidents of Harvard and the Massachusetts General Hospital outlining numerous apparent conflicts, including that Dr. Biederman was receiving $500,000 in grant money from the National Institutes of Health while he was running J&J's Center for Pediatric Psychopathology Research…
Perhaps the most damning
document
is this email exchange from 2002. Gahan Pandina of Janssen is describing a Janssen-generated abstract for the American Academy meeting, and asking Biederman to sign off as the presenting author so they could submit it. It's Janssen written, and Biederman is signing on as author [happily]. That's ghost-writing extraordinaire: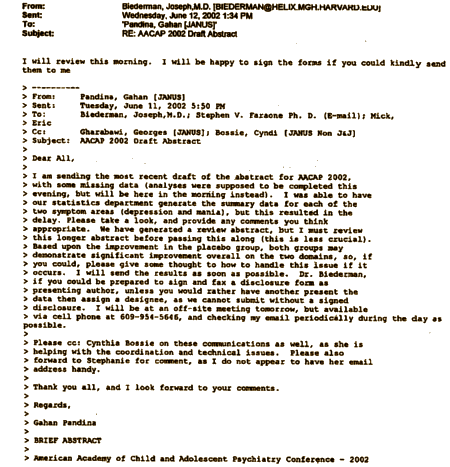 This story has many dimensions: Is pediatric bipolar illness real? Is it common? Is the treatment Risperdal? Was Dr. Biederman's J&J Center for Pediatric Psychopathology a legitimate research enterprise at all or simply a J&J marketing device? With this much conflict of interest, it's impossible to consider Dr. Biederman's research as legitimate, particularly with his own palm being greased [$1.6 M], particularly with him signing on as author for an abstract he obviously wasn't involved in writing.
Among the prime offenders of basic medical ethics, Joseph Biedermen at Harvard and Martin Keller at Brown have garnered the most enmity because their misadventures had to do with medicating children. Keller disguised suicidality in adolescents on Paxil and declared it effective, which it's not. And "Dr. Biederman's work helped to fuel a fortyfold increase from 1994 to 2003 in the diagnosis of pediatric bipolar disorder and a rapid rise in the use of powerful, risky and expensive antipsychotic medicines in children." Yet Keller is still at Brown and Biederman is still at Harvard – both with medical licenses. That's just doesn't make a bit of sense…