… it keeps turning up like a bad penny
The Internet tells me that this phrase comes from 18th century England [when a penny was serious money]. Pennies were frequently counterfeited in those times. So if if one turned up in one's purse, it was spent quickly. There were so many in circulation that you were likely to get another one soon. Thus, "turns up like a bad penny" – something unwanted that keeps showing up.
The bad penny in this case is a Risperidone study from a 1998 Clinical Trial, published by Aman et al in 2002 in the AJP, then reanalyzed by Biederman et al in 2006 in Clinical Therapeutics.
I couldn't figure out why Biederman, who studies bipolar children, would've exhumed a study of Risperidone in Disruptive Retarded kids to analyze, and in nosing around I found it again, this time in some 2002 internal emails in discovery court documents posted by Ed Silverman at Pharmalot [page 16]:
That
internal email
was to Dr. Biederman about his presenting the data from that same study at the 2002
American Academy of Child and Adolescent Psychiatry
meeting in 2002. It was clear in the email that Janssen had done the reanalysis and that Biederman was signing on as the author of record and presenter. I posted about that as an example of ghost-writing [as suggested by Senator Grassley], and wondered aloud if Biederman's later paper in 2006 was also ghost-written [noting that Biederman's article was copyrighted by a company known to ghost-write for Janssen]:
I also wondered if Janssen had originally thought they could get Risperidone approved for treating disruptive kids [Disruptive Behavior Disorder, Conduct Disorder] but had given up on that idea and diverted to the more acceptable bipolar disorder. I speculated, "That indication apparently didn't fly, so they shifted gears and tried to call the disruptive behavior comorbid bipolar disorder, and revived their old data with a new set of authors, the bipolar child gurus at Harvard." I guess I thought that they'd realized that using Risperidone for behavior control sounded too much like "Clockwork Orange" or "Drugging Kids," so they opted for something softer like Bipolar Disorder. I figured I'd traveled as far down that road as I could get, so I moved on to other things. Last night, I was re-reading Dr. Biederman's deposition [the "God" deposition] for another reason, and here came that bad penny again!:
I extracted and reformatted the part that caught my attention: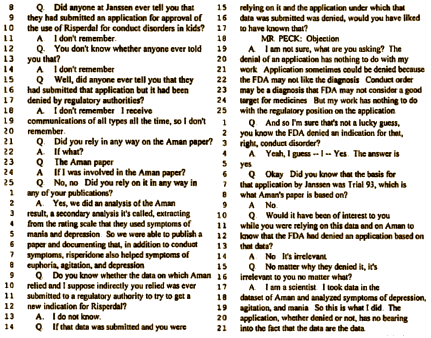 This study was Risperdal Trial 93, the one reported in the Aman et al article above. It was submitted to the FDA attempting to get Risperdal approved for the treatment of children with Conduct Disorder and was rejected. I would assume that was somewhere between 1998 when it was completed and 2002 when it was exhumed for the AACAP presentation by Biederman [the year J&J funded the
J&J Center for the Study of Pediatric Psychopathology
] [the year before the NIMH funded Biederman's grant for a yearly
Collaborative Pediatric Bipolar Disorder Conference
]. My speculation that Janssen simply changed its mind about using Risperdal for behavior control was wrong. They submitted it for approval to the FDA, and the FDA said, "No." The FDA web site is hard to navigate, but I can't find any record of that submission or Trial 93, so either the Avila lawyers are better searchers or they have more access, because they are definite in their questioning. In this deposition, Biederman admits knowing Janssen was turned down for Conduct Disorder. Also, the information on this study the in Clinical Trials database is all messed up. The Trial was completed in 1998, but the first entry in the history is on
December 16, 2005
. There's no information on where the study was done, but since it was funded/sponsored by Janssen Pharmaceutica N.V., Belgium, I assume it was a European Trial [
Update:
Wrong. It was R15-USA-93
].
---
I obviously think there's something awry here or I wouldn't keep bringing it up. Finding out that Janssen had tried and failed to get Risperdal approved for disruptive kids through the FDA sometime after 1998 got that all stirred up in my mind again. Here is the timeline that keeps rolling around in my mind [I have no access to Biederman's early papers on childhood mania]:
Risperdal was approved by the FDA in 1993, Zyprexa in 1996.

In 1995, Biederman's Group started looking at bipolar mania in children.

At some point around 1995, Janssen asked Dr. Biederman to submit a request to study Risperdal in children. He submitted it and was turned down.

In 1998, Janssen finished a trial of Risperdal in disruptive children and submitted it for approval to the FDA. They were turned down.

In 1999, Biederman and Janssen had a contentious relationship. Yet that same year, Biederman's group published a positive retrospective study of Risperdal in the treatment of childhood mania.

In 2001 Biederman published a positive trial of Zyprexa in bipolar kids supported by Lilly.

In 2002, Biederman published a inconclusive study of Depakote in bipolar kids sopported by Abbott.

In 2002, Janssen funded Biederman's J&J Center for the Study of Pediatric Psychopathology and Biederman became an author of record on the 1998 Janssen trial for a ghost-wriiten AACAP presentation, later publishing that study again in 2006.

I now know that Janssen wanted to get Risperdal approved for disruptive kids early on. The FDA turned them down. Dr. Biederman had been approaching Janssen to fund a Center at MGH. After Biederman published a positive study of Zyprexa for bipolar kids, Janssen did fund Biederman's Center and Biederman began to focus on Risperdal. The broad facts are that:
Janssen wanted approval for Risperdal in the treatment of disruptive kids.

Biederman led a charge for diagnosing disruptive kids as being bipolar with a wide range of other diagnoses being comorbid.

Biederman and Janssen revived their older disruptive retarded kids study and reframed it as evidence that Risperdal was effective in treating bipolar symptoms.
So I can't shake the suspicion that the inclusion of so many kids in the bipolar category was simply a way to rationalize treating them with Atypical Antipsychotics. I feel pretty confident that was a Janssen motivator. I suspect Biederman's group of being a part of that too, but it's mostly a nagging hunch that just won't go away. The circumstantial evidence is the timeline, the oddness of the expansion of the diagnostic criteria for childhood bipolar disorder, the slimness of the scientific evidence for that expansion, the inclusion of an old Janssen study of disruptive retarded kids in the 'bipolar child' literature, and the jury-rigging of that study's clinicaltrial.gov information.
---
I guess I'm just going to have to find a way to stop playing this over and over in my mind. I know what I'll do. I'll take a three week vacation to Hawaii this Friday and see if that helps…
---
2002 J&J Business Plan: "The clinical development program for RISPERDAL has yielded important new efficacy and safety data in the child and adolescent area. These efforts have previously been focused in the area of Disruptive Behavior Disorders and Subaverage IQ. Several trials, RI5-USA-93 and RI5-CAN- 19 (as well as the open label, 48 week follow up trials, USA-97 and CAN-20), initially designed to support filing for an FDA indication, have been completed and have yielded an impressive volume of new efficacy and safety data.

Unfortunately, the FDA determined that Disruptive Behavior Disorder lacks the diagnostic specificity necessary to receive an approved indication. Nevertheless, these studies have contributed significantly to the clinical knowledge of RISPERDAL in the child and adolescent population, and provide a basis for ongoing medical education activities."
Rejected by FDA for Disruptive Behavior Disorder in 2002. No problem. It was just in time to recycle R15-USA-93 for Dr. Biederman to present at AACAP under a new 'bipolar' label [and just in time to fund his J&J Center at MGH]…