Lurasidone in the treatment of schizophrenia: a randomized, double-blind, placebo- and olanzapine-controlled study. by Meltzer HY, Cucchiaro J, Silva R, Ogasa M, Phillips D, Xu J, Kalali AH, Schweizer E, Pikalov A, and Loebel A. American Journal of Psychiatry.

2011 168(9):957-67.

Objective: The study was designed to evaluate the short-term efficacy and safety of lurasidone in the treatment of acute schizophrenia.
Method: Participants, who were recently admitted inpatients with schizophrenia with an acute exacerbation of psychotic symptoms, were randomly assigned to 6 weeks of double-blind treatment with 40 mg of lurasidone, 120 mg of lurasidone, 15 mg of olanzapine (included to test for assay sensitivity), or placebo, dosed once daily. Efficacy was evaluated using a mixed-model repeated-measures analysis of the change from baseline to week 6 in Positive and Negative Syndrome Scale (PANSS) total score (as the primary efficacy measure) and Clinical Global Impressions severity (CGI-S) score (as the key secondary efficacy measure).
Results: Treatment with both doses of lurasidone or with olanzapine was associated with significantly greater improvement at week 6 on PANSS total score, PANSS positive and negative subscale scores, and CGI-S score compared with placebo. There was no statistically significant difference in mean PANSS total or CGI-S change scores for the lurasidone groups compared with the olanzapine group. With responders defined as those with an improvement of at least 20% on the PANSS, endpoint responder rates were significant compared with placebo for olanzapine only. The incidence of akathisia was higher with 120 mg of lurasidone (22.9%) than with 40 mg of lurasidone (11.8%), olanzapine (7.4%), or placebo (0.9%). The proportion of patients experiencing ≥7% weight gain was 5.9% for the lurasidone groups combined, 34.4% for the olanzapine group, and 7.0% for the placebo group.
Conclusions: Lurasidone was an effective treatment for patients with acute schizophrenia. Safety assessments indicated a higher frequency of adverse events associated with 120 mg/day of lurasidone compared with 40 mg/day.
The Phase 3 Clinical Trial was begun in February 2008 and by December 2009 the results were presented at the ACNP meeting, at the May 2010 APA meeting, and submitted to American Journal of Psychiatry the by June 2010 [so it pays to get a CRO like Quintiles expediting a study]. I don't know when Dr. Meltzer of Vanderbilt became involved, but it wasn't during the trial which was run by Sunovion. I suspect that Dr. Schweizer was the writer ["Dr. Schweizer has received payment for consulting or medical writing services from Alkermes, Orexigen Therapeutics, Pfizer, Sunovion Pharmaceuticals, and Titan Pharmaceuticals"]. So it seems like old times.
How about the study itself?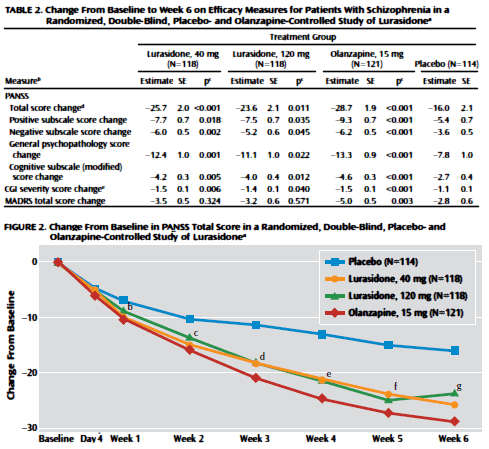 Almost as good as Zyprexa and it doesn't make you fat. Well, maybe it makes you a bit extrapyramidal, as in shake, rattle, and roll: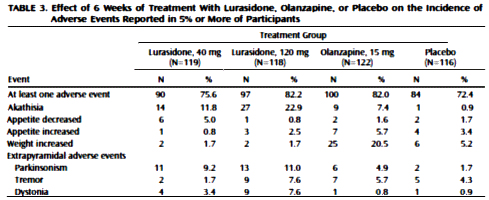 [truncated for clarity]
This was one of the studies that got Latuda FDA Approval. There were a few surprises in the Medical Review, as in I get by with a little help from my friends: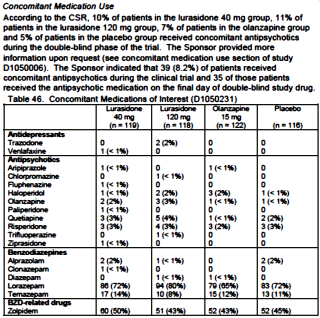 And speaking of getting by with a little help from [your] friends, if you really want Latuda to work, go to South America to take it: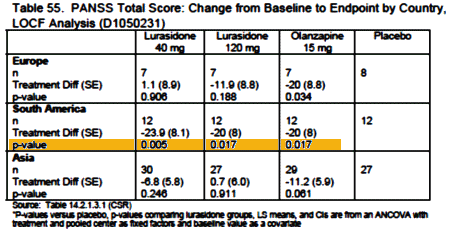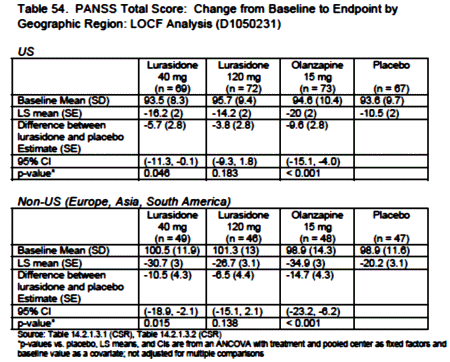 There's more in that report, but you get the drift. As a matter of fact…

However, the committee approved it on October 28, 2010 [just slipping and sliding].
I guess you can't really blame Sunovian too much. After all, it has been such a winning formula: Stephen Stahl's CME-like presentations, an article in a big journal, squeezing through the FDA, quick to market CRO clinical trials. They're up against Risperdal already generic followed by Zyprexa and Seroquel going out of patent soon, and hopefully there's some waning in enthusiasm for the Atypicals in general. But it's really discouraging to pick up an American Journal of Psychiatry and find an article like this in there with as much as [we] ought to know by now.