The September 2011 issue of the Journal of Clinical Psychiatry created history in two ways. First, the journal published this article written by FDA staff critically reviewing the efficacy and safety data of Viibryd, a new antidepressant that the same FDA staff had just approved. Second, it was not just any journal that published the article, but the Journal of Clinical Psychiatry. Why is this so historic? Anybody who has followed this blog over the years has noticed a certain…shall we say, skepticism…toward many of the articles published in JCP, especially those published in its industry-funded supplements. But in this case I'm happy to give the journal kudos for having the courage to publish an article critical of an antidepressant made by a company that pays for drug ads.

Not that any of this information is truly new. Back in April of 2011, my own Carlat Psychiatry Report actually scooped JCP on this issue, when Jim Phelps and I reported in this article that Viibryd-funded authors had tweaked sexual side effect data to make the drug appear "cleaner" than its SSRI competitors. [Some of this tweaking, interestingly enough, occurred in the pages of the Journal of Clinical Psychiatry]. In fact, as we reported and as this new paper elaborates, the studies proved nothing at all about Viibryd's side effects, because they artfully omitted a crucial element—the inclusion of a comparator SSRI known to cause sexual dysfunction.

The other claim put to bed by the FDA is the idea that Viibryd is quicker to work than other antidepressants. This was based on one of Forest's trials which showed that Viibryd separated from placebo by week one. The FDA's article pointed out two problems. First, this data was from Trial 04, which was only one of two large trials submitted as part of the new drug application. In the other trial, Trial 07, Viibryd did not separate from placebo until week 4. Second, neither trial compared Viibryd with an already approved SSRI, meaning that no statements can be made about the new drug working faster than any other drug.

It's nice to see the FDA stepping up to the plate and proactively publishing articles that dispel company-spread rumors about drug effectiveness. And it's also great that a usually industry-friendly journal like JCP would publish this.
Along with having a name like a
World of Warcraft
Character,
Viibryd
[Vilazodone] has a long confusing history. The
FDA Medical Report
lists 5 previous Phase 2 Clinical Trials by Merck and GSK: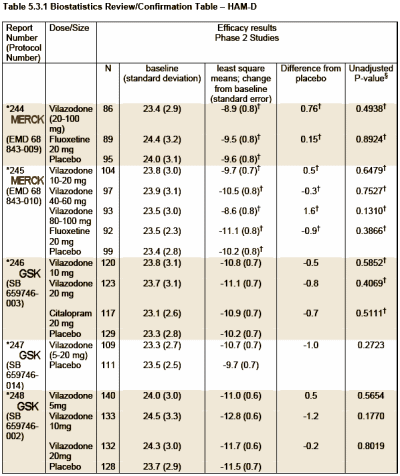 In that FDA Report, they mention those studies as not supportive, and consider two subsequent studies: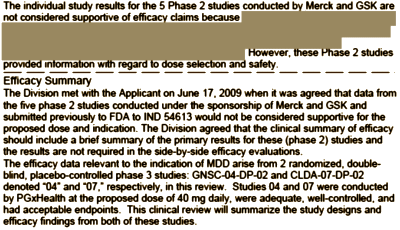 Here are the references:
Trial 7: CLDa-07-DP-02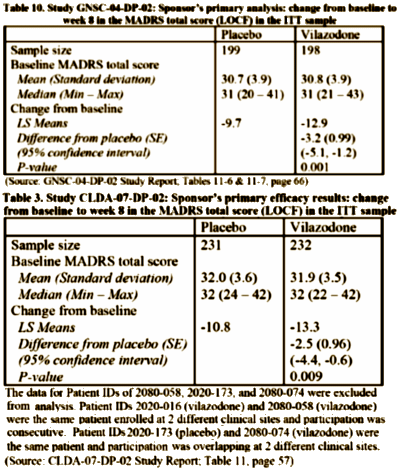 I don't take or have access to the Journal of Clinical Psychiatry, so I had to look elsewhere for the timeline data for the Viibryd Trials and found it here on their web-site. My new hobby is re-displaying the industry generated data on graphs that start with zero, so here for your perusal is their graphically reformatted data from the two trials to compare with their versions: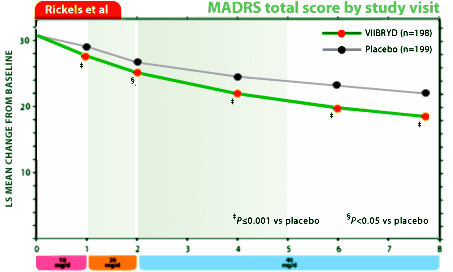 Trial 4: Graphic Rescaled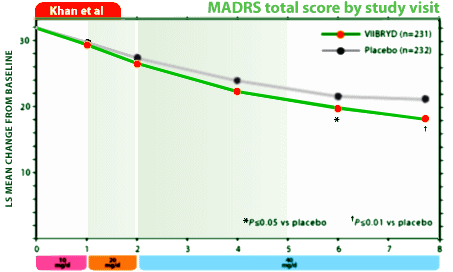 Trial 7: Graphic Rescaled
So what's this all about? Just another SSRI with a lightweight drug effect on depression, some way overblown advantages like less sexual side effects and rapid onset that probably aren't real [see Carlat]. But there are some other things: five failed Phase 2 studies with Merck and GSK; Clinical Trials financed by Genaissance Pharmaceuticals and Forest Laboratories; a Study Director [Carol Reed MD] who is working for Genaissance on one study and then Forest for the next one; along the way, she's also listed with Clinical Data and PGxHealth LLC as well. Whose drug is this after all? Is the entire Pharmaceutical Industry involved in marketing this drug? So I started trying to figure that out and things got even more confusing. The drug is now being sold by Forest Laboratories, but that turns out to be a very long story deserving another post of its own.
But before moving on to the corporate intrigue involved in this drug being released, let me reiterate something you may have missed along the way, the legend under the data for Trial 7:

What can a person take from that? Two subjects double dipping in Clinical Trials? What does that say about the modern Clinical Research Industry? Nothing good I would think…