Today AstraZeneca and Targacept announced the results from their second of four Phase 3 trials for TC-5214, a depression drug. The results failed to meet the primary endpoint based on change in the Montgomery-Asberg Depression Rating Scale total score after eight weeks of adjunct treatment with TC-5214 as compared to placebo. This is the second failed Phase 3 trial for TC-5214. On November 8 the company announced the failure of the first trial and shares were cut in half. There are two more trials ongoing with results expected in the first half of 2012; the ongoing trials utilize a fixed dosing regimen rather than the variable doses used in the first two.

Targacept and AstraZeneca have a research agreement wherein AstraZeneca is generally responsible for the funding and management of clinical trials and commercialization. AstraZeneca has announced it is continuing the remaining trials, but will review their regulatory filing targets once all data is available. Previously it expected to file a New Drug Application in the second half of 2012. Additionally, they are writing down the value of their TC-5214 assets by 50% to $96.5 million "based on the lower probability of success for the remaining TC-5214 studies." Based on two failed trials it is increasingly unlikely that TC-5214 will ever see an FDA approval. However, Targacept does have other drugs coming down the pipeline.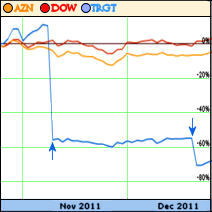 With all the recent moaning about the pharmaceutical industry fleeing CNS drug development, the bottom line is that they don't have much to work with these days. There are a finite number of neurotramsmitter receptor systems to tweak, and most of the major ones are already heavily tweaked. A recent candidate, Mecamylamine, a nonselective and noncompetitive antagonist of the nicotinic acetylcholine receptors, seems to be failing in clinical trials as we speak [as well as on the stock market]. AstraZeneca paid Targacept $200 M in a licensing agreement in 2009 and just took a $380 M write down in value after this [and other] failed clinical trials. I'm incapable of comprehending numbers of this magnitude, but it seems like a lot of money.
If we were thinking scientifically instead of commercially, rather than banging at Major Depressive Disorder with clinical trials assaulting the patients' beleaguered receptors spending millions, we might turn our attention to Major Depressive Disorder itself with a long overdue thorough clinical evaluation of symptoms, history, and biology – since almost every paper appends the term "heterogeneous" to that known-to-be pseudo-condition. Mecamylamine has been through clinical trials in the US, India, and Eastern Europe with a total of 121 sites. Coming next is an 88 site Quintiles International trial from literally the whole world. We have no notion of how any of the patients were recruited or anything about their illnesses other than their age, sex, and MADRS scores. If a drug is worth testing, it's worth testing in a diagnostically homogeneous group of otherwise similar subjects instead of a mental illness pot-pourri in the at large world masses…