CONTEXT: The high percentage of failed clinical trials in depression may be due to high placebo response rates and the failure of standard statistical approaches to capture heterogeneity in treatment response.
OBJECTIVE: To assess whether growth mixture modeling can provide insights into antidepressant and placebo responses in clinical trials of patients with major depression.
DESIGN: We reanalyzed clinical trials of duloxetine to identify distinct trajectories of Hamilton Scale for Depression (HAM-D) scores during treatment. We analyzed the trajectories in the entire sample and then separately in all active arms and in all placebo arms. Effects of duloxetine hydrochloride, selective serotonin reuptake inhibitor (SSRI), and covariates on the probability of following a particular trajectory were assessed. Outcomes in different trajectories were compared using mixed-effects models.
SETTING: Seven randomized double-blind clinical trials of duloxetine vs placebo and comparator SSRI. Patients A total of 2515 patients with major depression.
INTERVENTIONS: Duloxetine and comparator SSRI. Main Outcome Measure Total score on the HAM-D.
RESULTS: In the entire sample and in the antidepressant-treated subsample, we identified trajectories of responders (76.3% of the sample) and nonresponders (23.7% of the sample). However, placebo-treated patients were characterized by a single response trajectory. Duloxetine and SSRI did not differ in efficacy, and compared with placebo they significantly decreased the odds of following the nonresponder trajectory. Antidepressant responders had significantly better HAM-D scores over time than placebo-treated patients, but antidepressant nonresponders had significantly worse HAM-D scores over time than the placebo-treated patients.
CONCLUSIONS: Most patients treated with serotonergic antidepressants showed a clinical trajectory over time that is superior to that of placebo-treated patients. However, some patients receiving these medications did more poorly than patients receiving placebo. These data highlight the importance of ongoing monitoring of medication risks and benefits during serotonergic antidepressant treatment. They should further stimulate the search for biomarkers or other predictors of responder status in guiding antidepressant treatment.
TRIAL REGISTRATION: clinicaltrials.gov Identifier: NCT00073411.
[graphs colored from the original for clarity]
This study is a reanalysis of seven placebo controlled clinical trials of Cymbalta [Duloxetine] with active comparators [Prozac, Paxil, and Lexapro]. They analyzed the data looking for trajectories – meaning they used mathematical methods to look for separate populations within the data. When they lumped all the data from the study drug, the active comparators, and the placebo together, they found that the data [HAM-D] fit a two population model. When they looked at the placebo data alone, it fit a one population model. There was no significant difference between the study drug and the active comparators, so they lumped all the active data together and again found that a two population model.
The graph above shows the Placebo data [red] and the drug data divided into the two populations [blue and green]. The study was not funded by Eli Lilly, the manufacturer of Duloxetine, but one author is a Lilly research scientist [Mallinckrodt] and one lists being on Lilly's Advisory Board in his financial disclosure [Krystal]. The first author [Gueorguieva], a Yale Biostatistician, lists no conflicts of interest. In spite of the industry ties, I thought the analysis was both clever and interesting. There's a big question about why the placebo response in Clinical Trials is so pronounced. There's an equally big question about why it's so difficult the get a significant study for drug effect. Most of us assume that the answer is in the method of selecting subjects. And while this study doesn't change that, it does show something of interest – that the drug treated subjects seem to have two response patterns for responders and non-responders – neither looking like the placebo treated group – the majority [73%] looking better and a minority looking worse [23%] in a specific way. Obviously, the net effect is to move the average drug response towards the placebo group.
In so far as I'm capable of evaluating such a thing, I thought the analysis looked rational though it relies on some relatively heady mathematics. It struck me as familiar, reminding me of another study that I reviewed earlier [by people with no drug industry ties] reanalyzing the STAR*D raw data [Growth Modeling With Nonignorable Dropout: Alternative Analyses of the STAR*D Antidepressant Trial] [what's missing…]. Their analysis was somewhat different in part because STAR*D had no placebo group, but their population analysis showed a similar group they called "the U-shaped class" because of the shape of their response curves. They were proposing using this kind of population analysis rather than the conventional LOCF and Mixed Model correction methods to deal with drop-outs, something mentioned in the current article as well.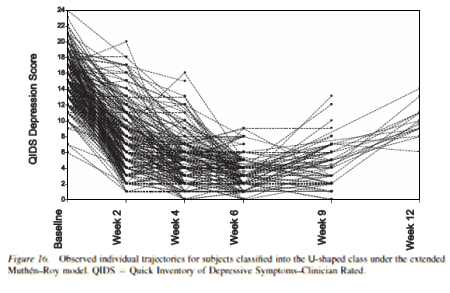 And now, down from the stratosphere: There's a clinical point in all of this. Both of these more complex analyses of the antidepressant responses in clinical trials suggest that there is a group of people who respond paradoxically to the antidepressants, namely that they may initially get a bit better, but then they get worse – worse than no drug at all. I expect most of us who prescribe these drugs have seen patients who say exactly that. I certainly have. And I'll bet that a lot of them get a second drug added to the mix rather than having the first drug discontinued [Note to self: casual poly-pharmacy is a bad idea!]. These analyses raise an important clinical point as well as an intriguing topic for further research [Lordy, Lordy. I sound like one of them].
---
I'm afraid that this last year of looking at clinical trials has made me paranoid. I liked this article, but the conflict of interests' statement having the drug maker's stamp on it [even though it makes sense that Lilly was involved to gain access to the raw data], bothered me. In its favor, the article admits that Cymbalta did not separate from any of the active comparators. On the other hand, the parsing of responders and non-responders improves their separation from placebo [see CONTEXT: above]. Obviously, I ended up thinking it was a valid production because it's here, but I don't like the nagging doubts well-earned by two decades of stealth literature. That's the main take-home from this year+ of my blogging. The widespread hanky-panky and conflicts of interest with published science in psychiatry has undermined physicians' access to our literature as an important anchor in the sea of confusion that is clinical medicine.