I'm in something of a cul-de-sac and I don't see any way out other than to explore the territory. At least I know how I got here. It was those Call-Notes from the Janssen Trial in Texas. I went there understanding how I felt about what Janssen had done, but I wanted to hear about it first hand. Well, that sure happened, but I came home with a new disquieting feeling. It was all those Call Notes, the notes the Janssen Sales Reps wrote after each call they made to the doctors on their "target lists." In the Trial itself, they were presented as evidence to prove that Janssen was promoting Risperdal off label to Child Psychiatrists [among other things]. They not only had no indication for children and adolescents, but they were promoting it for things that they had no approved indication for even in adults. There was one training slide, a sales aid that they showed us repeatedly [for obvious reasons]:
Child and Adolescent Psychiatrists

Provide with treatment under 13

Most diagnosed with behavior disorders or mood disorders

No indications!!!

Sell on symptoms not diagnosis
So they knew exactly what they were doing. Along those lines, there was one particular Call Note that stood out from the others:
"Continued with John's call and spoke of new areas to use Risperdal. Used JAACAP to show augmentation to stimulants with low dose – low dose Risperdal for hostility/aggression. This seemed to spark some interest, so we might need to elaborate here since he sees so many kids."
I searched
PubMed
for the Journal of the American Academy of Child and Adolescent Psychiatry AND Risperidone, and there was only one article that fit the bill:
OBJECTIVE: To evaluate the effects of risperidone augmentation for treatment-resistant aggression in children with attention-deficit/hyperactivity disorder [ADHD].
METHOD: Twenty-five children [ages 7-12 years] with attention-deficit/hyperactivity disorder [ADHD] and significant aggressive behaviors were randomized to risperidone or placebo for 4 weeks for this double-blind study. Subjects were already in treatment with a constant dose of psychostimulant medication. The primary efficacy measure was change from baseline in the Children's Aggression Scale-Parent [CAS-P] and -Teacher [CAS-T] total scores.
RESULTS: The mean risperidone dose at endpoint was 1.08 mg/day. For the CAS-P total score, a significant difference was found [chi(1)(2) = 4.30, p < .05] with 100% of risperidone subjects improving by more than 30% from baseline to endpoint, whereas only 77% of the placebo group reported a similar response. No differences were found on the CAS-T total score. For the CAS-P and CAS-T, no significant interaction was found between treatment group and time. Rates of adverse events did not differ significantly between groups.
CONCLUSIONS: Risperidone treatment appears to be well tolerated and modestly effective when used in combination with psychostimulants for treatment-resistant aggression in children with ADHD.
I had to look, and there it was:
Accepted November 29, 2006.
Dr. Armenteros is in private practice, Coral Gables, FL; and Dr. Lewis and
Ms. Davalos are with the University of Miami Miller School of Medicine.
This study was supported by Janssen, LP…
And the data?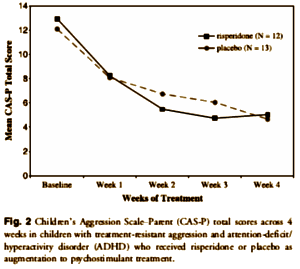 I guess we're wondering what it was about this article that "spark[ed] some interest"? I, for one, didn't feel sparked by this industry-funded, underpowered, essentially negative study done by a private practitioner handed out by a drug rep to support the off label use for a medication for behavior control. What I was sparked to wonder is how it made it into the Journal of the American Academy of Child and Adolescent Psychiatry [JAACAP] in the first place.
But then I remembered something! I'm on the wrong track. This article probably wasn't what "
JAACAP
" referred to. The date is all wrong. This is a Call Note from Tiffany Moake who was a Sales Rep in 2003-2004. She most have been referring to data from the presentation Dr. Joseph Biederman signed onto at the American Academy of Child and Adolescent Psychiatry in 2002. And when I say signed on to, I mean that literally [
bipolar kids: postscript, detestable?…
]. And it's part of a bigger story too. Janssen had it's eyes on people using Risperdal for behavior control in disruptive children from the start. Starting in 1997, a Janssen group,
Risperidone Disruptive Behavior Study Group
, did a large study using Risperdal for behavior control in retarded children [
Aman et al
, finally published in 2002]. The FDA wouldn't approve that usage. Amazingly,
that data was reused
by Dr. Joseph Biederman when he got started on his Bipolar Child epidemic as evidence for using Risperdal in his patients. It's a sleazy side story covered in these earlier posts well worth reviewing if you don't know the story.
So this Call Note is from a time when they were using Joseph Biederman's [guest author!] presentation at the meeting to detail Child Psychiatrists, a time before Biederman's Bipolar Child story grabbed hold and legitimized [in the minds of many] treating disruptive kids with Risperdal. It wasn't the lousy study in PubMed that was being detailed after all, it was the ghost-written study that Dr. Biederman signed onto right after J&J funded his Center at Mass General [it's amazing to me how these stories keep running into each other].
Janssen was standing on it's head to find a way to push Risperdal for controlling hostility and aggression in children – retarded kids, ADHD kids, autistic kids, "Bipolar" kids, whatever it took. It was a huge market and they went for it full bore – approvals or not. My point is that the doctor in question apparently went for the idea ["spark"] too. First, Janssen was hell bent on finding a way to medicate disruptive kids with antipsychotics, but it obviously fell on receptive ears and has morphed over the years into a problem of its own – mainly discussed these days as the massive overmedication of children in Foster Care and children with disabilities.
"Had an entire waiting room of foster kids; Rosemary said she sees at least 10 Risperdal prescriptions go out a day."
That Janssen and PHARMA in general have gone in every direction possible to legitimize and popularize using antipsychotics with hostile, aggressive, or disruptive children seems without question, to their shame. But I knew that already. What lingered with me is that the Call Notes were about sales calls to doctors who were receptive to what they were saying – to using Risperdal as a chemical straight-jacket for difficult kids. Even worse, using Risperdal routinely with disabled and disenfranchised children. There's something very wrong about all of this, even beyond the obvious exposure to the toxic adverse effects. Growing up drugged can't be a good idea. It sounds like we're trying to make up for not providing these children with adequate services and care by prescribing medications to keep them quiet. Janssen may be opportunizing on this state of affairs and physicians may be overprescribing because they don't know what else to do with a waiting room full of such children. The rest of us may be decrying overmedication of kids. But the bottom line may well be a system overwhelmed without adequate resources. What a mess…