NIMH, like all Institutes at NIH, has an advisory council that meets three times each year. The National Advisory Mental Health Council [NAMHC] is a distinguished group of scientists, advocates, clinicians, and policy experts. Each of our meetings includes a closed session to review individual grants considered for funding and a session open to the public that engages this diverse group in discussions about the larger issues that guide NIMH funding.

At last week's session, we heard a recurrent tension around one such larger issue. Some members of Council bear witness to the poor quality of care, the unmet medical need, and the diminishing investments by states on behalf of people with mental disorders. They reasonably ask, "How are we ensuring that the science that NIMH has produced is implemented where the need is greatest?" They also question on the pay-off of genetics research. After all, two decades after the gene for Huntington's disease was identified, we still have no effective treatments, and Huntington's disease is genetically far simpler than schizophrenia or bipolar disorder. In contrast to so many neurological diseases, we have effective treatments for schizophrenia and bipolar disorder. NIMH should be investing to ensure these are available.

The opposing argument runs something like this. There has been no major innovation in therapeutics for most mental disorders since 1960. Current treatments are not good enough for too many. Rather than investing scarce dollars for incremental improvements or increased dissemination of mediocre interventions, we need invest in the fundamental science of brain and behavior so that we can understand how to develop better treatments.

While I may have oversimplified the two sides of this debate, the divide is substantial. Some advisors want more funds in services research; other advisors want more funds in basic neuroscience. Some are thinking of the immediate needs; others are focused on the paradigm shifts that may be revealed by another decade of research. And with the NIMH budget stretched, tough choices must be made…
Wasn't he the guy that said this in 2005? Here we are having mastered the technology of clinical genomics and halfway up the ladder of neuroimaging – on the threshold of biodiagnostics and treatment of core pathology. How can we stop now?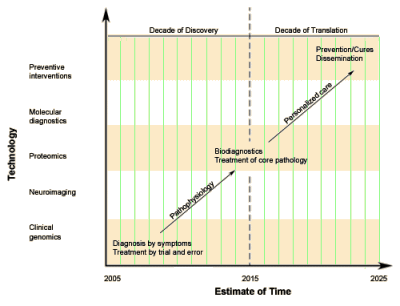 Future Innovation? New Director…