Texas judge finalizes $158 mln Risperdal settlement
Reuters
By Corrie MacLaggan
March 27, 2012

A Texas judge on Tuesday finalized a $158 million agreement to settle a lawsuit that accused Johnson & Johnson of improperly marketing its Risperdal anti-psychotic drug to state residents in the Medicaid program. The action in Austin by state District Judge John Dietz paves the way for Johnson & Johnson to pay the money to the original plaintiff, his attorneys, the state of Texas and the federal government. It's the largest fraud recovery ever in Texas for Medicaid, the federal-state health insurance program for low-income people.

"We are pleased that the settlement agreement has been brought to a close," Teresa Mueller, a spokeswoman for J&J's Janssen Pharmaceuticals unit, said on Tuesday. "Janssen is committed to ethical business practices, and has policies in place to ensure its products are only promoted for their FDA-approved indications." The $158 million is the same amount that Johnson & Johnson said in January that it would pay. Since then, the parties have quibbled over the distribution of the money, according to Allen Jones, who raised the red flag about J&J's marketing practices while working with the state of Pennsylvania. Johnson & Johnson declined comment on the discussions.

"The defendants wanted to have more of a say than they did on how the monies were allocated," Tom Melsheimer, a lawyer for Jones, told Reuters on Tuesday. Of the $158 million, about 31 percent will go to the federal government, 40 percent to the state of Texas, 17 percent to Jones and the rest [roughly 12 percent] is for attorneys' fees, according to Tommy Jacks, a lawyer for Jones. The settlement will fully resolve all Risperdal-related claims in Texas, Mueller said. The agreement is specific to Texas and does not involve other state or federal Risperdal litigation.

The deal marked the first Risperdal settlement with any U.S. state. It settles claims brought by Texas in 2004 involving alleged Medicaid overpayments during the years 1994 to 2008. Jones said on Sunday that Johnson & Johnson was trying to reduce the amount that he received in what he characterized as an effort to discourage whistleblowers.

Under state law, Jones was entitled to receive between 15 and 25 percent of the settlement, said Tom Kelley, a spokesman for Texas Attorney General Greg Abbott. Jones said on Tuesday that the 17 percent he is getting is "far, far more" than what Johnson & Johnson wanted to pay but that "this has never been about the bucks." "I have done all that I can to expose Johnson & Johnson," Jones told Reuters on Tuesday. Kelley said that Texas officials "are completely happy" with the settlement and that Texas taxpayers are receiving a larger allocation than initially planned.
It's easy, when large amounts of money like this are thrown around to miss the point of this story. The CEO of J&J, William Weldon, is getting a retirement package estimated between $143 M and $197 M [
gulp…
]. And then there's this: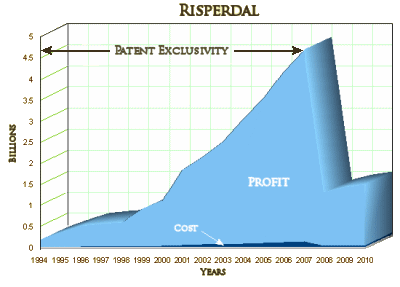 For J&J to complain about the whistle-blower pay-out or, for that matter, anything when they have a profit margin like that [or a retirement payout that equals this settlement] is the height of hubris. The fact that the States the Feds are lining up to extract some more hide from them is obviously scaring them, but even a worse case scenario won't touch their pillage yield. But what this and future settlements might do is encourage others to step up to the plate the next time J&J thinks about something as clearly devious as TMAP. Because next time, maybe someone will listen to a whistleblower a little sooner and nail them before they've amassed an obscene and ill-gotten gain like this at the expense of the people we call patients and ask to trust our system of medical care.
Sick people are a captive audience, no matter where they are treated. All of this money – profit, CEO golden parachute, settlement payouts is money intended to pay for the healthcare of sick people, this captive audience with no other alternatives. In this case it came largely from taxpayers paying for the healthcare of the people who can't pay, diverted by several corrupt systems including their own State government and State supported medical schools. William Weldon is walking away with a personal mint exceeding that of any of the parties involved in this settlement. He should really be spending some quality time playing Mahjong with Bernie Madoff, wearing a blue shirt marked with his inmate number in magic marker. The magnitude of the crime is worse – sick people with no choice, taxpayers with no choice, rather than rich people actively making bad choices.
I'm glad this is finally going to be settled, so we can stop looking at court proceedings and dollar figures, and focus our attention on what matters – how J&J/Janssen was able to get away with this throughout the span of their patent's lifetime – and start figuring out ways to prevent this story from having any more reruns…