Nobody likes drug companies these days. Worse than tobacco companies and big oil companies! Supposedly they have ruined CME and have corrupted psychiatric experts as consultants, lecturers and research grant recipients! Drug companies only engage in expensive patent extension gimmickry and offer no true innovations! Let's criminalize the marketing of psychiatric drugs, levy billions in fines to Pharma, force out their CEOs and even make them and their Pharma collaborators take the "perp walk" on their way to court in chains and orange jumpsuits and in front of the cameras! Get out of our professional societies! Get out of our journals! Get out of our medical centers! Good riddance!!!…

…the anti-psychiatry community, lights up the antipsychiatry blogs [e.g., Carlat] who attract the Pharmascolds, scientologists and antimedication crowd who believe either there is no such thing as mental illness, that medication should not be used, or both. Did you know that psychiatric illnesses are pure inventions of Pharma and their experts to treat patients that do not exist with drugs that are dangerous and do not work with the purpose only of profiting themselves? Stop the profits! Make mental illness go away by legislation and committee! Treat human mental suffering with love and peace and all will be well! Who needs mental health professionals and their diabolical drugs anyway?…
I am blogging today from Paris at the ECNP [European College of Neuropsychopharmacology] meeting, having attended the Royal Society of Medicine meeting outside of London last week to discuss the future of new drug development in psychiatry, paid by the taxpayers of the UK and charities, not Pharma. This meeting involved US colleagues Tom Insel [head of the National Institute of Mental Health], David Kupfer [head of DSM V rewrite], and several academic experts and industry executives from the US and the UK and was covered by the BBC and a report of it aired on UK television…
Healy's response is priceless…
At a meeting of the Royal College of Psychiatrists in Brighton in June 2011, Dave Nutt, a professor of psychiatry at Imperial College London issued a call to arms to his audience at a plenary lecture to defend psychiatry which in Dave's view meant defending psychopharmacology. On a slide entitled 'No Psychiatry Without Psychopharmacology' he outlined the threats from treatment deniers like Irving Kirsch and Joanna Moncrieff whom he claimed argued drugs don't work. Psychiatry is also apparently threatened by illness deniers who claim that addiction or shyness are just lifestyle options. Then labeling and libeling me a Scaremongerer, he claimed psychiatry was threatened by me. The first point to note is that I was not held to deny the reality of illness nor held to say that treatments don't work.

As regards the risks of drugs, pharmaceutical companies are quick to sue people who claim that treatments have risks if they cannot back up their claims with evidence. As we have seen in the first post in this series almost everything I write or say at meetings is scrutinized with a view to suing me. Calling someone a Scaremongerer, as a matter of logic, should be all but an oxymoron – such a beast cannot exist. The only risks that can be mongered are ones that are real. If these risks are real, should they be regarded as scares? If the argument is that it is fear that is being mongered, pharmaceutical companies monger fear the whole time. Leave your child's depression untreated and she will grow up to be alcoholic, a drug abuser, will have a failed career and marriage and ultimately commit suicide. Leaving your anxiety or depression untreated while pregnant and your child is likely to be born with a birth defect. If medicine is going to save itself, if it is going to remain a profession, it is time to embrace the duties given it in 1951 and again in 1962 when drugs were made available on prescription-only. Doctors warn people about the risks of over-the-counter products – like patent medicines or tobacco. Prescription-only medicines are prescription only precisely because they are riskier than over-the-counter drugs. If they are no riskier than alcohol or nicotine, which people can manage on their own, why have them on prescription-only. Doctors are there to quarry information out of pharmaceutical companies about these risks – not to be a risk-denying conduit for drugs.

Dave, who I used to think of as a friend or at least a colleague, has form in this area. He has instigated investigations of me by the General Medical Council, aimed it would seem at getting me debarred from practice. After this lecture, I sent an email asking for the slide branding me a scaremonger – it's one to treasure – but he didn't respond. Dave has another role which is agitating on behalf of the pharmaceutical industry – making regulations less onerous and the environment more company friendly so companies don't move jobs elsewhere… The thrust of a series of recent posts here … is that if doctors cannot be identified as the people who know about the risks of drugs, they are likely to go out of business. They should be scaremongerers in other words.

Now is the time for doctors to come out of the closet. We urgently need to develop Scaremonger Pride to match Black, Gay and Mad Pride. I'm open to nominations for a Dave Nutt Prize for most effective Scaremongering of the Year for 2011 and would urge everyone to keep track of possible nominees for 2012. You can nominate the person who in your opinion did the most to alert others to a hitherto unknown or poorly recognized substantial risk from some treatment. Anne-Marie or Rosie Meysenburg would be good candidates for 2011.
Catharine Holly, a poor relation of prominent New Orleans family seems to be

insane

after her cousin Sebastian dies on a trip to Europe under mysterious circumstances. Sebastian's mother, Violet Venable, trying to cloud the truth about her son's pedophilia and death, threatens to lobotomize Catharine for her incoherent utterances relating to Sebastian's demise. Under the influence of a

truth serum

, Catharine tells the gruesome story of Sebastian's death by cannibalism at the hand of local boys whose sexual favors he sought, using Catharine as a device to attract the young men [as he had earlier used his mother].
Dr. Healy is no stranger to being discounted because of his determination to talk about the truth of Akathisia and suicidality in some patients on SSRIs – something he ran across as a clinician early in his career as a biological psychiatrist. In 2001, he lost a job in Toronto in a now famous encounter with the infamous Dr. Charlie Nemeroff after lecturing on his findings [before that became cool!…]. In the contemporary version, Dr. Nutt can't bring off discounting Healy as part of some fringe group [a treatment denier or an illness denier], so he gives Healy his own category [scaremonger] implying that Healy has some crazy motive to invoke fear in others. Dr. Healy uses this moniker, scaremonger, to point out the essential tragedy in this whole story. Warning patients accurately about the dangers of medications and conveying their true efficacy is, in fact, the delegated job of physicians. It's the reason we were given prescribing privileges in the first place! Healy's point highlights the absurdity of Nutt's next slide: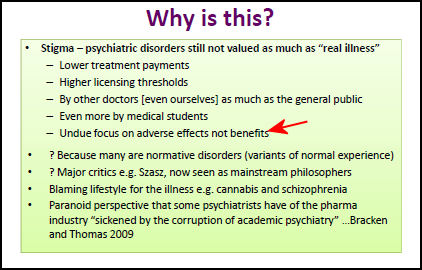 It is the point that Dr. Healy fleshes out in his recent book, Pharmageddon. And Dr. Nutt has things backwards. What has and will put "Psychiatry under threat as a Medical Discipline" is actually the "undue focus on … benefits" – AKA lying…
---
There is an irony in this story. Dr. Nutt himself was a truth-sayer. In 2008, he became Chairman of the Advisory Council on the Misuse of Drugs. He was an outspoken advocate for basing the laws about street drugs on their true evidence-based dangers – publishing this graph in The Lancet: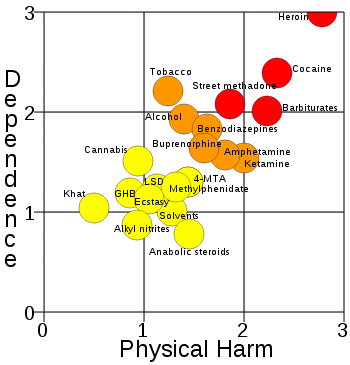 In 2009, Dr. Nutt was fired from this appointment because of his own truth-saying about Street Drugs [and one has to wonder where the prescription medications Nutt both promotes and defends would fall on his own graph].
---