A psychiatrist whose failure to disclose drug company income contributed to a furor over conflicts of interest in biomedical research has just received his first National Institutes of Health (NIH) grant in 3 years. Charles Nemeroff's lax reporting of at least $1.2 million in drug company payments to his employer, Emory University, and similar payments to other academic psychiatrists prompted a 2007 Senate investigation. Nemeroff stepped down as chair of psychiatry at Emory, and NIH suspended a $9-million grant he held for a depression study. In December 2008, Emory barred him from applying for NIH funding for 2 years.

A year later, Nemeroff moved to the University of Miami Miller School of Medicine in Florida. This prompted concerns because Emory's ban on NIH grants did not move with him. Fueling the flames was a phone call in which National Institutes of Mental Health (NIMH) Director Thomas Insel apparently assured the University of Miami medical school dean that Nemeroff could seek NIH funding if he moved. NIH asked for input on how to handle this situation in a revision of its conflict of interest rules, but in final rules issued last summer it did not specifically address it.

Now Nemeroff is back in the fold of NIH-funded investigators. According to NIH's grants database, he has received a $401,675 a year, 5-year standard R01 grant from NIMH to study "psychobiological risk factors for PTSD [post-traumatic stress disorder]." The study is looking at genetic risk factors and doesn't appear to involve testing drugs. The 2-year ban by Emory would have expired anyway. But Paul Thacker, a former staffer for Senator Chuck Grassley (R-IA) who led the Senate investigation, says NIH itself had the authority to impose a longer ban. "This shows they're really not serious about the problem," Thacker says…
Project Number: 1R01MH094759-01A1
Contact PI / Project Leader: NEMEROFF, CHARLES B
Title: PROSPECTIVE DETERMINATION OF PSYCHOBIOLOGICAL RISK FACTORS FOR PTSD
Awardee Organization: UNIVERSITY OF MIAMI SCHOOL OF MEDICINE

Abstract Text:
DESCRIPTION (provided by applicant): Post-traumatic Stress Disorder (PTSD) is one of the most highly prevalent psychiatric disorders and its prevalence is likely increasing in the United States and worldwide due to the rising numbers of natural disasters (earthquakes, hurricanes, tsunamis), man-made disasters (oil spills), terrorism and wars, as well as violent crime and automobile accidents. Although the majority of trauma victims experience the cardinal symptoms of re-experiencing, avoidance and hyperarousal, for the large majority of such individuals, these symptoms do not become chronic nor do they develop syndromal PTSD. It is important to identify the large minority of trauma victims with a high likelihood of developing PTSD because of the very significant medical and psychiatric morbidity and mortality associated with this disorder. There is already considerable evidence that the likelihood of developing PTSD after trauma exposure is due to a combination of genetic and environmental factors. This two-site, linked R-01 application seeks to utilize state-of-the art advances in genomics, transcriptomics and epigenetics, coupled with comprehensive clinical and psychological measures, to address this seminal unanswered question in PTSD clinical service and research. To achieve this goal, 500 trauma-exposed subjects will be recruited at the University of Miami Ryder Trauma Center and the Emory University affiliated Grady Memorial Hospital and followed at regular intervals for one year. This focused, hypothesis-driven study will scrutinize previously identified psychological and biological risk factors. Genetic risk factors include polymorphisms of the ADCYAP1R1, FKBP5, DAT, BDNF, COMT, CRFR1, 5HTTLPR, RGS2, GABA2 and 5HT3R genes, novel genetic and epigenetic risk factors and most importantly, the primary downstream effects of these genomic and epigenetic findings by the use of conventional and newer statistical modeling methods. These findings should provide the means to identify trauma survivors who will likely develop PTSD and can therefore be referred for appropriate psychotherapeutic and/or psychopharmacologic treatment. Such a strategy has the potential to help redefine psychobiological subtypes of PTSD as well as to reduce the burden of chronic PTSD on our healthcare system. PUBLIC HEALTH RELEVANCE: Exposure to severe trauma is, unfortunately, extraordinarily common in the United States and worldwide, and consequently the prevalence rate of posttraumatic stress disorder (PTSD) is among the most common of the severe major psychiatric disorders. The fundamental unanswered question in the field is how to identify markers in trauma victims that predict who will later develop PTSD. The ability to identify those individuals with a high likelihood of developing PTSD will permit the development of a preventative intervention strategy that can be implemented appropriately and efficiently.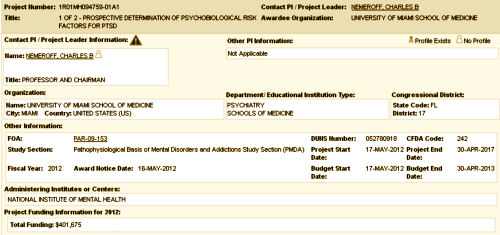 Were we thinking that there was a genetic predisposition to PTSD [which we aren't], would we select Charlie ["so toxic he glows"] Nemeroff to study it using recruits from the Grady Hospital Waiting Rooms? This study's premise is so far off the mark, Dr. Nemeroff's capacity to do meaningful research is so unlikely, his track record of corruption is such a legend, and no matter what the outcome there's no useful application – so we can see this as a pure culture example that there's something very wrong with the NIMH Grant process. I'm sort of speechless so I'll just have to wait for a later moment to comment further…