The final public comment period for the draft diagnostic criteria of the upcoming Diagnostic and Statistical Manual of Mental Disorders [DSM-5] drew 2,298 responses from across the country and abroad. The six-week comment period ended June 15. This feedback, submitted online to the American Psychiatric Association [APA], adds to the extensive responses submitted during the two other open comment periods. In total, more than 15,000 comments about the proposed DSM-5 criteria have been received since 2010 from mental health clinicians and researchers, the overall medical community, and patients, families and advocates. As was the case following the other comment periods, the DSM-5 Task Force and Work Groups will now review and consider each response as they begin final revisions to the criteria. "Every comment period has provided valuable perspective from a wide range of professionals, consumers and advocates," said APA President Dilip V. Jeste, MD. "We are grateful for their participation and willingness to review the draft proposals and to share their opinions and experiences. The Work Groups consider the feedback a huge asset as they shape the final DSM-5 proposals"…
"
If you can't say something nice, don't say anything at all
," said my mother [not one to dispense many platitudes generally]. Nice things? No Attenuated Psychosis Syndrome. Some concessions about grief. No Mixed Anxiety and Depression. Most
nice things
I can think of are what they didn't do. The same for
not so nice
. They did
not
touch the gaping wound of Major Depressive Disorder. I do think Dr. Frances' campaign kept them honest, but his findamental complaint about process was largely ignored. It's the tone of the press release that is bothersome this time. I expect that those 2300 comments weren't so upbeat as the letter implies. Mine sure wasn't. And as I look at the DSM-5 as it stands, I wonder what it's for. It's really not much of a change in things, and what changes there are aren't
value added
. The
National Alliance of Professional Psychology Providers
already has a petition up to make the ICD-10-CM the diagnostic standard for Psychologists.
Petitioners strongly urge American Psychological Association Practice Organization and the APA Practice Directorate to expend all possible efforts to implement use of ICD-10 by all practicing psychologists. This action is petitioned and asked to receive priority attention because the clear advantages listed above. Expediting this request needs to be done to achieve these advantages and to circumvent unacceptable developments in the proposed edition of DSM-V.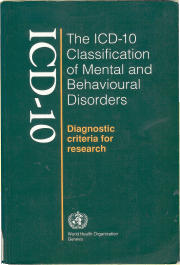 I expect this is the first of many such efforts. I'd predict they'll be successful and marginalize the DSM-5, maybe before it's gone to press. I have my copy of the
ICD-10
[1993] and am looking into all the various alternatives [
ICD-9-CM
,
ICD-10
,
ICD-10-CM
,
ICD-11
] and will be talking about them in the future, but for now, I'm still thinking about the DSM-5 process and how it has gone so very wrong. I was surprised at my reaction to that APA press release and the NAPPP petition. They made me feel sad. As much as the DSM-5 process has bothered me, I think I held out some hope that they'd respond to all the turmoil and do the right thing. It's increasingly obvious that it's not going to happen. It was a chance to undo some of the damage done by the psychiatrists who participated in the
COI generation
. A missed opportunity.