If you have the time, it's instructive to read through the DOJ complaint. It's thorough and factual. I wrote Dr. Drell [below] and received a response that the American Academy of Child and Adolescent Psychiatry is currently "vetting" the issue and making decisions about a response. I appreciate his responding and I guess that's all we can ask for the moment. The DOJ's complaint is comprehensive and GSKs plea agreement is unequivocal. As I said in my last post [the responsible party…], it seems clear to me that the responsibility for retraction rests with the journal's sponsoring organization.
The DOJ complaint above had some information that relates to another recent matter [more Gibbons…] – Dr. Karen Dineen Wagner: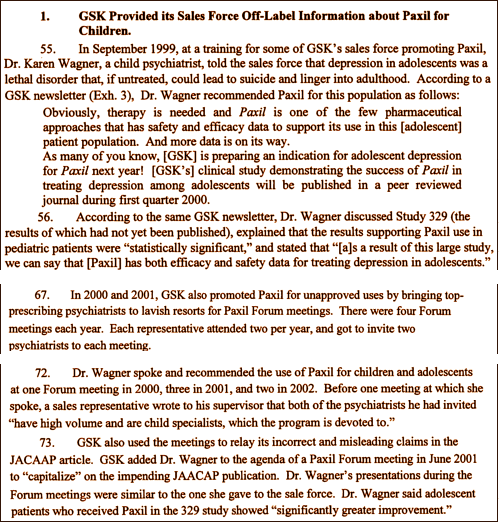 Recall Wagner's recent review of the Gibbons articles in the Psychiatric Times [Antidepressants: Risk vs Benefit in Depression]. She was hawking Paxil in kids a decade ago [and Prozac and Zoloft]. She was involved with the notorious TMAP/CMAP scam in Texas. She was part of the Biedermania over Childhood Bipolar Disorder. She was listed in Senator Grassley's rogues Gallery. Now here she is presenting Dr. Gibbons' terminally flawed meta-analysis in a matter of fact way in the Psychiatric Times. There's something terribly wrong here – child psychiatrist for hire?
All things considered, we've been through a pretty rotten era…