I've always wondered how Dr. Martin Keller, then the recently named Chairman of Psychiatry at Brown [1989], got involved in a study of Paxil in adolescents. He's neither a Child nor Adolescent psychiatrist. Paxil had been approved for MDD in adults by the FDA in December 1992, and the proposal for what would become Study 329 in adolescents was also dated December 1992. When it was approved for funding by SKB in 1993, Dr. Neal Ryan, a Child Psychiatrist at Pittsburgh, was the Principal Investigator. There was another now-familiar name associated with the early days of Paxil, Dr. Charles Nemeroff. In 1991, Dr. Nemeroff became Chairman at Emory. That year, he had testified as an expert for Eli Lilly at an FDA hearing about Prozac and suicidal thinking [he said it didn't happen]. In 1993, Sally Laden of STI [who would later ghost-write the Study 329 paper] organized SKF's Paxil Advisory Board to meet in November 1993 and chose Dr. Nemeroff as moderator. The main focus of the meeting was on getting Primary Care Physicians to treat depression [with Paxil]. Sally Laden's STI would later ghost-write Drs. Nemeroff's and Schatzberg's 1999 textbook for Primary Care heavily weighted towards Paxil [come to think of it, Dr. Schatzberg also became Chairman at Stanford in 1991]. So SKF's launch of Paxil had collected a number of the coming KOL class [not to mention a who's who of young academic Child Psychiatrists involved in Study 329 itself]. It was the dawn of a new era, the NIMH decade of the brain, and the race was on to include pediatric depression in the pantheon of indications for the SSRIs [tuning the quartet…].
My apologies up front, but I'm about to go off on a tangent…
By 1998, the data from the Paroxetine Trials was in and they hadn't fared very well. Study 377, a non-US companion to Study 329 was a bust, and the best they could say about 329 was that it showed trends. They decided not to go for FDA approval, but present the 329 data as a poster at the European College of Neuropsychopharmacology, and to develop it as a Journal article using Scientific Therapeutics Information with Sally Laden as the writer. So the first question is, how did they decide to ignore the study's failure to meet either primary outcome parameter and simply lump the outcomes into a long list? Here's one answer from the horse's mouth [Deposition of Sally Laden, 2007]:
QUESTION: Okay. This provided you with information that you then utilized to prepare the first draft of the manuscript for Study 329?
ANSWER: Yes
QUESTION: Okay. Was it your responsibility alone to create the first draft of Study 329 or did you get help from some of your colleagues?
ANSWER: I believe I created it on my own.
QUESTION: Okay. Did Martin Keller tell you what to put in the first draft?
ANSWER: I don't recall. I don t think I had any conversation with him until we were, you know, afterwards.
QUESTION: Okay. After you prepared the first manuscript?
ANSWER: To the best of my recollection, yes.
…
QUESTION: In here you list eight main outcome measures, correct?
ANSWER: Yes
QUESTION: And you can't tell from reading – a reader could not distinguish which are these – whether any or all of them are primary or secondary?
ANSWER: Correct
QUESTION: Okay. My question was do you know whose idea it was to not distinguish between primary and secondary efficacy measures?
ANSWER: A reader cannot. This was a first draft, so this came straight from me. This was, I guess, my interpretation. I m remembering this may have been my interpretation of the data.
It's hard to get the time sequence of these early pieces straight, and maybe it doesn't matter so much as I think it does. The SKB[GSK]
position paper
announcing the ECNP poster and the article is dated October 14, 1998, but the copy of the
poster
is also dated "OCT '98" [from GSK]. The poster is by Dr. Ray Berard, the PI for failed Study 377 and Dr. Neal Ryan, the PI of Study 329. They took a different tack from Sally. They stated the Primary Efficacy Parameters clearly in the
Methods
:
• the proportion of responders with a >50% reduction in the total HAM-D score or a HAM-D score of <8 at week 8.

• change in baseline in HAM-D total score at week 8.
But in the Results, they say:
Primary Efficacy Parameters:

• By week 4, approximately half the patients in each treatment group were classified as responders (Figure 2). This proportion increased further during the study and by week 8 there was a statistically significant greater number of responders in the paroxetine group compared with placebo (81% vs 65%). The Imipramine group did not separate from placebo for this efficacy parameter (73% vs 65%).

• After 8 weeks of treatment, patients receiving paroxetine experienced a greater decrease in total HAM-D score than the placebo group (Figure 3). The difference showed a trend towards statistical significance. The change in HAM-D score in the Imipramine group was comparable with that of placebo.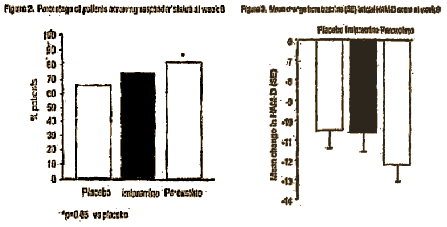 my "photoshop" attempt from a very bad pdf
[does that make me a Sally Laden wannabe?]
One has to wonder where the numbers in red above came from. That's not what I [and others] found from the raw data, nor is it what was reported in the article [see
Table 2
].
End of tangent
We're so used to how clinical trials have been handled in psychiatry over the last couple of decades that the goings on here in the period after the results were in from Study 329 don't seem particularly odd. But they're plenty odd. The people making decisions are at the pharmaceutical corporate headquarters rather than in the offices of the academics supposedly doing the study. As they say in an October 1998 position paper, the first order of business is whether they can submit their studies to the FDA for approval [sell Paxil as a treatment for depression in adolescents]. They consult with "Regulatory" and "Marketing" and the answer is obviously "no" – "unacceptable commercially":

So what's next? A poster and an article – apparently already in the works: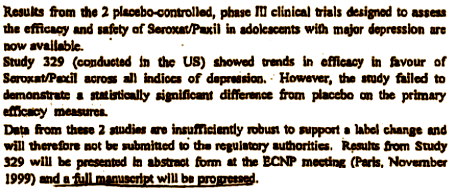 What's the point of that? To support "off-label" promotion and sales is the only thing I can think of. I don't know who made the poster, but my guess would be STI. The sponsors were the PIs from the two studies [377 and 329]. And Sally Laden got to work on the article. Who made the decision about how to slant the data in the paper and poster? Sally says she thought it up all by herself. I doubt that. I expect Jim McCafferty was involved, as he seems to be SKB's man in charge. He sent her the study summary. I doubt the authors, and principle investigators were much involved. I don't say that to exonerate them but rather as an indictment. It looks like the Study 329 leader, Dr. Martin Keller, didn't really come to the party until after the paper had been written in draft form – until after Sally had shuffled the outcome variables. I wonder if he noticed. And the only thing he had to say was this [famously] to ghost-writer Sally:

I think this is the picture I have in my mind's eye of a large subgroup of psychiatrist/scientists in the current KOL generation, sitting at their desks hearing about the clinical trials where they're listed as Principal Investigator [and/or Author] by a call or email from the pharmaceutical company actually doing the study [or the ghost-writer-in-charge] to fill them in on how things are progressing, what the poster or the paper is going to look like. I wonder how many on the author list met the patients in Study 329? or their parents? knew their names? took care of them in the hospital when they overdosed? dropped by the clinic to see how things were going? I'll bet there weren't many. I expect these patients were seen by assistants. I wonder how many of the authors drew a graph? or made a table? or checked the figures for accuracy? I expect that was all done by STI and GSK. Had any of them seen the kids who became hostile to know if that was out of character – like maybe an idiosyncratic drug effect? Did any author know these kids any better than I do looking at the computer readouts? I really doubt it…
---
So, the first lesson I would take from Study 329, a Clinical Trial, is that there's no evidence that the authors were clinicians, and by extension, they were not clinical scientists. They don't really appear in the story until the results were in, the pharmaceutical company had chosen its directions, the presentation format was chosen, and the work towards publication was already well in progress. Maybe they consulted along the way, but they certainly were not the author-ity. And while it's possible that they were involved at their own sites, I expect it was administrative rather than clinical involvement. If I'm wrong about that, the ball's in their court to prove it. It sure doesn't show.
A related lesson is that the authors neither compiled nor analyzed the data from the study. That function was controlled by the pharmaceutical sponsor and consultants. So they weren't scientists either.
QUESTION: Okay. Did Martin Keller tell you what to put in the first draft?
ANSWER: I don't recall. I don't think I had any conversation with him until we were, you know, afterwards.
QUESTION: Okay. After you prepared the first manuscript?
ANSWER: To the best of my recollection, yes.
I don't doubt that the authors earned their credentials honestly and are very knowledgeable people, but like the clinical part of this study, they farmed out the science to others who had a very specific agenda, selling Paxil to sick kids, obvious to anyone reading this or any other account of this story. They didn't do the science [or even much see it until it was done]. And that includes the conclusion, "Paroxetine is generally well tolerated and effective for major depression in adolescents."
If you've read the comments on the blog recently, you'll know that I'm being encouraged to focus this story on the foibles of the American Academy of Child and Adolescent Psychiatry who published it, and I expect when I get to that part of the story, the commenter will be well pleased with what I have to say. But, for the moment, I am stuck on the piece that is, to me, the most fundamental lesson from this story, and unfortunately many similar stories in the industry-funded clinical trial literature that fills our journals. The authors of this study did not function as physicians, clinicians, scientists, or even authors. Some were there because of their previous credentials. Others were there to build up future credentials. But they weren't there to do what they presented themselves as doing. Researchers are practicing medicine too. I might be seen as naive to see this as the center of this story. If that's the case, I'll go to my grave being naive. Medicine has been my life, and this isn't Medicine.
There's no place or tradition for physicians, particular physicians in high places, taking part in this kind of bullshit – particularly all the while claiming otherwise. The fact that it has been a widespread practice isn't an excuse. That's also an even stronger indictment. There are many principled neuroscientists working in this difficult area of medical science who've been tarnished by this kind of pseudoscience. There are many psychiatrists and other practitioners who've actually trusted these deceitful articles. And there are untold numbers of patients who've been medicated un-necessarily or even directly harmed by this and other capricious advise coming out of these studies – this one in particular. Rather than functioning as the advisers of ill people, these were physicians who actively participated in capitalizing on patients' illness.