A Philadelphia judge said Thursday that Johnson & Johnson chief executive officer Alex Gorsky can't be called as a witness by a plaintiff in a lawsuit against the company related to its antipsychotic drug Risperdal. In a big victory for the health-care giant, Philadelphia Common Pleas Court Judge Arnold New ruled that Gorsky – who led the J&J subsidiary Janssen, which makes Risperdal – does not have to testify and, in effect, answer allegations of inappropriate marketing of the drug to children.

The plaintiff is a 17-year-old boy from Sherman, Tex. He was prescribed Risperdal and began taking it when he was five years old. He began growing breasts when he was 12. Jury selection began Thursday, with the trial scheduled to begin Monday. This the second of a string of Risperdal cases filed by Philadelphia attorneys Stephen Sheller and Brian McCormick in which they hoped to put Gorsky on the stand.

The first one was to begin on Sept. 10. In that one, a 21-year-old man, prescribed Risperdal as a child, had to have a double mastectomy in which tissue was suctioned out of the breast he grew. With a jury waiting, J&J settled with the man rather than have a judge potentially rule that Gorsky must testify. In the second case, the J&J defense team, led by Drinker Biddle attorney Kenneth Murphy, had argued that the subpoena for Gorsky to testify should be quashed because Gorsky was scheduled to be in Asia on business. In support of the motion to quash, defense attorneys submitted an affidavit from Gorsky's administrative assistant, who outlined his travel plans.

Gorsky was ordered to sit for a deposition in May. The transcript of that deposition is here. J&J faces hundreds of individual suits over its marketing practices related to Risperdal. So far, at least, it is also on the losing side of multi-million judgments in state-led Medicaid cases in Louisiana, South Carolina and Arkansas. It paid $158 million to stop a trial in Texas. The company is also negotiating with the federal government in a separate case that might involve payments of $2 billion.
Is the only way to get the boss on the stand to bring the suit against the boss himself? He might refuse to testify, but at least he would have to be in the courtroom and see and be seen by his customers. I find it hard to believe that the judge excused Gorsky from testifying because he had other engagements, but I can't find anything on his logic.
Given that we won't be hearing from Gorsky directly, I thought I'd extract a piece from his deposition that is the kind of thing I'd like to hear from him directly on the witness stand. This is a case of gynocomastia [breast growth] in a teenaged boy who was put on Risperdal at 5 years old [somewhere about 2000+]. In the first part, Gorsky is questioned about an email he sent out suggesting that they accentuate the positives and defend against the negatives. Case in point – elevations in Prolactin levels. It follows a discussion of meeting minutes in 1998 about Prolactin elevations in which they conclude they don't need any further study[reference]. It's too long to quote and too evasive to follow:
[reference]
Q. Do you see that on January 20th, 2001 you sent an email to a number of individuals at Janssen US and Janssen Belgium, including Ivo Caers, Janet Vergis, Ludwig Hantson and Ramy Mahmoud?
A. Yes, I did.
Q. And the subject line is "Competitive Activity"?
A. Yes, it is.
Q. And does this email concern Risperdal and competition from other antipsychotics?
A. Yes, it covers my thoughts around our clinical developments programs.
Q. If we turn to page two of the document, which is a continuation of your email, looking at the third bullet point where you say "While we cannot respond to each and every competitive jab…we should expect that we will be challenged on a number of fronts due to our market position…therefore we need to be proactive in expanding on our strengths (efficacy long and short term, agitation, weight gain, etc) and defending our weak spots (prolactin, QTc, EPS)" and then an elliptical or ellipsis. Do you see – did I read that correctly?
A. Yes, you did read that correctly.
Q. And in here you identify prolactin as one of Risperdal's weak spots, correct?
A. Identified it as one of our weak spots relative to our competitors and our positioning in the marketplace at the time.
Q. In January of 2001, Mr. Gorsky, you would have still been vice-president of sales and marketing for Janssen US. Is that correct?
A. Yes, that's correct.
Q. And even then you knew that prolactin was a weak spot for Risperdal. Is that correct?
A. I believe what I was referring to at that time, there was a major promotional battle taking place between the various antipsychotics and their relative positioning, and this was the way that the — the result of what our competitors were saying and information in the marketplace. So yes, that was generally, I think, an accepted point of view, as I put in the paragraph.
Q. And what was a generally accepted point of view?
A. Regarding the relative strengths and weaknesses. I don't think it was necessarily based — it was based on perceptions that had been developed over the previous years.
Q. Well, Risperdal caused prolactin to be more elevated than other antipsychotics, right?
MR. MURPHY: Objection to the form. You may answer.
THE WITNESS: While I was working on the brand, I don't remember that ever being concluded with statistically significant data.
This is typical of the whole "I don't remember" character of Gorsky's Deposition. Elevated Prolactin levels were the biggest of deals at the time and hardly likely to have been forgotten. And his comment that he doesn't recall that ever being statistically concluded on his watch [before he left in 2003] would be dubious by any measure, but particularly with this:
[reference]
Q. And the title of that is "Double-blind evaluation of Risperidone versus haloperidol on the long-term morbidity of early psychotic patients." Do you see that?
A. Yes.
Q. The date is May 17th, 2002 in the top left-hand corner?
A. Yes
…
Q. And then next under that they say there was a statistically significant difference between the treatment groups and the number of patients with prolactin-related adverse events, too. Is that correct?
A. That's correct.
Q. And what was the percentage of prolactin-related adverse events for Risperdal?
A. It says five percent.
Q. And what was it for haloperidol?
A. 0.4 percent.
Q. So, let's turn back to page 8779, please. Do you see in the middle there 3.1.3, it has "Prolactin-related adverse events"?
A. Yes, I do.
Q. And then it has the same percentages down there in the third or fourth row, the total number of patients with prolactin-related AEs? It has five percent for risperidone and 0.4 for Haloperidol?
A. Yes, it does.
Q. And that's fourteen patients out of 278 had prolactin-related adverse events in this clinical trial. Is that right?
A. That's correct.
That's a greater than 12 fold increase in elevation of Prolactin levels compared to another antipsychotic. These people live and breathe clinical trials coming in. The idea that he wouldn't have known about that or wouldn't have recognized how significant it was insults our intelligence. Of course he knew. They all knew. And yet here's the label from the following year from Drugs@FDA:
[reference]
Hyperprolactinemia
As with other drugs that antagonize dopamine D2 receptors, risperidone elevates prolactin levels and the elevation persists during chronic administration. Tissue culture experiments indicate that approximately one-third of human breast cancers are prolactin dependent in vitro, a factor of potential importance if the prescription of these drugs is contemplated in a patient with previously detected breast cancer. Although disturbances such as galactorrhea, amenorrhea, gynecomastia, and impotence have been reported with prolactin-elevating compounds, the clinical significance of elevated serum prolactin levels is unknown for most patients. As is common with compounds which increase prolactin release, an increase in pituitary gland, mammary gland, and pancreatic islet cell hyperplasia and/or neoplasia was observed in the risperidone carcinogenicity studies conducted in mice and rats. However, neither clinical studies nor epidemiologic studies conducted to date have shown an association between chronic administration of this class of drugs and tumorigenesis in humans; the available evidence is considered too limited to be conclusive at this time.
Here's what the label says 10 years later [because the FDA made them change what it said]. Hyperprolactinemia has been moved to the level of a warning besides being in the main text:
[reference]
5.6 Hyperprolactinemia
As with other drugs that antagonize dopamine D2 receptors, RISPERDAL elevates prolactin levels and the elevation persists during chronic administration. RISPERDAL® is associated with higher levels of prolactin elevation than other antipsychotic agents. Hyperprolactinemia may suppress hypothalamic GnRH, resulting in reduced pituitary gonadotropin secretion. This, in turn, may inhibit reproductive function by impairing gonadal steroidogenesis in both female and male patients. Galactorrhea, amenorrhea, gynecomastia, and impotence have been reported in patients receiving prolactin-elevating compounds. Long-standing hyperprolactinemia when associated with hypogonadism may lead to decreased bone density in both female and male subjects.

[reference]
Hyperprolactinemia, Growth, and Sexual Maturation
RISPERDAL® has been shown to elevate prolactin levels in children and adolescents as well as in adults [see Warnings and Precautions (5.6)]. In double-blind, placebo-controlled studies of up to 8 weeks duration in children and adolescents (aged 5 to 17 years) with autistic disorder or psychiatric disorders other than autistic disorder, schizophrenia, or bipolar mania, 49% of patients who received RISPERDAL® had elevated prolactin levels compared to 2% of patients who received placebo. Similarly, in placebo-controlled trials in children and adolescents (aged 10 to 17 years) with bipolar disorder, or adolescents (aged 13 to 17 years) with schizophrenia, 82–87% of patients who received RISPERDAL® had elevated levels of prolactin compared to 3-7% of patients on placebo. Increases were dose-dependent and generally greater in females than in males across indications. In clinical trials in 1885 children and adolescents, galactorrhea was reported in 0.8% of RISPERDAL®-treated patients and gynecomastia was reported in 2.3% of RISPERDAL®-treated patients.
As I said in an earlier post, that was as predictable as the sun rising in the morning. And it was as knowable in 2000 as it was in 2011 [they just didn't want to know it it known].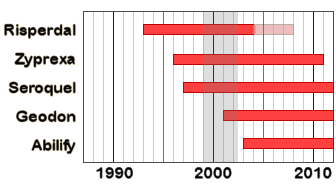 At the time in question for this part of the Deposition, Risperdal had been around for seven or eight years. Its only approval was for Schizophrenia in adults. The competition for the "atypical market" was at its peak. There were no pediatric approvals for any atypical. It was the period when Dr. Biederman's Bipolar Child notions were first catching on [
Pediatric mania: a developmental subtype of bipolar disorder?
]. And while patent exclusivity expired in 2004, generics didn't appear for Risperidal until 2008. This case is about a boy who was started on Risperdal at age five and developed gynecomastia – something Janssen knew about and actively minimized.
This is the essential complaint about the pharmaceutical industry during the recent era. If you look at this story and Gorsky's part in it from the point of view of Marketing 101, of course you accentuate the positive, eliminate the negative, latch on to the affirmative, and don't mess with mister in-between. But if it occurs to you that you're selling pills that are being given to five year old children [off-label], you're obligated to think about something more than if you're selling wash-day detergent – like, for example, long term side effects such as gynecomastia that may end up requiring surgical correction. And if you know about it, it's your job to let physicians and patients alike know about that possibility. Instead, in this time frame, they marketed it off-label for children and spent time defending [their] weak spots. Little wonder Gorsky has an aversion to testifying in open court…
---
UPDATE: And that's not all folks!
Plaintiffs with DePuy ASR hip lawsuits pending in Maryland state court have requested that Alex Gorsky, Chief Executive Officer of Johnson & Johnson testify, Bernstein Liebhard LLP reports.* Plaintiffs in Jackson, et al. v. Chesapeake Orthopaedics, Inc. and DePuy Orthopaedics, Inc., (CAL10-32147), who have lawsuits pending in the Circuit Court of Prince George's County, Maryland, recently noticed Alex Gorsky to sit for a deposition. According to court documents, plaintiffs argued that "Gorsky oversaw J&J subsidiaries (and co-defendants) DePuy Orthopeadics Inc. and DePuy International Ltd., and was directly involved in decision-making concerning the DePuy ASR device at the center of this suit." Plaintiffs further argue that "As a result of Mr. Gorsky's apparent role in the decision-making, testing, study, complaint investigation, continued sale, and subsequent recall of the DePuy ASR device, he has relevant knowledge regarding the subject matter of this litigation, the discovery of which is reasonably calculated to lead to the discovery of admissible evidence." On September 5, 2012, Johnson & Johnson filed for a protective order and opposed the plaintiffs' motion to compel Gorsky's deposition. The Court has not scheduled a hearing or issued a decision as to whether Gorsky will testify. The case is set to go to trial in January 2013…