Both Pharmagossip and Pharmalot are focusing on a report by Public Citizen, and it's easy to see why. It's about how governments, State and Federal, are finally recouping losses from fraud by the pharmaceutical industry. Here's just a sampler. On the left graphs are the number of settlements, on the right, the sum of financial awards [in $millions]. On top, it's broken down into State [red] and Federal [blue]. On the bottom, it's Civil [blue], Criminal [red], or Both [green]: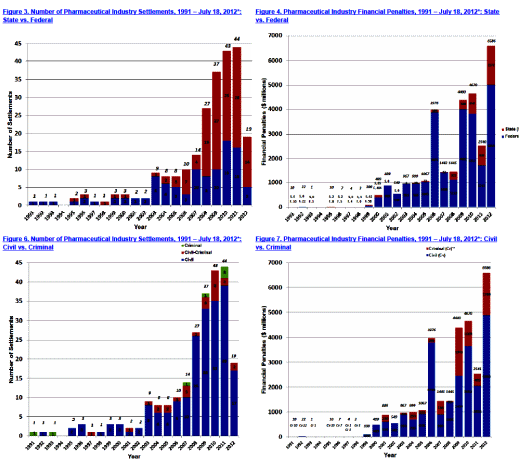 The report goes on to break down the variety of offenses covered in these suits. Of note, these figures don't include the suits such as the one going on right now in Philadelphia that involve individual patients. Oh yeah, psychiatric drugs were well represented in the largest settlements:

There's no particular glory in topping the charts – just confirmation of a sad tale we already know all too well.
"The whistleblower provisions of the FCA [False Claims Act] have been the most important factor spurring the recent wave of federal settlements. Whistleblowers were responsible for initiating 21 federal settlements and $6 billion in penalties under the FCA during the most recent period studied [Nov. 2, 2010 – July 18, 2012]… Three companies – GlaxoSmithKline, Johnson & Johnson and Abbott – were responsible for two-thirds of the financial penalties paid out to the federal and state governments during the most recent study period. GlaxoSmithKline topped the list with $3.1 billion alone in settlements, which includes the largest health fraud settlement ever reached with the federal government this past July over numerous violations, including the illegal, off-label promotion of its dangerous diabetes drug, Avandia."

"However, these penalties, large as they seem, are still far too low to deter future violations. The $30 billion paid out by pharmaceutical companies in settlements to the federal government and states since 1991 represents just a little more than two-thirds of the profits made by the 10 largest drug companies in 2010 alone.

And the fact that the fraud has continued unabated means that new legislation and more felony charges against drug company executives who oversee this fraudulent activity are urgently needed, according to Almashat."