Neuroscience, Clinical Evidence, and the Future of Psychiatric Classification in DSM-5
by David J. Kupfer, M.D. and Darrel A. Regier, M.D., M.P.H.
American Journal of Psychiatry 168:672-674, 2011.

In the initial stages of development of the fifth edition of the Diagnostic and Statistical Manual of Mental Disorders, we expected that some of the limitations of the current psychiatric diagnostic criteria and taxonomy would be mitigated by the integration of validators derived from scientific advances in the last few decades. Throughout the last 25 years of psychiatric research, findings from genetics, neuroimaging, cognitive science, and pathophysiology have yielded important insights into diagnosis and treatment approaches for some debilitating mental disorders, including depression, schizophrenia, and bipolar disorder. In A Research Agenda for DSM-V, we anticipated that these emerging diagnostic and treatment advances would impact the diagnosis and classification of mental disorders faster than what has actually occurred…
Hello. This is Dr. Jeffrey Lieberman of Columbia University speaking to you for Medscape. Today, I would like to address the issue of psychiatric diagnosis. As most of you are aware, the Diagnostic and Statistical Manual of Mental Disorders [DSM]-IV – the "Bible" of psychiatric nosology – is currently undergoing revisions. DSM-V promises to be the state of the art in terms of psychiatric diagnoses, and when it was initiated we anticipated that this iteration of the DSM would incorporate biological markers and laboratory-based test results to augment the historical and phenomenologic criteria that traditionally are used to establish psychiatric diagnoses. Sadly, this has proved to be beyond the reach of the current level of evidence for incorporating into this version of the DSM, and it appears that psychiatric diagnoses, which may be rearranged, consolidated, and modified in some ways, will still be based predominantly on symptomatic and historical criteria. However, I am here to tell you that the time is not far off in the future when psychiatric diagnoses of mental disorders and behavioral disturbances will be aided by laboratory-based tests, and this will mark a milestone in the evolution of psychiatric medicine and will occasion an enormous transformation in the accuracy and the reliability of psychiatric diagnoses… In recent years, however, we have seen the emergence and refinement of a number of different technologies that I predict will, within our professional lifetimes and hopefully within the next 5 years, lead to the incorporation of laboratory-based tests for psychiatric diagnosis. When these will be proved to a satisfactory level of evidence and when they will be reimbursable by third-party payers, we can't know specifically, but I predict this will happen fairly soon. We are seeing the evidence of that even now…
This time last year, organized psychiatry let out a collective groan. Not only was PHARMA abandoning CNS Development, the predicted biological basis for mental illness – the long-sought biomarkers – remained elusive. They just weren't going to be with us this time around.
What lead them to think they would be found in this era? Why would they go so far out on a limb? make such a prediction? Even worse, they spent their development time having a series of expert conferences on a variety of primarily neuroscience topics and ignored working on the improving on the DSM-IV criteria. They skipped the first planned set of Field Trials, and the single Field Trials they did do came out badly. These are not inept people. What were they thinking to put so many eggs in this basket with little in the way of contingency plans if the predicted biosignatures weren't found? And frankly, the now almost twenty year old DSM-IV could use a bit of work, work they didn't do. At this point, they're steaming ahead towards publishing it in May 2013, but there's no reason for it to be anything but an embarrassment to all concerned.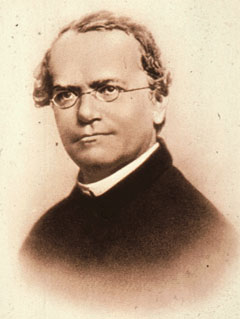 I've gone through a lot feelings about this DSM-5 along the way, but there's one that remains – curiosity about why they had such a strong belief that they could count on the near future for the elusive biomarkers. The only thing I can come up with is that Gregor Mendel is the culprit. Mendelian inheritance has fascinated us all, in my case it was the eye color in fruit flies. In my Zoology lab, the experiment came out exactly like Mendel predicted. Then we had the structure of DNA and the sequence of genetic code. In 2000, we mapped the Human Genome. So my hypothesis is that since we know there's a hereditary factor in major mental illness, they were counting on finding genetic markers for things like Schizophrenia and Manic-Depressive Illness before now.
It didn't happen. Mendel made inheritance look too easy. They now say that the inheritance of mental disorders is polygenic, but they don't really even know that for sure. I think they were counting on inheritance to be like Mendel's peas and the fruit flies, and it just didn't turn out to nearly as simple as they thought it was going to be…