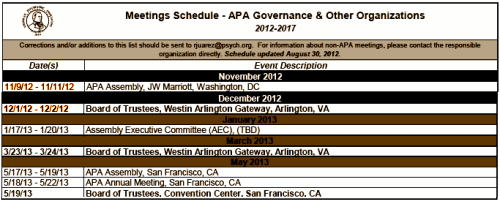 [click image for full schedule]
So the APA Board of Trustees gives the final go ahead to send the DSM-5 to the printers at one of those highlighted meetings up there, either next week or in another month, and open themselves up to making a really tragic mistake. They are walking into approving a DSM with kappa values in a range below the DSM-II, the system most of them began their careers repudiating in disgust:


[revised to recently released values]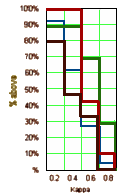 I expect the Board of Trustees is thinking that the DSM-5 has been years in the making; that it has cost the APA $25 M; that it would be humiliating to delay it or send it out for independent review; that they would lose revenue [they'll lose revenue no matter what, that's assured]. But there's another side to that story. The DSM-5 Task Force was formed at a time when their dream of finally putting psychiatry on a solid biomedical footing seemed within their grasp. The psychoactive drugs were pouring from the pipeline. The journals were filled with enthusiastic reviews of exciting new technologies just around the corner. The KOLs were still KOLs instead of people under suspicion for egregious conflicts of interest. Senator Grassley hadn't investigated the worst of them yet. We didn't know about the ghost-writers and hadn't seen the disillusioning subpoenaed emails documenting the epidemic of deceit and off-label promotions. The drug companies had yet to go to court for innumerable civil and criminal infractions, losing big. And Pharma had yet to flee CNS drug development altogether. It is a radically different time from when they started.
The age of arrogance has passed, and if there's anything psychiatry could use right now, it's a big dose of a genuine humility. It's not going to come from Drs. Kupfer, Regier, or Sculley. The last chance for some much needed level-headedness is the APA Board of Trustees. I hope this is not just a rubber-stamp approval because they've got a lot they need to think about. The most sensible path is to put on the brakes and rethink the whole enterprise. Hopefully they'll notice that there's nobody anywhere supporting the Task Force except its leaders and its remaining members – and even they aren't saying very much…
---