Here is a hot flash for you. Pfizer agreed to pay $67.5 million to settle a class-action litigation in which shareholders in Wyeth – which Pfizer bought three years ago – alleged that adverse side effect data for the Pristiq medication was not disclosed properly, according to court documents. Several years ago, Wyeth attempted to repackage its Effexor XR antdepressant and win FDA approval for the hot flashes associated with menopause, while shoring up its franchise in women's health, which was largely defined by the Prempro and Premarin medications…

This marks the second time in recent weeks that Pfizer agreed to settle a shareholder lawsuit that charged clinical trial data was not properly disclosed. Last month, the drugmaker agreed to pay $164 million to settle a shareholder class-action suit that accused the drug maker of misrepresenting the clinical trial results for the Celebrex painkiller. That lawsuit alleged that Pharmacia, which Pfizer bought in 2002, misrepresented clinical trial results of Celebrex to make its safety profile appear better than rival drugs, primarly the Vioxx painkiller that was sold, and subsequently withdrawn, by Merck [MRK] over links to heart attacks and strokes. That lawsuit about to go to trial.
Pristiq is a prototypic "me too" drug [so chemically close to Effexor it should be called a "me me" drug]. Unless I missed something, the only reason for its existence is the expiration date on the Effexor patent. Interestingly, it was not approved in Europe by the EMA for anything at all [reasons nicely summarized on
Wikipedia
].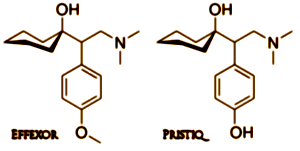 And this is a shareholder lawsuit. The modern pharmaceutical industry is notorious for misrepresenting its products to physicians and patients, but as this suit demonstrates, it's also deceiving its own investors:
For their part, shareholders charged that Wyeth embarked on a campaign to hype the potential for the drug, but did not disclose the safety concerns in various press releases and during investor briefings in 2006 and 2007. The alleged failure to thoroughly reveal these risks caused a huge plunge in share price at the time of the July 2007 rejection by the FDA…
The FDA non-approval was for menopause hot flashes. I guess I think of investors as a force driving the antics of the pharmaceutical industry misadventures, but it hadn't occurred to me that they could be a force for positive change [no matter their motives]. And a value-added point: the shareholder's complaint in this suit was that the clinical trial data was not properly disclosed. It's very encouraging that the basis of these lawsuits is the lack of data transparency, piggybacking with Fiona Godlee's stand at the BMJ, the current efforts of the Cochrane Group with Roche about Tamiflu, and Ben Goldacre's popular TED presentation. When I look back at a list of the psychiatric drugs in the modern era [Prozac and beyond], it occurs to me that it is unlikely that there are any that would be real blockbusters they became had the raw data been available and adequately vetted when the drugs were approved and launched. That would've been difficult for the pharmaceutical developers and would've radically altered the trajectory of modern psychiatry…
---
Speaking of Pfizer:
Drugmaker Pfizer Inc. expects to pay about $825 million to resolve government and civil lawsuits involving numerous medicines, according to a filing with regulators. The quarterly Securities and Exchange Commission filing made Friday, in a 15-page section on legal issues, detailed recent agreements by the world's biggest drugmaker to end federal probes and civil lawsuits.

• In October, Pfizer's Wyeth pharmaceuticals unit and the Justice Department reached a tentative agreement for Pfizer to pay a total of $491 million to resolve criminal and civil investigations of Wyeth's practices in marketing the organ transplant drug Rapamune.

• Pfizer has agreed to plead guilty to a misdemeanor federal "misbranding offense" and to pay about $234 million to resolve criminal allegations and $257 million to resolve civil allegations. The agreement should be finalized within months. New York-based Pfizer briefly mentioned it when it released its third-quarter results on Nov. 1.

• In another case, Pfizer reached an agreement in October to pay $164 million to end multiple potential class action lawsuits regarding its painkiller Celebrex, which generates well over $1 billion in annual year sales. The case originated in 2003, when several class-action complaints against Pfizer, its Pharmacia unit and certain former Pharmacia officers were filed in federal court in New Jersey. Pfizer had acquired Pharmacia, of Peapack, N.J., early in 2003, mainly to acquire the rights to Celebrex. The plaintiffs claimed Pfizer broke federal securities laws by misrepresenting results of a study of the gastrointestinal side effects of Celebrex. The drug was heavily promoted for reducing the risk of potentially dangerous stomach bleeding compared to other nonnarcotic painkillers. That agreement needs approval by the federal court…

• In November, Pfizer reached a settlement agreement to pay $67.5 million to resolve an investors' class action lawsuit against the Wyeth unit and some former Wyeth officers and employees. It accused them of illegally misrepresenting the safety of Pristiq, Wyeth's drug for hot flashes, night sweats and other menopause symptoms, while it was under review for potential approval…

• Pfizer's Wyeth unit in mid-August reached a tentative agreement with the Justice Department to pay $55 million plus interest to end a federal criminal investigation of its promotion of severe heartburn drug Protonix from February 2000 through June 2001.

• In October, Pfizer entered an agreement in principle with the consumer protection divisions of several states to pay about $43 million to end civil investigations without Pfizer admitting wrongdoing. The case concerns promotion of Lyrica, a blockbuster drug for fibromyalgia and other pain, and Zyvox, an antibiotic for MRSA infections. Pfizer expects final agreements to be reached within months.

• In November, Pfizer entered an agreement in principle to pay $4.8 million to end class action lawsuits pending in Canada that alleged Pfizer failed to warn patients about the dangers of its epilepsy drug Neurontin, which has been linked to suicide, attempted suicide and other injuries. The deal requires court approval after the parties produce a final settlement agreement…