Back around the century change, the NIMH funded a number of large clinical trials. While most were more credible than some of the industry offerings, C.A.T.I.E. stood out to me as the solid citizen in the lot. The outcome parameter was genuinely digital, continuation or discontinuation of the medication. The P.I. was Jeffrey Lieberman [next president of the APA]. The results were surprising in that these new 'atypical' antipsychotics were not better that the first generation comparator, Perphenazine, and they were discontinued more quickly than expected. That study also lead to the widely held idea that Olanzapine was preferred, but had the worst metabolic profile: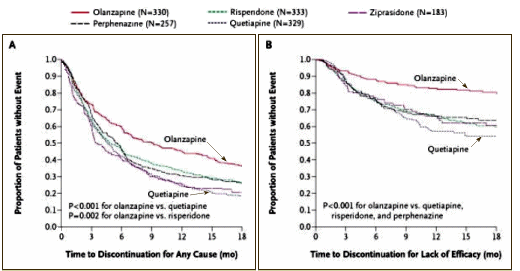 C.A.T.I.E. [published in 2005]
About the time C.A.T.I.E. was published, the San Diego group lead by Dilip Jeste [current president of the APA] began similar trial of 'atypicals' using a modified model. Patients and psychiatrists were allowed to eliminate certain choices prior to randomization based on their own experience. The other difference was limiting the study to patients with multiple diagnoses over age 40 [CATIE ages 18-65, only chronic schizophrenia]. The results were published on-line Monday:
In older adults, antipsychotic drugs are commonly prescribed off-label for a number of disorders outside of their Food and Drug Administration [FDA]-approved indications – schizophrenia and bipolar disorder. The largest number of antipsychotic prescriptions in older adults is for behavioral disturbances associated with dementia, some of which carry FDA warnings on prescription information for these drugs.

In a new study – led by researchers at the University of California, San Diego School of Medicine, Stanford University and the University of Iowa, and funded by the National Institute of Mental Health – four of the antipsychotics most commonly prescribed off label for use in patients over 40 were found to lack both safety and effectiveness. The results will be published November 27 in The Journal of Clinical Psychiatry.

The study looked at four atypical antipsychotics [AAPs] – aripiprazole [Abilify], olanzapine [Zyprexa], quetiapine [Seroquel], and risperidone [Risperdal] – in 332 patients over the age of 40 diagnosed with psychosis associated with schizophrenia, mood disorders, PTSD, or dementia.

"Our study suggests that off-label use of these drugs in older people should be short-term, and undertaken with caution," said Dilip V. Jeste, MD, Estelle and Edgar Levi Chair in Aging, Distinguished Professor of Psychiatry and Neurosciences, and director of the Stein Institute for Research on Aging at UC San Diego.

Results of the five-year study led by Jeste, who is also current president of the American Psychiatric Association [which was not involved in this research], showed that within one year of treatment, one-third of the patients enrolled in the study developed metabolic syndrome [medical disorders that can increase the risk of cardiovascular disease or diabetes]. Within two years, nearly a quarter of the patients developed serious adverse effects and just over half developed non-serious adverse effects…

"When these medications are used off-label, they should be given in low dosages and for short durations, and their side effects monitored closely," said Jeste. "Clearly, there is also a critical need to develop and test new interventions that are safe and effective in older people with psychotic disorders."
Comparison of Longer-Term Safety and Effectiveness of 4 Atypical Antipsychotics in Patients Over Age 40: A Trial Using Equipoise-Stratified Randomization by Hua Jin, MD; Pei-an Betty Shih, PhD; Shahrokh Golshan, PhD; Sunder Mudaliar, MD; Robert Henry, MD; Danielle K. Glorioso, MSW; Stephan Arndt, PhD; Helena C. Kraemer, PhD; and Dilip V. Jeste, MD Journal of Clinical Psychiatry.

Online: November 27, 2012 [doi:10.4088/JCP.12m08001].

Objective: To compare longer-term safety and effectiveness of the 4 most commonly used atypical antipsychotics [aripiprazole, olanzapine, quetiapine, and risperidone] in 332 patients, aged > 40 years, having psychosis associated with schizophrenia, mood disorders, posttraumatic stress disorder, or dementia, diagnosed using DSM-IV-TR criteria.

Method: We used equipoise-stratified randomization [a hybrid of complete randomization and clinician's choice methods] that allowed patients or their treating psychiatrists to exclude 1 or 2 of the study atypical antipsychotics due to past experience or anticipated risk. Patients were followed for up to 2 years, with assessments at baseline, 6 weeks, 12 weeks, and every 12 weeks thereafter. Medications were administered employing open-label design and flexible dosages, but with blind raters. The study was conducted from October 2005 to October 2010.

Outcome Measures: Primary metabolic markers [body mass index, blood pressure, fasting blood glucose, low-density lipoprotein cholesterol, high-density lipoprotein cholesterol, and triglycerides], percentage of patients who stay on the randomly assigned atypical antipsychotic for at least 6 months, psychopathology, percentage of patients who develop metabolic syndrome, and percentage of patients who develop serious and nonserious adverse events.

Results: Because of a high incidence of serious adverse events, quetiapine was discontinued midway through the trial. There were significant differences among patients willing to be randomized to different atypical antipsychotics [P < .01], suggesting that treating clinicians tended to exclude olanzapine and prefer aripiprazole as one of the possible choices in patients with metabolic problems. Yet, the atypical antipsychotic groups did not differ in longitudinal changes in metabolic parameters or on most other outcome measures. Overall results suggested a high discontinuation rate [median duration 26 weeks prior to discontinuation], lack of significant improvement in psychopathology, and high cumulative incidence of metabolic syndrome [36.5% in 1 year] and of serious [23.7%] and nonserious [50.8%] adverse events for all atypical antipsychotics in the study.

Conclusions: Employing a study design that closely mimicked clinical practice, we found a lack of effectiveness and a high incidence of side effects with 4 commonly prescribed atypical antipsychotics across diagnostic groups in patients over age 40, with relatively few differences among the drugs. Caution in the use of these drugs is warranted in middle-aged and older patients.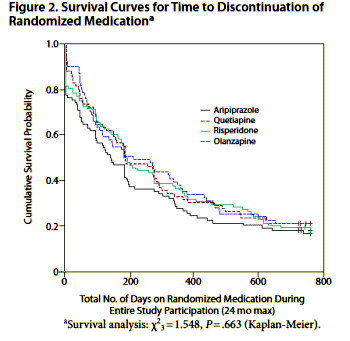 [Recolored for Clarity]
First, congratulations to Jeste et al for doing this study. It pretty much undoes the mythology about efficacy, safety, and differences among these drugs. The adversity is much worse than ever admitted to by the companies and is consistent with my own limited experience. The 'atypicals' were 'typical' after all. Even the part about Seroquel wasn't a surprise. I couldn't resist the temptation to graphically rescale Jeste's graph and superimpose it on the C.A.T.I.E. Kaplan-Meir graph. Except for the Olanzapine value in C.A.T.I.E., the fit was remarkable! Looks like science to me…