When something that began it's life as a solution of merit to a problem of consequence goes awry, history comes to the fore in the search for what went wrong. In my kind of history, individual psychotherapy, the answers are never simple, but usually by the end, one can come up with something of a description of some core problem/solution dyad that had become structured into a maladaptive approach to life. In history-proper, things get more complex because there are so many elements, each represented by a person or group of persons. So looking for the nail is more like looking for a needle in a haystack.
From the intensity of my response in the last post [the what is absurd…], it's obvious that I center my own thoughts on the now institutionalized decision in the DSM-III days to create the category Major Depressive Disorder. It was my personal reason for essentially ignoring the DSM-III when it came out at the beginning of my career [even before I caught on to what changes were underway]. It just seemed wrong – not because of my own biases or affiliations, but because it didn't fit the patients I saw. And it has returned as a persistent topic here at the other end of my days, trying to parse out what happened along the way.
In that last post, I quoted historian Edward Shorter in Before Prozac:
"Bottom Line: Major Depression doesn't exist in Nature. A political process in psychiatry created it…"
To my eyes, that isn't an opinion, it's simply a fact. After I wrote that last post, I remembered that a lot of Shorter's book is available on the Internet [here] for those that haven't read it. It's a treasure trove of data about what went on back in the day. The book's subtitle is The Troubled History of Mood Disorders in Psychiatry, and that's where Shorter's analysis focuses, finding a number of culprits for all the troubles. I'm interested in something slightly different. It's fairly clear why they did it, to block any possibility that the psychoanalyst's diagnosis of Neurosis, specifically Depressive Neurosis, would survive or re-emerge. But why didn't Major Depressive Disorder change over time when it became clear that it was more a heterogeneous collection than specific diagnosis? In a career seeing psychotherapy patients who repeat dysfunctional patterns with a ferocious tenacity, the question isn't simply about the maladaptive pattern itself or even how it came into existence, but rather what is it that keeps people from learning from the subsequent negative consequences. In the case of psychiatry's meandering over the last three decades, I wonder the same thing. The DSM-III had this glaring defect of Major Depressive Disorder to start with, but it never got modified, never evolved, in fact, has only been really challenged by a discrete minority [to no avail]. And even in this DSM-5 era when the leaders of the Task Force are themselves dissatisfied with the system they were assigned to revise, they didn't touch Major Depressive Disorder [except for the Bereavement Exclusion which just compounds the problem]. I think of it as a fatal flaw, a Hamartia ["a wrong action committed in ignorance of its nature, effect, etc., which is the starting point of a causally connected train of events ending in disaster"], the essence of classical tragedy in drama.
Some theorize that this non-category, Major Depressive Disorder, that ultimately became the large target population for the later waves of antidepressant medications was created with this specifically in mind. Shorter's detailed narrative of the back story does a lot to dispel that formulation. The motivation was political – but the goal was to "medicalize" psychiatry by neutralizing the powerful influence of the psychoanalysts, keeping psychiatry in the fold of biological medicine proper [and in the domain of medical insurance reimbursement]. The explosion of psychopharmacology that followed seems reactive rather than primary. The driving force came from Robert Spitzer in alliance with the strong biological group from Washington University in Saint Louis [the neo-Kraepelinians]. So while Spitzer was in New York dealing with the analysts and the biological psychiatrists of the day, his real partnership was in Saint Louis. This memo recorded in Before Prozac is revealing: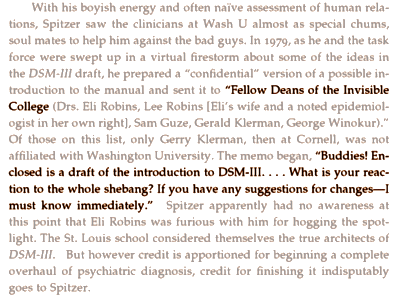 This is a well-known and oft told story – The Washington University Group and Dr. Spitzer maneuvering in the service of changing the face of psychiatry by removing the psychoanalysts and creating an atheoretical diagnostic system that was, in fact, an unacknowledged but clear turn to the biological side of the street. My point here is more about the how than the what – the Fellow Deans of the Invisible College, the Buddies! In contemporary writings, the DSM-III is often described as a revolution, or revolutionary, but a coup d'état might be a better way to describe it. That sounds as if I think it was a bad thing, but that's not where I'm headed. Whether it was good or bad, necessary or not needed, kosher or surreptitious are reasonable topics, but not for this post. I'm looking for the Hamartia, something that was the starting point of a causally connected train of events ending in disaster. And I'm beginning to think the secret alliance that drove the whole show might well have been the very Hamartia I'm looking for. Why they did it [the Invisible College] seems clear. If they'd played it straight, I guess they were afraid they would fail. And it wasn't totally in the dark. The APA insiders knew what was happening. But at the time, those of us in the rank and file were in the dark, or at least in the twilight. I was one of those people and I hadn't a clue. I don't really recall even knowing the DSM was being revised until the lead-up to its publication – and if I had, I probably wouldn't have paid any attention. Thirty three years ago, the notion that the specialty of psychiatry would undergo a massive change in direction mediated through a revision of a code book was as remote as an iPhone, the AIDS pandemic, or 911 – possibilities unconsidered.
Perhaps my word choice, Hamartia or Fatal Flaw from Greek tragedy, isn't perfect, but let me at least make my case. In a psychotherapy with a patient with some chronic maladaptive trait or pattern, you begin to listen to the history in a particular way – vigilant for some part of the narrative that might help you figure out the trait's origin. Applying that to psychiatry, the pattern is clear. This blog is full of examples: something going on in the background you can't see, ghost-writers, closed DSM-5 processes, unacknowledged players like the pharmaceutical industry, withheld information, a diagnostic category like Major Depressive Disorder that is wrong but never revised, rampant conflicts of interest, secretive things with hidden agendas. And that kind of secretiveness seems to arise in the time frame of the DSM-III revision process – in the days of the Invisible College – and escalate thereafter. I'm proposing that the unintended consequence of that secretiveness in the DSM-III process set a tone that enabled the rampant misbehavior that grew and festered in the years that followed.
In Dr. Shorter's detailed narrative, the development of the category, Major Depressive Disorder was the center of debates, challenged not just by the analysts but by Dr. Spitzer's biological psychiatry advisers as well. But Dr. Spitzer never wavered. For example, on February 19, 1979, Dr. Bernard Carroll made an appeal, even offering him a way around the Depressive Neurosis quandry, but it was to no avail: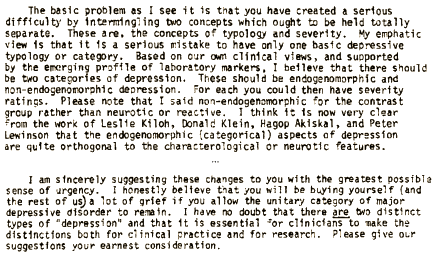 I picked my funny word carefully, Hamartia, because it really refers to a decision that had nothing directly to do with the ultimate negative consequences. Oedipus neither planned to kill his father nor marry his mother [but he did both]. And I don't think Dr. Spitzer had any intention of his Invisible College and their back story manipulations becoming something like business as usual in psychiatry thereafter [but it did]. There is one part of Dr. Shorter's narrative that I would quibble with. He says: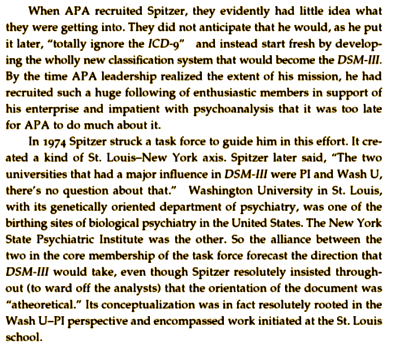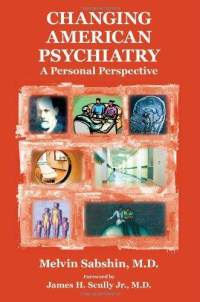 And the only mention of Dr. Mel Sabshin in Dr. Shorter's book is about his testimony that meprobamate was a safe drug years before. But in 1974 Dr. Sabshin became the Medical Director of the APA, after being Chairman of Psychiatry at the University of Illinois and he was a major player [
agendae…
]. Dr. Sabshin's book [
Changing American Psychiatry: A Personal Perspective
] makes it very clear that the APA not only knew what Dr. Spitzer was about, but had tasked him to do it: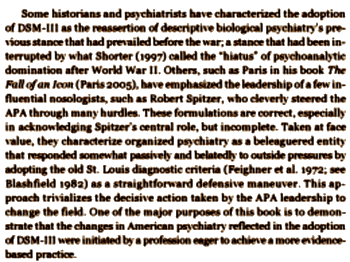 Here's Dr. Sabshin's version of the rationale for what he went to the APA to do: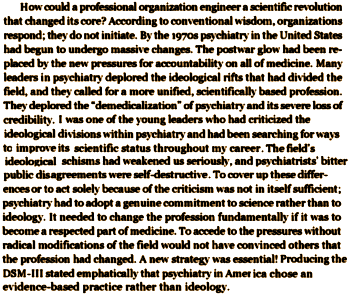 So Dr. Sabshin went to the APA with what the DSM-III later accomplished in mind, and was intimately involved with Dr. Spitzer and his Task Force. It was hardly Dr. Spitzer taking matters into his own hands. Rather, it seems that it was very much an APA directed move. Since I've wandered all over the map in this post, I think I'll try to summarize what I'm proposing:
The 1980 Revision that became the DSM-III that changed the face and direction of the specialty was heavily orchestrated behind the scenes by the APA under the direction of Drs. Mel Sabshin and Robert Spitzer – with a primary agenda of removing the influence of the psychoanalysts and medicalizing psychiatry. My point isn't about the pros and cons of what they did. That's another discussion. My focus is on how it was done. While that was a clear objective of Dr. Spitzer, Dr. Sabshin, the Group at Washington University, and presumably many others, it wasn't directly stated and was accomplished by a political chess game with the psychoanalysts.

A central topic in these negotiations was the diagnostic category for depression with the goal being to eliminate any possibility of the category Depressive Neurosis surviving in any form. They went through all kinds of gyrations and iterations in the process, even sacrificing valuable diagnostic categories like Melancholia to avoid a category that even smelled like Depressive Neurosis – a hallmark of psychoanalysis. In short, it was a political compromise to reach their goal, not a scientifically derived diagnosis.

Much of the negotiations around these topics went on behind the scenes in the Invisible College - Dr. Spitzer's telling name for his Buddies in Saint Louis and presumably with Dr. Sabshin and others at the APA. It was a case of "the ends justify the means." Whether they were right or wrong that the changes were essential is immaterial to my point. The coup d'état was brought off with a lot of operating behind the scenes and illusion. They didn't play it straight.

My point here is that the political process involved was directed by a central and somewhat hidden agenda, "Psychoanalysis has to go" and an unacknowledged steering committee. Specifically, the category Major Depressive Disorder was a creation made overly inclusive for political rather than scientific reasons. While it did the trick of eliminating Depressive Neurosis, it destroyed a valuable research and clinical target – Melancholic Depression. It further, opened the door to a fertile market for the antidepressants that flooded the market within the decade.

I have come to believe that the hidden agendas and political machinations of the DSM-III process that gave its framers no small amount of pride for pulling it off, was, in fact, a Hamartia - a decision that they justified at the time, but that created an environment that enabled the same kind of background wheelings and dealings to increasingly become the norm in psychiatry. In the After Prozac period, there was a powerful motive to make the new way of things work, so other things were overlooked – efficacy was exaggerated, side effects were downplayed, scientific findings were dolled up, rigorous science was corrupted, statistical significance passed for clinically meaningful responses, the meaning of authorship changed, conflicts of interest exploded and were rationalized away.

And in the case of Major Depressive Disorder, the diagnosis most debated and most political of the lot in those days, it remains unchanged, almost as a testimonial to the process that created it – in spite of being a magnet for inappropriate medication of one group [the patients formerly diagnosed with Depressive Neurosis] and inadequate treatment for another subgroup [Melancholic Depression] – not to mention throwing a monkey wrench into legitimate scientific research.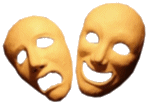 I don't think Dr. Sabshin or Dr. Spitzer were unprincipled people. I don't know what I think of the Saint Louis Group. Back in those days, I thought of them as Zealots – and there's a lot of self-righteousness in zealotry. I do think that they all felt they were on a holy crusade to rescue psychiatry from the psychoanalysts, and that they resorted to a lot of invisible political maneuvering to bring it off [that "ends justify the means" thing]. I don't think they had any notion that their
coup
d'état
might have as a consequence enabling future corruption, but it did. And in the excitement that followed with an influx of money that came from the pharmaceutical companies and the wave of new drugs, many overlooked sloppy science that they might formerly have questioned in their enthusiasm for the flowering of a new scientific psychiatry. And the illusion that psychiatry was atheoretical rode comfortably atop the clinical neuroscience that grew underneath. That's how a
Hamartia
or
Fatal Flaw
works in the development of a tragedy. The problems develop way downstream, often long after their roots are forgotten. But what went on in those days was something like the
nail
in the proverb I started with – a lapse in openness and integrity. It doesn't have anything to do with psychoanalysis or biological psychiatry, it has to do with things like creating a medical diagnostic category to solve a political problem.
Major Depression doesn't exist in Nature. A political process in psychiatry created it.