Just another small point about the Field Trial editorial, this part of the editorial didn't make any sense to me:
The Initial Field Trials of DSM-5: New Blooms and Old Thorns by Robert Freedman, David A. Lewis, Robert Michels, Daniel S. Pine, Susan K. Schultz, Carol A. Tamminga, Glen O. Gabbard, Susan Shur-Fen Gau, Daniel C. Javitt, Maria A. Oquendo, Patrick E. Shrout, Eduard Vieta, and Joel Yager American Journal of Psychiatry

2013 170:1-5.

The questionable reliability of major depressive disorder, unchanged from DSM-IV, is obviously a problem. Major depressive disorder has always been problematic because its criteria encompass a wide range of illness, from gravely disabled melancholic patients to many individuals in the general population who do not seek treatment. Although symptom severity on the Hamilton Depression Rating Scale distinguishes those patients who respond more specifically to pharmacotherapy, the DSM-IV criteria do not capture that distinction. A second problem not resolved by the DSM-IV criteria is the common co-occurrence of anxiety, which markedly diminishes the effects of antidepressant treatment. The DSM-5 work group decided not to change the criteria for major depressive disorder from DSM-IV and instead created other diagnoses for the mixture between anxiety and depression. However, these efforts did not improve the poor reliability of DSM-IV depression; "mixed anxiety and depression" has a kappa of 0…
The comment about the reliability [kappa] of major depressive disorder being "unchanged from DSM-IV" didn't fit with my information. The DSM-5 Field Trials for MDD reported kappa = 0.25 with 95% CL [0.13-0.36]. I just happen to own a used copy of the DSM-IV Sourcebook Volume 4: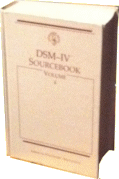 I bought it for the following paragraph alone. I wanted to see if the DSM-5 Standards had been redefined as Dr. Frances reported in his blog. This is what the DSM-IV Sourcebook said:
Dr. Frances spoke the truth. And this was the standard reportedly used by the DSM-5 Task Force:
DSM-5: How Reliable Is Reliable Enough?
by Helena Chmura Kraemer, David J. Kupfer, Diana E. Clarke, William E. Narrow, and Darrel A. Regier
American Journal of Psychiatry 2012 169:13-15.

… to see a κI for a DSM-5 diagnosis above 0.8 would be almost miraculous; to see κI between 0.6 and 0.8 would be cause for celebration. A realistic goal is κI between 0.4 and 0.6, while κI between 0.2 and 0.4 would be acceptable.

So, I opened the book again to the chapter on the DSM-IV Field Trials for major depressive disorder that showed a table with the multiple comparisons they did for reliability [kappa]:

I don't see anything like a kappa = 0.25, no matter what they compared with what. So I have no clue what "unchanged from DSM-IV" means…
---
By the way, if anyone's looking for a DSM-IV Sourcebook Volume 4, I've got one I'll let go of for a song…