I don't know much about Depakote. I see a lot of patients who announce, "I'm Bipolar" or "I've been told I'm Bipolar" but the overwhelming majority have neither the clinical narrative nor the family history to support that diagnosis. I do my best not to bludgeon them with my skepticism, but taper them off of their polypharmacy and treat them for what they actually have. So I've stopped a lot of Depakote, and only occasionally started it [in Lithium intolerant Bipolar patients]. I knew that Abbot
settled
for $1.6 B last year for illegal promotion in the elderly, and from those articles knew that they made something like $13 B in profit from the drug. But I didn't know of its teratogenicity [birth defects]. I do now. Here are a couple of articles with full text available in case you didn't know either:
Cognitive function at 3 years of age after fetal exposure to antiepileptic drugs

.

by Meador KJ, Baker GA, Browning N, Clayton-Smith J, Combs-Cantrell DT, Cohen M, Kalayjian LA, Kanner A, Liporace JD, Pennell PB, Privitera M, Loring DW; and the NEAD Study Group. New England Journal of Medicine

. 2009 360[16]:1597-605.

[

full text on-line

]

[

FDA review on-line

]

BACKGROUND: Fetal exposure of animals to antiepileptic drugs at doses lower than those required to produce congenital malformations can produce cognitive and behavioral abnormalities, but cognitive effects of fetal exposure of humans to antiepileptic drugs are uncertain.

METHODS: Between 1999 and 2004, we enrolled pregnant women with epilepsy who were taking a single antiepileptic agent (carbamazepine, lamotrigine, phenytoin, or valproate) in a prospective, observational, multicenter study in the United States and the United Kingdom. The primary analysis is a comparison of neurodevelopmental outcomes at the age of 6 years after exposure to different antiepileptic drugs in utero. This report focuses on a planned interim analysis of cognitive outcomes in 309 children at 3 years of age.

RESULTS: At 3 years of age, children who had been exposed to valproate in utero had significantly lower IQ scores than those who had been exposed to other antiepileptic drugs. After adjustment for maternal IQ, maternal age, antiepileptic-drug dose, gestational age at birth, and maternal preconception use of folate, the mean IQ was 101 for children exposed to lamotrigine, 99 for those exposed to phenytoin, 98 for those exposed to carbamazepine, and 92 for those exposed to valproate. On average, children exposed to valproate had an IQ score 9 points lower than the score of those exposed to lamotrigine (95% confidence interval [CI], 3.1 to 14.6; P=0.009), 7 points lower than the score of those exposed to phenytoin (95% CI, 0.2 to 14.0; P=0.04), and 6 points lower than the score of those exposed to carbamazepine (95% CI, 0.6 to 12.0; P=0.04). The association between valproate use and IQ was dose dependent. Children's IQs were significantly related to maternal IQs among children exposed to carbamazepine, lamotrigine, or phenytoin but not among those exposed to valproate.

CONCLUSIONS: In utero exposure to valproate, as compared with other commonly used antiepileptic drugs, is associated with an increased risk of impaired cognitive function at 3 years of age. This finding supports a recommendation that valproate not be used as a first-choice drug in women of childbearing potential.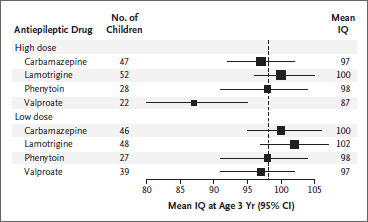 BACKGROUND: The use of valproic acid in the first trimester of pregnancy is associated with an increased risk of spina bifida, but data on the risks of other congenital malformations are limited.

METHODS: We first combined data from eight published cohort studies (1565 pregnancies in which the women were exposed to valproic acid, among which 118 major malformations were observed) and identified 14 malformations that were significantly more common among the offspring of women who had received valproic acid during the first trimester. We then assessed the associations between use of valproic acid during the first trimester and these 14 malformations by performing a case-control study with the use of the European Surveillance of Congenital Anomalies (EUROCAT) antiepileptic-study database, which is derived from population-based congenital-anomaly registries. Registrations (i.e., pregnancy outcomes with malformations included in EUROCAT) with any of these 14 malformations were compared with two control groups, one consisting of infants with malformations not previously linked to valproic acid use (control group 1), and one consisting of infants with chromosomal abnormalities (control group 2). The data set included 98,075 live births, stillbirths, or terminations with malformations among 3.8 million births in 14 European countries from 1995 through 2005.

RESULTS: Exposure to valproic acid monotherapy was recorded for a total of 180 registrations, with 122 registrations in the case group, 45 in control group 1, and 13 in control group 2. As compared with no use of an antiepileptic drug during the first trimester (control group 1), use of valproic acid monotherapy was associated with significantly increased risks for 6 of the 14 malformations under consideration; the adjusted odds ratios were as follows: spina bifida, 12.7 (95% confidence interval [CI], 7.7 to 20.7); atrial septal defect, 2.5 (95% CI, 1.4 to 4.4); cleft palate, 5.2 (95% CI, 2.8 to 9.9); hypospadias, 4.8 (95% CI, 2.9 to 8.1); polydactyly, 2.2 (95% CI, 1.0 to 4.5); and craniosynostosis, 6.8 (95% CI, 1.8 to 18.8). Results for exposure to valproic acid were similar to results for exposure to other antiepileptic drugs.

CONCLUSIONS: The use of valproic acid monotherapy in the first trimester was associated with significantly increased risks of several congenital malformations, as compared with no use of antiepileptic drugs or with use of other antiepileptic drugs.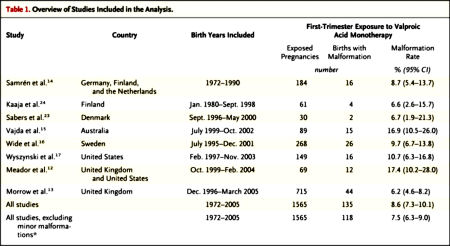 If you follow the blogs and press about the misuse or overuse of psychiatric medications and the role of pharmaceutical company manipulation in medical care in general, you're aware that a lot of the people doing the writing are people who have been personally hurt by it all. And there is a perfectly understandable edge to what they say. I got here along a different pathway, so I expect my writing is more aimed at the science, or the deceit, or the bad medicine involved. But I sometimes feel the sting that a victim feels, not just by proxy, but actually feel it as an angry bitterness. I feel it when I come in contact with cases where a suicide or suicidal thinking is associated with antidepressant akathisia. And I felt it Friday with the case I mentioned in my last post. When I reread that post, it has a cynicism that makes me wince a bit, but I sure couldn't not feel it.
Some of my personally felt bitterness has another origin. In Dr. Lieberman's recent [pitiful] commentary about industry [Don't Turn Your Back on Industry, but Keep It Honest], he kept saying, "don't throw out the baby with the bathwater", entreating us not to press for a clear separation between academic medicine and the pharmaceutical industry. I had my say about that [a start… ]. But his phrase, "don't throw out the baby with the bathwater", is exactly what I felt when I was thinking about this case. In the great revolution of 1980, psychiatry threw out Neurosis, and Conversion Reactions were the prototype for that category – cases that looked like Brain Disease [neuro·logic] but were really Mind Disease [neuro·tic]. We don't see Conversion much these days. In fact, I've never seen a case of Conversion among the urban educated. But I've seen plenty at the edge of the galaxy – Charity Hospitals in Memphis and Atlanta, here in Appalachia – the more primitive parts of our culture. The urban rich find more sophisticated ways to get sick with stress and conflict.
The treatment of Conversion isn't Celexa and Depakote – nor is it the psychoanalysis of Freud's discovery days a century ago. Actually, it's not all that hard. All it requires is an understanding that "The symptom or deficit is not intentionally produced or feigned [as in Factitious Disorder or Malingering]" like it says in the DSM-IV, and knowing the difference between primary gain [the psychological problem solved] and secondary gain [the real world problem solved]. In the case in the last post, the secondary gain is that it got her out of her work situation. Most people intuitively get that part but see it as malingering. What they don't see is the primary gain, her intense personal need for control and order [something she came by honestly], and that she literally feels like she's going to come unglued in chaotic situations. Psychiatrists stopped thinking like that thirty years ago, and it was a loss [the "baby"], as illustrated here. Over the ensuing years, she's become avoidant, afraid it will happen again, but she doesn't know what she's avoiding or why. There are any number of ways to help her with that once her obligatory need for control is the identified problem rather than some vague fear of an unknown brain disease that looms up ahead. But enough of that. The point here is that it was a multiple whammy to me – iatrogenic illness from misuse of medication, an untreated treatable illness, and a missed opportunity to prevent the avoidant illness that followed.
So the Depakote part of this post is about the damage a medical approach that is over-reliant on medication [given casually] can do. But the other part is what's been lost in the post DSM-III take on mental ill·ness. There was a lot in those 1980 days that needed to change, but a lot of things that were essential to an everyday common sense understanding of the people that come for help needlessly went with it – neurotic illness being a prime example. Today, we're in a time when there's a major disillusionment with psychoactive medications in general – well earned and something I can't seem to stop talking about. So it may seem an odd thing for me to say, but I hope in the coming reforms, we can avoid that "baby with the bathwater" thing this time around [not the one Lieberman was talking about!]. This pendulum has done enough swinging and needs to stop somewhere near the middle. Rational and careful use of biological treatment has helped and can help a lot of people in spite of all the misuse and damage. The problem is not the medication. It's the overwhelming interference of other interests [including the collusion of segments of medicine itself] that have us so far out at sea right now…