The push from the UK for wholesale transparency of clinical-trial data has taken on a new dimension with the launch of the AllTrials public campaign. An accompanying petition – already close to 3,000 over 7,000 signatures at the time of writing – calls on governments, regulators and research bodies to put in place measures ensuring that "all trials past and present" are registered and "the full methods and the results" reported. The initiative follows last month's call by the UK House of Commons Science and Technology Committee for submissions on transparency and the disclosure of study data as part of a broader inquiry into clinical trials.

Among the campaign backers are some familiar names in the recent drive for clinical-data transparency: Bad Science – i.e., epidemiologist and Bad Pharma author Dr Ben Goldacre; the BMJ; the James Lind Initiative; and the Centre for Evidence-Based Medicine. Joining them in the campaign is Sense About Science, a UK-based charitable trust that works in partnership with scientific bodies, research publishers, policymakers, the public and the media to change public discussions about science and evidence.

Sense About Science director Tracey Brown commented: "Everybody agrees that all clinical trials should be registered, and that we should at the very least have access to the basic results, and ideally the full Clinical Study Reports. But there have been years of foot-dragging and non-compliance with requirements." Government and regulators "must listen to what the public thinks about this", Brown insisted. "It's a vital matter of public interest for the medicine we have now and the medicines we might have in the future"…
That red folder icon in the upper left of this page takes you to the accompanying petition they're talking about. It says:
•Thousands of clinical trials have not reported their results; some have not even been registered.

•Information on what was done and what was found in these trials could be lost forever to doctors and researchers, leading to bad treatment decisions, missed opportunities for good medicine, and trials being repeated unnecessarily on people and animals.

•All trials past and present should be registered, and the full methods and the results reported.

•We call on governments, regulators and research bodies to implement measures to achieve this.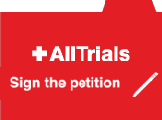 It's not perfect, doesn't say everything I would want it to say. But it's realistic and simply insists on people actually doing what has already been mandated [and a little bit more]. It would be more than enough to keep researchers honest and doctors accurately informed. If you agree, click it and sign it…

---
James Lind? He's the 18th centery Naval Surgeon who did the first real controlled clinical trial – citrus fruits for Scurvy [he published his data and did a literature review]…