Reading and writing about the early Prozac days this last week has kind of gotten to me. I had read it before some time back in David Healy's Let Them Eat Prozac, but I knew less then. I didn't know the context well enough to see that it was such an industry wide story. I read that book before Senator Grassley and Paul Thacker alerted us all to the heavy involvement of so many academic psychiatrists and other KOLs in the misadventures of the pharmaceutical companies. I've spent some time in the recent days rereading the relevant parts of that book. It's all there, clearly stated, but I just couldn't see it for what it was on the first time around.
I know that in the past, I've always winced when critics anthropomorphize groups – like "psychiatry thinks …" or "psychiatrists think …" particularly when what follows is some monstrous idea that had never even occurred to me. I've likewise been pretty put off by "you just think that because you're a …" fill in medical doctor, fill in psychiatrist, fill in psychoanalyst. And I've worried along the way that I find myself doing the same thing I don't like done to me when I use the word "PHARMA" – speaking as if the entire CNS pharmaceutical industry is one great big greedy persona, doing anything possible to increase sales and maximize profits. Unfortunately, I haven't run into enough exceptions so far to counter that designation. And this Prozac story with Eli Lilly is a particularly virulent example, particularly when it was ground zero, particularly when they followed it with Zyprexa using the same kind of black-ops marketing strategy [Zyprexa: the other early years…]. So as much as I personally dislike being stereotyped myself, I can't find a way around simplifying the CNS pharmaceutical industry most of the time.
The two emails from Claude Bouchy and Hans Weber in 1990 [foul...] appear as exceptions along the way. Earlier, I focused on the last paragraph, lamenting the heroics that didn't happen. But that aside, in reading all of these discovery documents from the various companies, it was a breath of fresh air – an actual confrontation of what was fundamentally going awry:
Hans Weber and I have problems with the directions our safety people are getting from the corporate group [Drug Epidemiology Unit] and requesting that we change the identification of events as they are reported by the physicians…
Hans has medical problems with these directions and I have great concerns about it. I do not think I could explain to the BGA, to a judge, to a reporter or even my family why we would do this especially on the sensitive issue of suicide and suicide ideation. At least not with the explanations that have been given to our staff so far. I am quoting "When an overdose is taken in a suicide attempt, our Research Physicians prefer to list the event term overdose" even if "when tracking suicides, we always look at all overdose and suicide attempt reports"…
Our point is the following: the physician has reported a suicide attempt. Do we have the right to change it to some terminology which we may consider to be more specific e.g. overdose, but which is not free from ambiguity and could be regarded as inaccurate or misleading?
The term overdose is not free from ambiguity because there are clearly forms of overdose which are not related to suicide attempts, for instance wrong dose prescribed or dispensed error on the part of the patient etc … In fact and perhaps more importantly, the dictionaries we have looked at [medical dictionaries and non-medical] fail to associate [not to mention equal] the concept of overdose with suicide attempt. In addition, it can be argued that the event term overdose is inaccurate or misleading because in this case the patient attempted suicide by taking an overdose of barbituates and tricyclics and not, I repeat not, of fluoxetine. Finally, on a very simple and non-scientific basis, I personally wonder whether we are really helping the credibility of the excellent ADE system by calling overdose what a physician reports as suicide attempt and by calling depression what the physician is reporting as suicide ideation. We fully realize that there is no code in our DSM system for suicide ideation but it could be argued by people who have little sympathy to the company or by regulatory authorities that it is not a responsible way to deal with an issue which is getting so much attention in the scientific and in the general press. It could also be argued that the term depression is not specific in this case.
Of course, at the end of the day, we will do what we are told to do but Hans and I felt that we had to bring these points to your attention.
In this case, what they're talking about is changing reality – reframing the primary reports from clinicians in a clinical trial to lead to a more desirable conclusion. It's pretty easy to decry such behavior [once you know it's happening], but it's obviously a lot easier from the outside than from the inside [as evidenced by how rarely the latter occurs].
What it comes down to is the conclusion we reach at the end of the day. We've got decades of data on the impact of allowing academic psychiatry, clinical drug trials, psychiatric journals, and our professional organizations to become financially enmeshed with an industry that profits from the use of the medications. If we looked at all of this as a Clinical Trial itself, the conclusion would not only be statistically significant, it would be clinically relevant. It just can't work. No matter how many problems it solves, or how tempting the alliance, the data is in. We tried requiring the declaration of the funding sources in every article. We insisted that authors come clean about their ties to industry. Now we're determined to have data transparency – openly available raw data from every clinical trial. Legal settlements against pharmaceutical companies have escalated and are increasingly likely to involve criminal charges. We've pushed the inducements for whistle-blowers to Powerball levels. And I expect the pharmaceutical companies are using smoke signals for internal communications rather than email like these that might some day see the light of day. And articles like Don't Turn Your Back on Industry, but Keep It Honest by the incoming president of the APA [see a start…] only mean we either need a new way of organizing ourselves or a significant change in the organization we have – including different leaders. It is the end of the day now.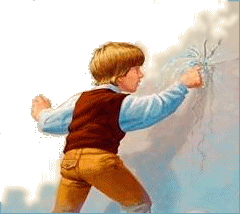 Whether
the little dutch boy
has enough fingers to plug all the holes in the dyke or we finally end up with something like prohibition, the experiment is already over. The free-flow of money from the pharmaceutical industry into academic and organized psychiatry is a decided bust. We've proved with a long term Clinical Trial that conflicts of interest are indeed conflicts of interest, just like we thought they were before we did the experiment. The only question on the table is
what now
? And all we really know is
not this
…