I've never really addressed C.M.E. [Continuing Medical Education] on this blog, but it's yet another open portal for the pharmaceutical influence on practicing physicians – readily available because C.M.E. is a requirement for licensure. This one was passed on to me by a friend, someone I met at the TMAP Trial in Austin. She sent it to let me know that Charlie Nemeroff is still in the game. But when I read it, there was so much more to say about it. It's a simple little C.M.E. that sits at the confluence of many streams:
THE C.M.E.
---
neuroscienceCME Multimedia Snack
Premiere Date: Friday, November 30, 2012
Credit Expiration Date: Saturday, November 30, 2013
Ned H. Kalin, MD (Moderator)
Hedberg Professor and Chair, Department of Psychiatry
Director, HealthEmotions Research Institute
University of Wisconsin – Madison
Madison, WI
Charles B. Nemeroff, MD, PhD
Leonard M. Miller Professor and Chairman
Director, Center on Aging
Department of Psychiatry and Behavioral Sciences
Leonard M. Miller School of Medicine
University of Miami
Miami, FL
Statement of Need
Even after years of antidepressant drug development and patient and provider education, suboptimal medication dosing and duration of exposure resulting in incomplete remission of symptoms remain the norm in treating depression. Although no particular treatment is effective for all patients, determining optimal, effective treatment approaches requires focus on the measurement of symptoms, side effects, and function.(1) Patients often do not receive a sufficient dose of medication during routine treatment trials, suggesting that lack of remission (i.e., the absence of symptoms) may be the result of inadequate dosaging rather than ineffective treatment. Similarly, evidence shows that many patients do not receive therapeutic doses of medication for sufficient duration. Inconsistency of treatment from physician to physician is common, suggesting a practice bias rather than a tailored, individualized treatment approach. The percentage of all patients treated achieving symptom remission with initial antidepressant treatment peaks at 35%—the remaining require at least two or more pharmacotherapeutic steps.(2) This neuroscienceCME Snack will highlight the salient issues in treatment-resistance in MDD and delineate for clinicians the available pharmacological and nonpharmacological management options to treat to remission.
---
Trivedi MH, Daly EJ. Measurement-based care for refractory depression: a clinical decision support model for clinical research and practice. Drug Alcohol Depend. 2007;88(Suppl 2):S61-S71. PMID: 17320312.

Rush AJ, Kraemer HC, Sackeim HA, et al; ACNP Task Force. Report by the ACNP Task Force on response and remission in major depressive disorder. Neuropsychopharmacology. 2006;31(9):1841-1853. PMID: 16794566.
Activity Goal: The goal of this activity is to highlight to clinicians both the importance of treating major depressive disorder to remission and the available treatment options to accomplish that goal.
Learning Objectives: At the end of this CE activity, participants should be able to: Explore all available evidence-based options when treating depression to remission.
So the program will teach us how to make remission our goal and to use sequencing and augmentation to get there. Now, about some of those many streams:
THE BACKGROUND
---
After the initial enthusiasm about the SSRI antidepressants, it became apparent that even with the best gamesmanship available, only about a third of patients could be said to be responding. That finding spawned one of the more expensive set of hypotheses of this era. The initial call was that the drugs weren't being given correctly – dose too low, not given long enough. Then came the ideas of sequencing the drugs, combining them, augmenting them with something else. All of these techniques were based on the notion that the SSRIs should be more effective than they were. There was even a new diagnosis – treatment resistant depression – a category defined by nonresponsiveness to SSRIs. These hypotheses fueled the treatment algorithm era [TMAP, STAR*D, COMED, IMPACT, etc.] – a variety of schemes designed to get more out of the SSRI drugs. The center of all of this was at the University of Texas under Drs. John Rush and Madhukar Trivedi.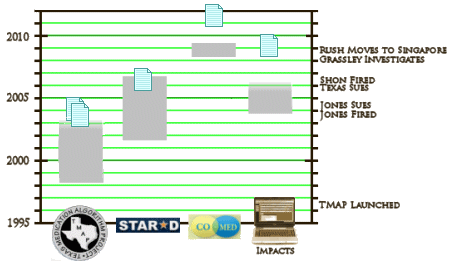 For as much effort as was put into these various treatment schemes, there was remarkably little science underneath. While there were protocols, guidelines, algorithms, and computer programs that talked about how to do this along with entreaties about evidenced-based care and measurement-based care, the sequences were based on what somebody or group of somebodies thought up, nothing much from science or data [and they always seemed to use newer in-patent drugs]. The studies were NIMH financed [eg STAR*D cost $35 M]. The notion of treatment to remission sat under this whole flurry. The ACNP [American College of Neuropsychopharmacology] convened a Task Force lead by Dr. Rush. Their report is available on the Internet [Report by the ACNP Task Force on Response and Remission in Major Depressive Disorder - full text] – an expert opinion document published in 2006. This idea of treatment to remission, following patients using rating instruments, and sequencing came to full flower in this report. As a matter of fact, the ANCP had another Task Force [ACNP Task Force Report on SSRIs and Suicidal Behavior in Youth - full text] also published in 2006 that contradicted the FDA Black Box Warning [see hardly justify…].
A large crack appeared in the algorithm craze when Alan Jones filed a whistle-blower suit in Texas in 2004 that ultimately resulted in the TMAP program being exposed as a pharmaceutical company backed scam costing many States millions of dollars. The STAR*D results were written up in 2006 [Acute and longer-term outcomes in depressed outpatients requiring one or several treatment steps: a STAR*D report - full text], and were a great disappointment. The huge study was plagued with missing data and a very high drop-out rate. The results of the primary end points were never published. To my reading, it was so full of holes that nothing could be concluded, in spite of hundreds of STAR*D papers published over the years [see a thirty-five million dollar misunderstanding…]. CO-MED was negative and IMPACT died in the planning stage. [By now you've no doubt realized that I'm kind of fixated on 2006 in this post. There are further reasons].
Dr. Charles Nemeroff became Editor in Chief of Neuropsychopharmacology, the ACNP Journal, in 2001. Speaking of cracks, there was a big one for him when he published a review article in Nature Neuroscience [Treatment of mood disorders] in 2002 recommending three treatments that he had a direct financial interest in without declaring those interests. This omission was exposed by Dr. Bernard Carroll and Bob Rubin resulting in a change in policy for all Nature journals. But then Dr. Nemeroff did it again in 2004! [see hubris… for the details]. But that rather large crack turned into a canyon in 2006 when Dr. Nemeroff published a review of a vagal nerve stimulator for treating depression [VNS Therapy in Treatment-Resistant Depression: Clinical Evidence and Putative Neurobiological Mechanisms - full text] in his own journal [Neuropsychopharmacology], ghost-written by Sally Laden, with a raft of other authors all of whom were involved with that nerve zapper's company [including him] without acknowledging those connections. He was confronted again by Drs. Carroll and Rubin. In quick succession, he stepped down [was removed] as Editor and his activity was heavily restricted by Emory University.
If 2006 had been a red letter year, it only lead to the even redder 2008, when Senator Chuck Grassley and Paul Thacker investigated a group of higher-up psychiatrists for unreported pharmaceutical income, causing a number of them to step down from their chairmanships [Nemeroff, Schatzberg, and Keller] and one to move to Singapore [Dr. Rush]. The Grassley veterans were among the included authors in every single article referenced in THE BACKGROUND section above [including both ACNP reports]. So this simple little 2012 C.M.E. is designed to teach the student the expert-recommended treatment for depression as it stood before the raft of failed and discredited studies in 2006, followed in 2008 by the biggest ever scandal in the history of academic psychiatry, involving the expert giving this C.M.E. and many of his referenced and equally compromised accomplices.
It doesn't say that in the advertisement…
hat tip to Nancy