Those who do not remember the past are condemned to repeat it …
George Santayana
It's pretty easy to criticize medicine, but psychiatry is particularly vulnerable because of its position at the subjective edge. Forty years ago, when I changed specialties, my friends had heart to heart talks with me, trying to help me understand that I'd taken leave of my senses – that I should let the impulse pass. I had no choice but to list my internal medicine mentors as references on residency applications. Years later, when I directed our training program, I ran across my own file. Those reference letters all ended with a softly phrased "taking leave of his senses" comment or two [I guess I'm still on leave]. Like I said, psychiatry is easy to criticize.
I realized that my fellow residents had chosen psychiatry in medical school – primarily on hospital wards. I hadn't and would've ranked that experience below most any other rotation. My interest developed in the course of internal medicine practice, realizing that many of the patients I saw may have come for help with physical symptoms, but the real problem was "supratentorial" [a doctor code word for "in the mind"]. Without actually noticing it happening, that's where my interest was drawn. It wasn't the major psychiatric illnesses – it was what the term "neurosis" means. So when I got to residency training, the major mental illnesses were brand new and very alien – at least early on during those hospital rotations. Being something of a history buff, I actually read the parts of the texts about psychiatric history most people skipped over, and spent idle hours in the library in the dusty old books section.
I enjoyed reading about Sigmund Freud, Emil Kraepelin, Eugen Bleuler, Adolf Meyer, Harry Stack Sullivan – the usual suspects. But I also found people like António Egas Moniz [prefrontal lobotomy], Ugo Cerletti [seizure therapy eg ECT], and Manfred Sakel [insulin coma therapy] pretty intriguing [see for review…]. I came along at the very end of the asylum era, but I saw plenty enough to understand why such radical treatments were seen as breakthroughs when they were introduced. Moniz was awarded a Nobel Prize for a treatment that is now only portrayed as abuse from films like One Flew Over the Cuckoo's Nest, Frances, or Shelter Island [Moniz was shot in 1939 by a "disaffected patient" and paralyzed for life]. It was compelling but difficult reading. I had one foot in a world where desperate mental illness was part of my daily life, and one foot out, disquieted by the desperateness of the old treatments – some forgotten, others still shrouded in suspicion.
What I took from that reading had to do with a topic well known to any practicing physician – Therapeutic Zeal. It's the danger behind the Hippocratic Oath's injunction to "Do No Harm." These radical treatments were introduced for the devastating, often fatal illnesses only seen behind the walls of Asylums and State Hospitals. But with some successes, they were increasingly applied in patients with less debilitating illness or diagnoses. That's what Therapeutic Zeal means, becoming too invested in treating and overlooking the dangers. In the case of lobotomy, Rosemary Kennedy, the younger sister of JFK, was a prime example. As best I can tell, her diagnosis was moderate mental retardation. In her early twenties, she was treated with lobotomy for behavioral problems. The consequences of the treatment became an additional lifelong disability, lasting until her death at age eighty-six – a tragedy.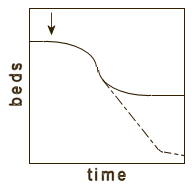 Some medications are visibly miraculous – Vitamin B12 in a case of pernicious anemia; insulin with diabetic coma; amytal in a catatonic patient; morphine with any number of things. The neuroleptic drugs that grew from the thorazine of the early 1950s can be equally dramatic in the face of florid psychosis, but it didn't take me long to realize that I'd arrived in another period of Therapeutic Zeal in psychiatry. The State Hospitals, originally built as a reform movement, had become overcrowded human warehouses. So when a treatment for psychosis came along [thorazine and friends], it became incorporated as an essential ingredient in the move to empty the hospitals [part benevolent, part cost-cutting]. A helpful but non-curative treatment should've looked like the solid line in the graph, but the dashed line is what happened. So the primo goal was emptying the hospitals and the only way to do it was long-term meds – by ignoring many of the toxicities. Initially, community resources filled in some of the gap, but then that money went away. Neuroleptics are no cure for Schizophrenia. They treat acute symptoms, eliminate some of the devastating deterioration of the disease, and closed the hospitals, but they cause an illnesses all their own. Fortunately, patients often stop them, so they're used intermittantly. And unfortunately, our jails and prisons have replaced the institutions of old and many chronic patients show the neurological signs of overmedication. Therapeutic Zeal struck again.
I had come because I wanted to learn more about psychotherapy, and did psychoanalytic training as well. I had no illusions of curing the world or of spending my days with only a few patients. I wanted to know more about the mind and I was more than pleased with learned. At the time, the body psychoanalytic was trapped between its method and modern reality, coming out badly in the 1980 revolution as the target of a campaign against the Therapeutic Zeal [and cost] of psychoanalysis [there's that phrase again]. Exploratory psychotherapy is a major undertaking, neither for routine use nor for the zealous. Like everything in this post, it's a limited treatment that doesn't play well outside it's rational indications. It was my cup of tea, but I didn't have illusions or delusions about it, so I was pleased with the results.
None of these stories make a bit of sense outside the context of their history – how they came to be, how they came to grief when overextended by Therapeutic Zeal and the narcissism of their proponents. There are economic and social components to each piece of the story independent from the medical worth. And personally, I find solace and perspective in knowing that history – just as I had discovered how much the history of my patients related to their manifest problems. I am a medical physician too, and I know that the same kinds of limitations are as much a part of internal medicine as they are in psychiatry – Therapeutic Zeal is no less dangerous. I don't talk about it much, but I've personally found psychiatry more rewarding than I found my earlier career. In medicine, the excuses were better – chronic or incurable illnesses. In psychiatry failure is more personal, but the problems are fascinating, and the rewards are frequent, even if often less than desired.
Yet with my abiding interest in the history of medicine and psychiatry, and something almost like a hobby preoccupation with the shoals of Therapeutic Zeal, I was totally unprepared for what happened in psychiatry in these last thirty years – so unprepared that I didn't even really see a lot of it happening. And somewhere in there, we lost a lot of our own history – or at least our history as it actually happened…
History is a vast early warning system …
Norman Cousins