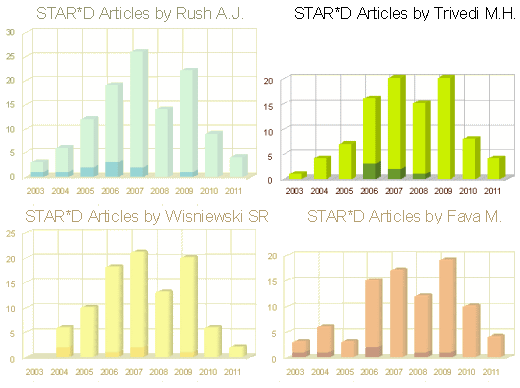 Some things about this tawdry era of academic psychiatry just don't make sense. I don't understand the why of these graphs – why they would go to the trouble to publish this many papers, particularly on a study that was a $35 M bust. The only thing I can come up with is that the article count comes into consideration when applying for the next NIMH grant. Maybe it's a hobby? Most of these papers were written by Jon Kilner, a medical editorial assistant AKA ghost-writer.
Speaking of hobbies, I have one. Every time Madhukar Trivedi's name shows up, I check in on what he's been up to lately. The stimulus this time was an infomercial in a [North Central] West Virginia paper [not annotated as an advertisement] someone sent our way. It's a remarkable piece on how to get your loved one on Viibryd® [Help your loved one face depression].
Recall that the team of John Rush and Madhukar Trivedi have been on a treatment by algorithm kick for fifteen years: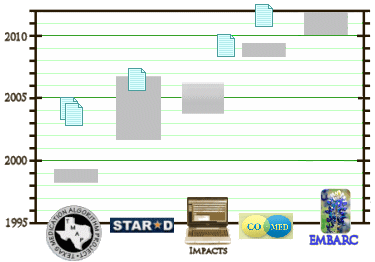 They started with TMAP, a scheme to get public medical systems to use expensive in-patent drugs rather than generics busted by Allen Jones after it had spread to 17 states. Turning to the NIMH, they did STAR*D to try out their algorithms and found essentially nada [a thirty-five million dollar misunderstanding… ], though it generated well over a hundred publications. I call it paper churning after my grandmother's butter-making technique or what stock-brokers do to generate extra fees – a lot of extra buying and selling with no real purpose. STAR*D is the gold standard for paper churning with 100+ papers. Trivedi got nine [the if³ hypothesis…] out of his NIMH funded IMPACTS study [impressive, as the study never even happened because the doctors wouldn't use his computer algorithms]. So since Trivedi's name came up, I thought I'd take a look at how the CO-MED publication rate was coming along, churning-wise.

CO-MED wasn't much to write home about. Having exhausted sequencing antidepressants in STAR*D, they decided to try the two at a time [above]. As you can see, that didn't work either [there was no placebo group in either STAR*D or CO-MED, adding to their lack of usefulness].
Here's their productivity so far. Read the titles. That's what churning is – thinking up creative ways for the ghost-writer to squeeze more and more papers from the same dataset:
And [just to prove I don't only have recycled graphs] the impact factor of the successive article churning hasn't deteriorated: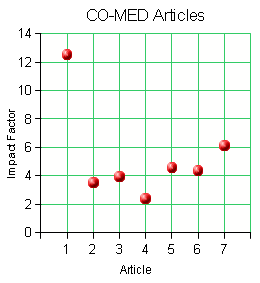 I'm being kind of playful with all of this, but my intent is dead serious. This represents a massive medicaide fraud [TMAP] and over $50 M of NIMH money [STAR*D, IMPACTS, CO-MED, and EMBARC] chasing a mediocre idea about how to make some mediocre drugs less mediocre that failed at every turn. It's an outrageous waste of valuable resources that makes one wonder if anyone at the NIMH even looks at the books. Shame on you, Tom Insel…
CC: Tom Insel NIMH