One of the invariable things that comes up about psychoanalysis in any discussion is the "n=1" topic, "How can you say anything about human psychology if you only look at one case at a time? There's no control group. No experimental group." And you'll be pleased to learn that I've exceeded my lifetime tolerance for those discussions and am not bringing it up for that reason. I mention it to point out that psychoanalysts have different heros, in particular, the Ethologists, those people who approach animal and aboriginal behavior looking at one case at a time in their natural habitat. They're those scientists like Sigourney Weaver Dian Fossy who spend their time doing case studies on Gorillas in the wild.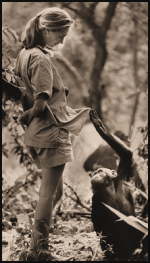 The Naturalists of the nineteenth century who were studying the variations in nature and used a different approach. Their extensive detailed observations resulted in the classifications of Botany and Zoology and laid the framework for the evolutionary schemes that followed. The later study of complex animal behavior in the natural environments couldn't rely the carefully controlled situation of the Psychologist's laboratory environment, so they adapted the methodology of the naturalists – making their inferences from observations without intervention. These Ethologists found validity in repeated observations of behavior patterns over long periods of time – carefully isolating similarities from the complex variability of the natural world. The Paleontologists spend their lives looking for a tiny yield – a partial skeleton here and there. But by comparing their precious pieces of evidence with each other and contemporary structures, they have produced an increasingly clear picture of man's developmental history. And so it goes as the scientific method is adapted to the object and situation of study.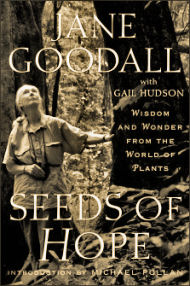 That last paragraph was plagiarized. I stole it from myself actually, something I wrote two years ago [evidence-based medicine VII: waiting for the miracle…]. And the picture is of a favorite of mine, Jane Goodall, whose study of chimpanzee behavior in Tanzania is legendary. Well, Jane Goodall is now 78 years old and has gotten herself into some hot water that has to do with plagiarism and a topic near and dear to our hearts – ghost writing. Her soon-to-be-released new book [written with Gail Hudson] has come under close scrutiny because it contains passages that are identical to [have been lifted from] other sources readily available on the Internet. It's unfair to say ghost-written in that we presume the text was written by Gail Hudson, a common practice in the works of famous people, and Ms. Hudson is acknowledged with the standard "with Gail Hudson." But the feeling is the same – the big name at the top is Jane Goodall, and the reader visualizes Jane Goodall when they buy the book and while they're reading it. So is this a case of our "idols having feet of clay?" We have to think about such things a bit harder when it's our own idols under the microscope.
No one wants to criticize Jane Goodall — Dame Goodall — the soft-spoken, white-haired doyenne of primatology. She cares deeply about animals and the health of the planet. How could one object to that? Her list of awards and honorary degrees are too numerous to mention. She was tasked by Kofi Annan to be a United Nations Messenger of Peace, an appropriately meaningless, but distinguished, gong. In 2010, a Guardian writer noted that Goodall's book Hope for Animals and Their World had a "written-by-committee feel of which must of course be forgiven because of its subject matter." He felt "doubly guilty for criticising the book" when she generously inscribed his copy.

You see, everyone is willing to forgive Jane Goodall. When it was revealed last week in The Washington Post that Goodall's latest book, Seeds of Hope, a fluffy treatise on plant life, contained passages that were "borrowed" from other authors, the reaction was surprisingly muted. The writer who discovered the plagiarism—an unnamed academic reviewing the book for the Post—alerted the newspaper and backed out of the assignment. When the Post and the New York Times reported his findings, both avoided saying that Goodall had plagiarized—which, even by the strictest definition of the word, she did—instead writing that she "borrowed" passages, fully intending, apparently, to return them upon publication.

The entire controversy has been clouded in euphemism. The Post presented a half-dozen examples of plagiarism (which can be viewed here) but downplayed their significance. "Appropriating another author's ideas as one's own and inventing material and presenting it as fact are among the gravest literary lapses," wrote Steven Levingston, the newspaper's nonfiction editor. "Neither appears to have occurred in Seeds of Hope." The Christian Science Monitor stated that "in Goodall's case, there is no suggestion that her intent was to pass off the ideas of others as her own." Writer Marjorie Ingall argued that Goodall (or the book's co-author, Gail Hudson) "didn't commit the most hellacious sin associated with plagiarism—she didn't pass off other people's ideas as her own."

This is both a bizarre redefining of plagiarism and a semantic sleight of hand: Goodall quite clearly passed off the words of others as her own (and presented interview quotes said to other journalists as having been said to her). But embedded in those words is both the original author's accumulated knowledge and, in context and arrangement, ideas. Regardless, Goodall's offense is one that would precipitate firing from all of those publications that are rushing to provide an elastic definition of her faults.

A Jane Goodall Institute spokesman

told The Guardian

that the whole episode was being "blown out of proportion" and that Goodall was "heavily involved" in the book bearing her name and does "a vast amount of her own writing." In a statement, Goodall said that the copying was "unintentional," despite the large amount of "borrowing" she engaged in…
Sound familiar? Like Drs. Nemeroff and Schatzberg's comments about their ghost-written
Recognition and Treatment of Psychiatric Disorders
[
when charlie met sally…
]? Or Dr. Keller's
comments
about his authorship of the Paxil Study 329 article? I can feel my mind struggling with the impulse to offer various defenses of Jane Goodall, things that soften or explain. So I'll stop. They serve no purpose. If the book were written by our errant psychiatrists, I wouldn't be generating any such explanations. Authors need to be responsible for such things, even if they acknowledge being helped – even if they are personal favorites. That's really all there is to say…
There is a sense in many of the reported accounts that Goodall's co-author, Gail Hudson, is to blame. This is, of course, possible (Hudson did not respond to an email request for comment), but if Goodall had read her own manuscript—the one with her name on it—would she not have noticed the quotes from interviews with people she hadn't spoken to? Wouldn't a noted scientist double-check her source material? She is, after all, the person who accepted the publisher's check and Seeds of Hope is written in the first person.