International calls for the pharmaceutical industry to share the results of clinical trials have grown ever more intense amid revelations that high-profile companies have hidden crucial data on safety and efficacy. Now Europe is moving towards measures that would significantly increase disclosure of such data. The European Medicines Agency [EMA] in London, which licenses drugs for use in the European Union, is developing a policy to publish some clinical-trial data submitted by companies. And next month, major players in the UK medical community will meet to discuss the practical problems of data openness.

The meeting is likely to take place on 19 April and could feature representatives from biomedical charity the Wellcome Trust, as well as the Academy of Medical Sciences, the Association of the British Pharmaceutical Industry and the Association of Medical Research Charities. It marks a move from discussion to action, says Nicola Perrin, head of policy at the Wellcome Trust in London. "We should all stop discussing whether [the issue is] important or not and start having practical discussions about how we move forward," she says…

Campaigners such as All Trials, an international group launched in January to put pressure on governments and regulators, have demanded that public registration not be limited to trials used in drug-approval applications and should include full methods and results of past and current trials. Many medical researchers would be satisfied if summary results were made public, ideally as peer-reviewed papers. But some want full release of the detailed clinical study reports that drug companies submit to regulatory agencies. Researchers who conduct meta-analyses by pooling data from multiple trials also want access to anonymized data on individual participants.

In 2010, the European Ombudsman ruled that detailed data should not be seen as commercially confidential. That helped to drive development of the EMA's policy, which will increase access to such information. But patient-level data are unlikely to be placed wholesale into the public domain, and companies, researchers, trial funders and patient groups disagree on who should decide which researchers can access them.

Groups also wrestle over who will enforce the rules. The UK Health Research Authority, which oversees standards and regulations in medical research, is assessing the practicalities of assigning the job to the same ethics committees that approve clinical trials. Kay Dickersin, director of the Center for Clinical Trials at Johns Hopkins Bloom­berg School of Public Health in Baltimore, Maryland, says that serious legal clout is the only way to enforce transparency. Fines are not enough, she adds: for serious infringements, "someone has to go to jail".

hat tip to pharmagossip

It has only been seven months since it occurred to me that data transparency would address many of the ills in psychopharmacology. My
satori
came the day I happened upon the raw study data from Paxil Study 329 shortly after it was posted on the GSK web site [
a movement…
]. The only hard part was transferring it to a spread-sheet. The analysis was easy, even for a very rusty old man. I had spent months reading subpoenaed documents and the results of all the sleuthing that people who know so much more about clinical trials and data processing than I do. But with the data at hand, it took only a few days to figure out how Sally Laden and friends had obfuscated the trial.
The essence of a randomized clinical trial is to take serial results from two groups of subjects and using various techniques, turn them into two mythical persons that are then compared with the question, "Are they different?" So, in the case of Paxil Study 329, on the left are all the individuals on Placebo, everyone on Paxil in the center, and the two least-squares-mean mythic subjects on the right:

How they got from the graph on the right to the published graph is legend, but not my point right now. When I'm in my office seeing a given patient, even knowing the results of a genuinely significant study, I wouldn't know which strand in those spider webs I was talking to. The mythic least-squares-mean patient wouldn't help me very much, even if the RTC were legit. Some hint about the strength of the effect might help [NNT, Odds Ratio, Effect Size], but those are not always available.
But while Data Transparency might get us around the sleight of hand and produce more useful indices from the trial, there's still a problem. Who are the subjects in the study? Recruited volunteers from multiple sites? Culturally dissimilar people? Are they like this patient? Even though we may have more accurate and complete information about the drug, it won't tell us who took it. At its best, a clinical trial is to the patient before us as a model airplane is to a 707 – just a test run.
And then there's the biggest problem of all. Unfortunately, the way things have evolved, the whole system of practice has been built modeled on Randomized Clinical Drug Trials and the least-squares-mean mythic patient. The DSM-IV/5 diagnosis based on symptoms [Sx] collected with a structured interview comes into a system keyed to Evidence-Based treatments [Rx] determined by RCTs which are then delivered to the least-squares-mean mythic patient: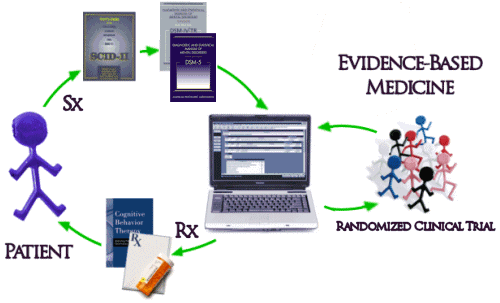 So while I'm excited and supportive about Ben Goldacre's AllTrials campaign to give us accurate information from the clinical trials, there's nothing that I know about human beings or mental illness that suggests that the system outlined above is very helpful. Perhaps this is part of what David Healy is trying to tell us in
Not So Bad Pharma
about the problem with EBM [Evidence-Based Medicine] and RCTs [Randomized Clinical Trials]. This system has no place for a doctor, and only addresses the least-squares-mean patients…