DSM-5 sells at a price gouging $200 per copy. The American Psychiatric Association has assumed that it has a fully captive audience of people who will feel compelled to buy DSM-5 for coding and reimbursement purposes – even if they don't like its contents or cost. To reinforce this rather cynical selling point, APA recently posted a misleading statement implying that DSM-5 has some sort of official status. The message is that clinicians and institutions must buy DSM-5 if they hope to be reimbursed by insurance. This is simply not the case. The only official codes are the ones provided by the International Classification of Disease [ICD] – in the U.S., that now means ICD-9-CM. The editors of DSMs simply pick the ICD codes they feel most resemble the DSM categories. Their choices are based solely on their own opinions, not through any officially sanctioned mechanism and they carry no special weight. There is nothing sacred about the DSM-5 choices – I know because I am the one made the final choices for DSM-IV. So there is no reason for potential buyers of DSM-5 to feel the slightest bit captive or intimidated by APA. The DSM-5 codes will be essentially the same as the old ICD-9-CM codes that are already contained in DSM-IV.

People who are concerned about the risky suggestions in DSM-5, or are angry about its startling price tag, can simply stick to coding using their old DSM-IV. Or they can buy one of many alternative guides to psychiatric diagnosis that will be available [COI disclosure – I have written one of these myself]. Or they can download the ICD-9-CM codes completely for free here. My advice to clinicians, insurance companies, educators, and policy makers is simply to ignore DSM-5. Its suggestions are reckless, unsupported by science, and likely to result in a great deal of loose, inaccurate diagnosis and unnecessary, harmful, and costly treatment.

Diagnostic inflation is already running rampant at what seems like an accelerating pace. Last week the CDC reported that rates of autism had jumped rapidly once again to one in 50 — 40 times greater than 20 years ago and up from one in 80 last year and one in 110 two years ago. The CDC also found that a ridiculous 20 percent of high school boys now have a diagnosis of ADD and that a troubling 10 percent are on medication. This makes no sense.

DSM-5 threatens to turn the current diagnostic inflation into future hyper-inflation. My advice – the best protection against wild over-diagnosis is to ignore DSM-5. It is not official. It is not well done. It is not safe. Don't buy it. Don't use it. Don't teach it.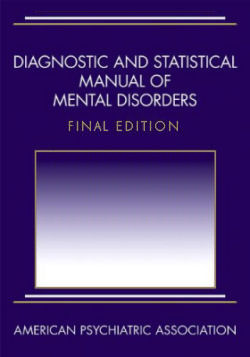 I naively thought that if enough people raised enough sand along the way, the DSM-5 Task Force would realize that Diagnostic and Statistical Manual was something that the American Psychiatric Association does
for
the medical and mental health community, including our patients – something that brings clarity to the difficulty classifying mental illness and mental disorders. When Dr. Spitzer made the DSM-III Revision, one agenda was to remove the heavy influence of the psychoanalytic psychiatrists. But while he was himself sympathetic to the biological psychiatrists, he succeeded in creating a Manual that was largely atheoretical. It was an imperfect effort, but considering the task at hand, it got the job done and his compromises survived major and minor revisions. There were many unintended consequences and several major mistakes that became increasingly apparent over time and needed urgent attention.
The DSM-5 Task Force blew it out of the gate. From the opening bell, they planned to use the DSM to advance a neuropsychiatric agenda well before its time, and to formulate diagnostic categories based on treatment recommendations clearly related to the hegemony of psychopharmacologic treatment. In spite of numerous scandals and revelations during the decade they worked on the manual, they never changed their course. They couldn't listen to anyone outside the closed loop of their own circle – couldn't hear insiders like Drs. Spitzer and Frances, and couldn't hear the roar from outside psychiatry. So they've essentially broken the contract that the DSM-III made a third of a century ago:
For most of the DSM-III disorders, however, the etiology is unknown. A variety of theories have been advanced, buttressed by evidence – not always convincing – to explain how these disorders came about. The approach taken in DSM-III is atheoretical with regard to etiology or pathophysiological process except for those disorders for which this is well established and therefore included in the definition of the disorder. Undoubtedly, with time, some of the disorders of unknown etiology will be found to have specific biological etiologies, others to have specific psychological causes, and still others to result mainly from a particular interplay of psychological, social, and biological factors. The major justification for the generally atheoretical approach taken in DSM-III with regard to etiology is that the inclusion of etiological theories would be an obstacle to use of the manual by clinicians of varying theoretical orientations, since it would not be possible to present all reasonable etiologic theories for each disorder.

DSM-III, page 6.
Dr. Frances says, "It is not official. It is not well done. It is not safe. Don't buy it. Don't use it. Don't teach it." I would agree, and add that it's not even good for psychiatry. It attempts to perpetuate our specialty being shaped by the pharmaceutical industry, the third-party insurance carriers, and a group of insiders with a monocular view of human suffering. Let it die a natural death…