This is about the other
Vortioxetine
study [along with the Jain et al study –
academic?…
] reported by Dr. Thase at the American Psychiatric Association meeting in 2011 [
Investigative Depression Drug Does Better in Europe than United States
]. As usual, there was weirdness. The first author and institution of record was Neven Henigsberg MD at the Poliklinika Neuron, Croatian Institute for Brain Research, Medical School, University of Zagreb:
Author affiliations:
Poliklinika Neuron, Croatian Institute for Brain Research, Medical School, University of Zagreb, Zagreb, Croatia [Dr Henigsberg]; Takeda Global Research and Development Center, Deerfield, Illinois [Drs Mahableshwarkar and Chen and Ms Jacobsen]; and Department of Psychiatry, University of Pennsylvania, Philadelphia [Dr Thase].
Potential conflicts of interest:
Dr Henigsberg has participated in clinical trials supported by Takeda and Lundbeck. Drs Mahableshwarkar and Chen and and Ms Jacobsen are employees of Takeda. Dr Thase has been a consultant/advisor for Alkermes, AstraZeneca, Bristol-Myers Squibb, Eli Lilly, Dey, Forest, Gerson Lehman Group, GlaxoSmithKline, Guidepoint Global, Lundbeck, MedAvante, Merck, Neuronetics, Novartis, Otsuka, Ortho-McNeil, Pamlab, Pfizer, PGx Health, Shire, Supernus, Takeda, and Transcept; has received grant support from the Agency for Healthcare Research and Quality, Eli Lilly, Forest, GlaxoSmithKline, National Institute of Mental Health, Otsuka, and Sepracor; has participated as a speaker for AstraZeneca, Bristol-Myers Squibb, Dey, Eli Lilly, Merck, and Pfizer; has equity holdings in MedAvante; and receives royalties from the American Psychiatric Foundation [Guilford Publications].
Funding/support:
This study was supported by the Takeda Pharmaceutical Company, Ltd, as part of a joint clinical development program with H. Lundbeck A/S. Assistance with writing and manuscript preparation was provided by Sara Sarkey, PhD, an employee of the Takeda Pharmaceutical Company.
And yet in the Clinical Trial [
NCT00735709
] report, there are no clinical sites in Croatia. For that matter, there are no sites in Pennsylvania where Dr. Thase works or Illinois where the industry authors work. Another oddness – it was completed in 2009 but not published until 2012. Then there's
Sara Sarkey PhD
again [
academic?…
]. Every time I look at one of these global trials I wonder what the map would look like. It was in the cards that one time in my life, I'd have to make the map and this was that time. So
red
for clinical sites and
blue
for authors: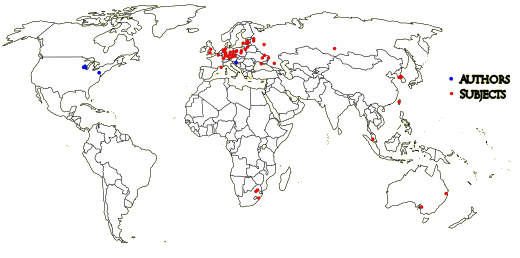 OBJECTIVE: Lu AA21004 is an investigational multimodal antidepressant. This randomized controlled trial evaluated the efficacy and tolerability of multiple doses of Lu AA21004 versus placebo in adults with major depressive disorder [MDD].

METHOD: Adults diagnosed with MDD [based on DSM-IV-TR criteria] with a Montgomery-Asberg Depression Rating Scale [MADRS] score ≥ 26 were randomly assigned [1:1:1:1] to receive Lu AA21004 1 mg, 5 mg, or 10 mg or placebo for 8 weeks [between August 2008 and August 2009]. The primary endpoint was reduction in 24-Item Hamilton Depression Rating Scale [HDRS-24] total score after 8 weeks of treatment compared with placebo for Lu AA21004 10 mg. Additional outcomes included response and remission rates, Sheehan Disability Scale [SDS], Clinical Global Impressions-Global Improvement scale [CGI-I], MADRS total score, and HDRS-24 total score in subjects with baseline Hamilton Anxiety Rating Scale [HARS] score ≥ 20. Adverse events were assessed throughout the study.

RESULTS: A total of 560 subjects [mean age = 46.4 years] were randomized. There was a statistically significant reduction from baseline in HDRS-24 total score at week 8 for Lu AA21004 10 mg vs placebo [P < .001]. There were improvements [nominal P values < .05 with no adjustment for multiplicity] in HDRS-24 total score, response and remission rates, CGI-I score, MADRS total score, and HDRS-24 total score in subjects with baseline HARS score ≥ 20 at week 8 for all Lu AA21004 treatment groups vs placebo. No significant differences were seen in SDS scores between any dose of Lu AA21004 and placebo. The most common adverse events were nausea, headache, and dizziness.

CONCLUSIONS: After 8 weeks of treatment with Lu AA21004 10 mg, there was a significant reduction in HDRS-24 total score compared with placebo in adults with MDD. Lu AA21004 was well tolerated in this study.

ClinicalTrials.gov identifier: NCT00735709.
Here are the HAMD-24 graphs [the green is my addition of the full scale]: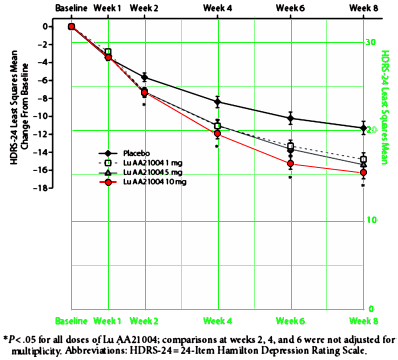 Because the article is not available full text, I can't really illustrate the weirdness internal to the paper – but at least one example deserves mentioning. They declared a hierarchy of twelve endpoints and significance testing was to stop when they got down to one that was not significant. The second one was not significant, so by their protocol, the only allowable significance in this study was the 10mg dose at 8 weeks [in red]. That didn't stop them and they mentioned a bunch of other stuff. By the time it got to Dr. Thase, that hierarchy was forgotten and significance was everywhere. There was plenty more weirdness for those who want to get the whole article. And then:
"The multidose study gives us reason to think that this particular compound may indeed have value and there may be a range of doses that are valuable," investigator Michael Thase, MD, professor of psychiatry at the University of Pennsylvania School of Medicine in Philadelphia, told Medscape Medical News. He reported that before conducting that study, the investigators speculated that the 5- and 10-mg doses of Lu AA21004 would do well but were pleasantly surprised when the 1-mg dose was effective also.

As for the second study, Dr. Thase said he's not sure if it failed because of the dose assessed "or because many studies fail in the US right now. "That study humbles us because even half the studies of drugs that we know work have failed to show they work in the United States. And this is partly because the placebo response has been growing dramatically over the last 30 years."

He said placebo response rate was around 20% in 1970 and is about 45% now. "Anytime the placebo response in a depression study goes over 40%, the chance of the study failing goes well over 50%. And the US study did have a high placebo response rate," said Dr. Thase. "Although we won't know more until there are 3 or 4 or 5 more studies, our [multicountry] trial gives us reason to believe we're on the right track with this multiaction agent. And the US study tells us it's just not easy to demonstrate that an antidepressant works under these circumstances"…
So here we have a study registered in Croatia with a Croatian first author, conducted by some CRO in 14 countries [other than Croatia] scattered over the planet, measured using questionnaires in a variety of languages, analyzed [and probably ghost-written] in Illinois, passed to a Pennsylvania KOL to be discussed at the APA in Hawaii. There's no evidence that between site variance was tested that I could find in this study. And the study itself is presented with all the "tricks of the trade" to obscure its foibles.
Why even bother to vet a 4 year old study presented two APAs ago? It's time for a change in the clinical trials for psychiatric medications. The presentation of these industry studies is so uniformly jury-rigged that they ought to be banned from our peer reviewed literature. Attempts at reform like clinicaltrials.gov have failed because the companies just don't post the results. There's now a move afoot to insist that they publish their raw data [AllTrials] which would be the only way to really vet the studies instead of just pick at them as I have done here and in academic?…. And this practice of pulling in a quaisi-academic KOL who is as experience distant from the study as the reader is just inappropriate theatrics.
Dr. Thase's comments about the placebo effect, particularly in the US, are delivered with irritation [at who knows what]. In my way of thinking, it can only reflect that the study subjects weren't particularly ill in the first place – a recruitment issue that says something about the whole CRO enterprise. But back to why vet these studies. Right now, the FDA is considering this drug for approval based on four later studies that are yet unpublished and have no results posted on clinicaltrials.gov [way past time…]. They are industry funded, likely CRO run studies just like these. They were presented at the 2013 APA just like these. They were discussed by an apparently uninvolved quaisi-academic KOL just like these.
So the reason to read these studies closely is to forward these posts to the KOL's Institutions and to the FDA [which is being done]. While they may only gain access to a spam filter, it's possible that someone might read them. The operative principles here are "the best predictor of future behavior is past behavior" and "the squeaky wheel gets oiled". It's time to stop just decrying this stuff and do something about it…