Anyone who knows me would be glad to confirm that when it comes to money, I'm in the Dunce corner. It's an incurable affliction – proving that knowing the "cause" doesn't necessarily lead to a cure. The cause was simple – a father who grew up poor and was determined to teach me the ways of barter and wise money management. The result was also simple – a thick film that descends where barter and money management are concerned. The cure? Marry well – honest and tending towards frugality. That said, listening to Dr. Desmond-Hellmann in the video of the last post talk business-ese, I was mildly surprised that I knew what she was talking about [they didn't teach doctors to talk that way in my medical school]. "We need to go after PHARMA alliances to support our Academic Enterprise." Wiping the film away briefly, I remember the predicament of our Psychiatry Department at Emory in the days before I left and Dr. Nemeroff later appeared. In my day, we were hand to mouth, near beggers. Ten years later, the place was in high cotton. It's not that hard to figure out how it happened. So I drew me a diagram: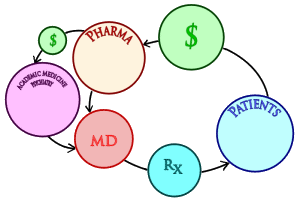 Not bad for a Dunce, I thought. The trade off Dr. Desmond-Hellmann was proposing was to go after the PHARMA money to support her Academy. The part she left out was the one this and other blogs are about – the influence on the prescribing doctors that PHARMA purchases with this solution can be a disaster. It certainly has been in Academic Psychiatry – something close to cancer. But my diagram was too simplistic [Duh!]. For one thing, it left out Government. I've always thought that the excessive profits made by PHARMA were "taxation without representation." The sick are a captive audience and those profits are paid by the sick – they're the ones getting taxed, but the taxes don't go to the government – they go to PHARMA. PHARMA in turn supports Academia to help them with the big profits. The sick are being taxed to support Academia? Something's wrong with that picture. And adding in Government doesn't help: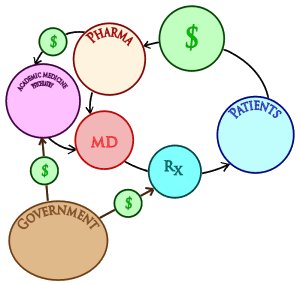 Government supports Academia, and pays an increasing piece of the medication bills. Government is being taxed to support PHARMA profits? It certainly was true in TMAP. It's certainly true with Medicaid and Medicare. It will certainly be true with Obamacare. So next, I added what I think we ought to do – put a firewall between PHARMA and Academia: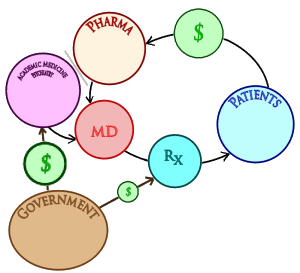 If we cut off the PHARMA to Academia conduit, the Government will have to fill in the gap. Where will the money come from? Pay less for drugs, but that wouldn't just automatically happen so the government would have to intervene more. Price controls? With that, I can feel the film descending and want to put one last thought on paper before the screen goes blank. It's a thought about Clinical Trials for FDA approval of new drugs.
What about putting the firewall in place between Academia and Industry, then having a two-step FDA Approval process. Let PHARMA do what they're doing with their Clinical Trials and submit to the FDA who gives a tentative go ahead. Then the FDA farms out a further Clinical Trial[s] to Academia [on bid? rota?] paid for by [PHARMA? Government? PHARMA + Government?]. Make the data from that independent Clinical Trial[s] totally transparent and required for final FDA Approval. It doesn't solve the drug pricing problem, but it might iterate towards honesty, and it puts Academia in the loop it ought to be in. If the Academic Institution cheats, ban them from the process and its rewards.
The film has descended, and I always knew that I wasn't going to be the one to solve the problem anyway. I just thought that my brief window of thinking about this might stimulate those without my fiscal afflictions to think about ways to restore the balance in the universe that we all know needs to be in place with realistic checks and balances…