There is only so much mileage to be gained from discussing a 20+ year old legal case and the square-off between Drs. Klerman and Stone. For those of us living through those days, it can't help but bring up the feelings from that time. And if you have access to the literature, the published articles in 1990 that I reported [respecting our limits…] weren't the end of things. Each of them had a subsequent letter in the American Journal of Psychiatry in March 1991, and those latter exchanges felt more like a dart game with human targets than a debate. There was a lot of that going around back then.
It was a desperately polarized time. There was a brand new game in town, and you were either on the bus or off of the bus. As much as people tried to frame things in terms of science and proof, it sure felt like a lot of it was biology versus psychology [and money] at the time. And things like this statement from Dr. Klerman rang from every tower: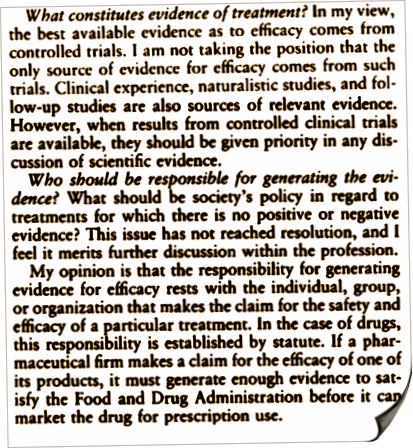 Traditional psychotherapy could never meet such a test. That was a given. The result was that psychotherapy wasn't going to be included in the domain of insured medical practice, an important subtext of all of these debates and arguments. I don't think anyone knew then how generally constricted the role of psychiatrists would ultimately become back in those days. And from another vantage, reading it now, this is the part that stands out and strikes me as a dreadful irony:

I know why he said it then. "Look Dr. Stone, if you're so hot on psychotherapy – prove it. That's your job, not ours!" But looking at the comment now twenty-three years later, and after spending a few of my own years thumbing through countless industry·funded, industry·run clinical drug trials that have been so regularly buggered with, it feels almost like a conflict·of·interest·manifesto. They generated their own evidence all right – often whether it was there or not.
It's easy in reading articles like these to lose sight of Dr. Osherhoff, the patient in the center of this story. As I've thought about his case outside the context of the legal battle, it's beginning to look different to me. Though we are not given a lot about his history, we do know that he seemed to have a primary difficulty in relationships. He had three marriages before age 42, each with something of a whirlwind courtship and a fiery breakup – each breakup precipitating a major personal crisis requiring professional help. We also know that he had conflicts with his practice partners. At the time of his hospitalization, he was embroiled in just such a crisis during the breakup of his third marriage. And for the second time, it happened when children came into the picture. Two possible diagnoses come to mind – an undiagnosed manic depressive illness that might account for his changing states and strained relationships. Marital crises are common in the history in such cases. Another real possibility would be a personality disorder in the borderline spectrum where recurrent crises in close relationships are the sine qua non of the condition. In the latter case, the regressive therapy would be expected to make things decidedly worse – which is exactly what happened. For that matter, that approach wouldn't do much for a manic depressive illness either. I'm speculating on minimal information here, but my suspicion is that this great showdown between psychoanalysis and pharmacotherapy built around this case was a contrived debate. The clinical problem was much more likely what it usually is when a case goes this badly – an incorrect diagnosis.
I generally shy away from these cosmic debates. For one thing, listening to them for thirty plus years wears on the soul. I've heard them so much that I think I could take either side and come off as credible. They generally end up like this one – ad hominem banter that escalate to no useful end. So I have to ask myself why I even got so interested in the Osherhoff case. I think anything from that period when psychiatry was undergoing such an upheaval captures my attention. We were all so busy then with our internal sword-play that we didn't attend to the coups d'état by external forces that shaped the present far more than anything we had to say to each other. Clinical Trials were touted as the triumph of evidence based medicine over alchemy rather than the conduit for corruption they became. The promise of medications that were helpful but hardly curative became first a gold standard, then the only possible solution, now sometimes framed as vilified toxins. A case like Dr. Osherhoff's elevated a botched diagnosis to an ideological debate on the front page of our first line journal. And needed reform of our hospitals ended up sending many of our chronic patients back to the prisons they'd escaped centuries ago, closing needed facilities along with the snake pits.
I seem to think that rehashing how we got here will help me see the things I didn't see [and feel like I should have seen] back when this was all happening. I really didn't see the corrupted medication trials in the wings and the rise of the KOLs. I reckon old people have done this since the dawn of time, writing things with titles like The Winds of War, The Gathering Storm, A Remembrance of Things Past – looking from afar to see what fell through the cracks up close. With me, it's more than just a retrospective. It's more like patients with PTSD who are trying to prevent the past [which is of course an impossibility]. They were taken out by something they weren't prepared for, didn't see. They spend their days on high alert, making the preparations for a second coming. In this case, my concern is that in solving the problems of today, we'll just lay the base for another round with unacceptable collateral damages. Sometimes, today's debates sound as contemptuous as Klerman v. Stone in 1990. And I worry that the leadership like the APA, its DSM-5 Task Force, and the NIMH are still running on inertia aiming for an idealized future and don't see the skid marks all around them.
I suppose what I would hope for is more like a "mid-course correction" than another cataclysmic exorcism – something that puts the fate of the mentally ill on the front burner instead of their getting lost in the other forces that have more to do with the profession's internals than the things we profess to be charged with doing. Things like AllTrials, RIAT, RxISK, ProPublica, the Sunshine Act all seem to me to be pointing in the direction of positive change and speak well of their proponents. They're encouraging to say the least. But I'll bet the next time I run across something from those days of the 1980s that I missed the first time around, it'll be down the rabbit hole for me for another round…